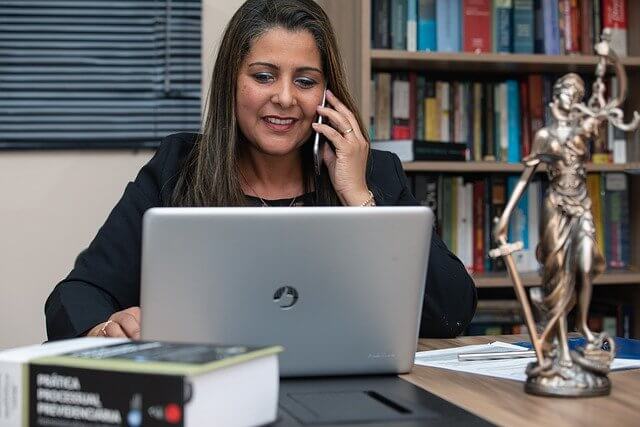 Do you often wonder, as an attorney, the exact technical SEO you need to get your website ranked on the first search engine's first page? Have you ever wondered how important off-page and on-page SEOs are to an attorney's website's success? If you have, then you're on the right page.
Like others, attorney websites have many important parts, and the site's success depends on how you optimize these parts. Your focus shouldn't just be on the content; you should ensure you optimize your website to be fast and user-friendly.
This article discusses the benefits of technical SEO for your website and how it can help you as an attorney. But first, let's understand what technical SEO is all about.
What is Technical SEO?
Technical SEO refers to the infrastructural optimizations you make on a website to help search engine spiders properly crawl and index the site. It takes care of the technical parts of your site, like the site structure, page speed, schema, and sitemaps.
What happens when you fail to do technical SEO on your website? Your site will lose much organic traffic if you do not invest in technical SEO. It's what helps your site to be properly indexed.
It doesn't matter how fantastic your website's content and on-page SEO are. If you fail to do technical SEO correctly, your site may not show up on Google, Bing, DuckDuckGo, Baidu, Facebook, and other search engines.
Let's look at how technical SEO helps your website become visible to those who need your services the most.
But before we go into that, you need to understand how to perform an SEO audit on your website to know what's working and what needs to change.
The Importance of Technical SEO to an Attorney Website's Success
1. A good website structure improves the user experience of an attorney's website
As an attorney, your website's goal is to generate as many leads as possible for your law firm. However, for that to be possible, your site has to be discoverable on the Search Engine Result Pages (SERPs). This is where properly structuring your website comes into play.
A well-structured website takes visitors from the general pages to the more specific pages. That way, it'd be easy for a user to know the category of the information they are looking for and to search accordingly. It also helps search engine spiders effectively crawl your site for better ranking and indexing. Having a poor user experience is one mistake you must avoid when developing a B2B website.
A good website structure improves your website's user experience, so people can easily navigate it and find whatever information they need. A good user experience means people will spend more time navigating your website. Their activities on your site increase your clickthrough rate and reduce your bounce rate.
When people spend more time on your website, the search engine algorithm sees that your website provides valuable content and is easy to use. As a result, it ranks it higher for more people to see your content.
Related Articles:
2. Schema markups help Google understand the contents of the website
Schema markup (structured data) refers to the pieces of information you add in the form of codes to every page on your website. It helps the search engine understand the information on your website and the specific audience you're targeting. The search engine, in turn, presents this information to specific users in the form of rich snippets.
How are schema markups important to your website's success as an attorney? It's very clear. When you add schema markup to your web pages, Google understands the real intent of the site's content and presents it to your prospective clients. Your prospective clients will see the specification information you're trying to show them without clicking a link.
You can create a page that gives information to your prospective clients about your services, ratings, charges, and some successful cases you've handled. Once Google or any other search engine crawls the page, it gathers this information and presents it to your prospects in one clear and concise snippet.
Schema markups help your website rank better organically in search engines.  This is a common strategy in dental SEO that only very few dentists are maximizing.
3. Fixing broken links helps the website get crawled
Fixing broken links is another technical SEO practice that guarantees you better site ranking and more leads as an attorney. Broken links can be very harmful to your law firm's website. They can destroy the conversion rate of your site.
What are broken links and how do you identify them? A broken link is a link to a webpage that doesn't work. If a user types in or clicks on the link, they will be directed to a 404 page or error message.
Why are broken links very bad for SEO? The presence of a broken link on your attorney's website can increase your site's bounce rate, reduce the time visitors spend on your site, and negatively impact site navigation. You can identify broken links using the best SEO tools.
When your site visitors leave sooner than they joined, it can only translate to one thing – a lack of value on the site. When it happens repeatedly, it can pass a message that your site's contents are outdated and no longer useful.
What does this mean for your attorney website's success? It results in a bad user experience for prospective clients, negatively affecting your ranking. Broken links result in Google not crawling your website correctly, and only crawled pages get indexed in Google's database.
When your website is not completely crawled, most of the pages are unavailable for your site visitors to see. The fewer pages your prospective clients get to see on your site, the more difficult it becomes to convert them.
Therefore, fixing broken links on your website isn't just important for users; it also helps your website's ranking. While fixing broken links is important for your website, having a good link-building strategy will play a major role in how fast your website gets seen on search engines. 
4. A fast-loading web page improves a website's ranking
Most visitors to your website will not have the patience to wait for a slow-loading page to load. They will get frustrated and leave at some point, or even immediately. Search engines use page load speed as a vital site ranking factor.
As an attorney, most visitors to your website will be those who need urgent help in a case. And they would need to get the information they're looking for immediately without battling slow-loading pages. That is why increasing your page load speed is an important technical SEO practice for your website as an attorney.
How can an attorney who's not technically inclined check their website's load speed? With Google's PageSpeed Insights tool, you can analyze the speed of your website pages and optimize them where necessary. This would make it easy for your prospective clients to navigate your page and get all the information they need.
Related Articles:
5. A mobile-optimized website improves your site's ranking
More than 70% of your prospective clients will visit your website on their mobile phones. Therefore, it is essential you master how to optimize your website for mobile devices. As I stated earlier, if your prospective clients encounter clumsiness on your website, they're very likely to navigate out of the site and never return.
What does this mean for your law firm? It means the loss of prospective high-value clients who might have made a significant difference in your firm's portfolio and finances.
Optimizing your website for mobile doesn't just create an excellent user interface for your website's users. It also makes it easy for Google to rank your site. But do you actually know what slows down your website on mobile? Find out!
6. An SSL Certificate strengthens your website's security
Installing an SSL certificate is the most important technical SEO practice for an attorney to achieve success with their website. The reason is that your law firm will be handling private and sensitive clients' information. Your site's ability to keep your clients' information and case files private will determine the level of trust your firm gets from prospective clients.
How do you check if an attorney's website has an SSL certificate? The easiest way to know if the site of a lawyer is SSL encrypted or not is to check its URL. The URL of the site should start with HTTPS.
Another benefit of having an SSL certificate on your website is that it helps with website ranking. Google confirmed in 2014 that it would use SSL certificates as a search ranking factor. It states that if all other SEO factors remain the same, a website with an SSL certificate will rank higher than one without it. 
For the SSL certificate of a site to be listed among the over 200 ranking factors by Google tells you how important it is.
You already know that the higher your website ranks in a search engine, the more leads you're likely to get for your law firm. Take a look at this article to learn how to attract, nurture and convert your leads.
Conclusion
As much as you invest time, money, and effort into on-page and off-page SEO, you should understand that all that would be a waste without technical SEO. Most attorneys shy away from technical SEO because they think it requires coding and a great deal of technical knowledge. Well, much of what you do in technical SEO can be quickly learned, even with no coding or technical knowledge.
Technical SEO is vital to how your law firm's website appears to users and search engines. For the users, it's all about having a user-friendly platform where it's easy to navigate and find any information. For the search engines, it's about having a site that's easy to crawl, index, and display to those who need the information therein.
An attorney whose website has standard technical SEO practice will receive due visibility and visits, which results in more leads and clients for the law firm. I hope you've learned from this article the importance of technical SEO to your law firm's website. And I hope you'll utilize the information gathered to increase your law firm's visibility and eventually land more clients.