Why does your business need insurance coverage? Is insurance mandatory when running a business in the United States, the UK, Australia, Dubai, Germany and Switzerland?
Looking at all the risks involved in running a company, it's not difficult to know why the law requires that every business should have adequate insurance coverage.
Some of these workplace risks can bring an end to your business if it's not protected by insurance.
In this article, you will learn:
The importance of insurance to every business in developed and developing countries
The benefits of business insurance
What you need to know about business insurance, the act of God and coronavirus
Essential reasons why your business needs insurance and how to get it
States in the United States where workers compensation is compulsory and where it is not, and why
How to attract top talents and retain them in your organization by simply giving them adequate protection
And how to boost the credibility of your startup even though you already have the requisite licenses
Below are the top and most important reasons why you need business insurance and exactly how to get an affordable policy.
1. Business Insurance Coverage is Required by the Law
You are free to run your business without insurance so long as you are taking any employees, you are in a low-risk business and you are not bidding for government contracts. But if you ever have to get employees, bid for public contracts or operate a high-risk business, you must purchase business insurance.
It's illegal not to get workers' compensation, unemployment and disability insurance if you operate your business in most US states. There are cases where you will get a fine if you fail to provide proof of an insurance contract on demand.
Before setting up a business in the United States, the UK, Canada, Australia, Germany, Switzerland or Dubai, do well to consult a business setup consultant in that area who's familiar with how things work.
ALSO READ:
2. Adequate Business Insurance Can Protect Your Customers and Employees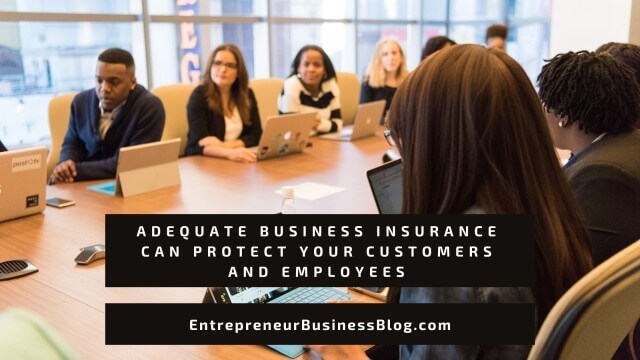 How you treat your employees is exactly how they will treat your best customers. This is why you must go the extra mile to protect your employees in the same manner you protect your customers.
Why your business needs insurance is so that it can take care of your employees when they are involved in any work-related injuries or illnesses. Workers' compensation will help cover benefits like medical care, missed wages and funeral benefits.
Workers' compensation is compulsory in most US states except Texas. So, if your business is located in New York, Louisiana, Illinois, Washington, Colorado, California, Nevada, etc., you are required to carry workers' comp.
Liability claims and legal fees resulting from being sued by your employees or customers can be taken care of by your business insurance policy. If your product causes any form of damage to your customer, your product liability policy will cover it. 
Why you need business insurance is to protect your company from out of the pocket expenses emanating from aggrieved employees and customers.
3. Business Insurance Can Help Boost Your Credibility
Another brilliant reason why business insurance is very important is that it can help increase your credibility. Prospective customers and clients won't have a second thought about your product offer and guarantees if you have business insurance. This is because they already know that you have the financial provision to compensate them if anything goes wrong.
How does having business insurance help in boosting your credibility? Plumbers and electricians who carry business insurance have higher chances of getting hired. Beyond that, having adequate business insurance coverage can help you attract, retain and increase employee loyalty. How about its importance in contract negotiation and approval?
When negotiating for a contract, having business insurance can give you an edge. It will boost your client's confidence in your ability to deliver or pay for liability claims if anything goes wrong.
4. Why You Need Business Insurance Coverage is to Enjoy Peace of Mind
How does insurance buy you peace of mind? Beyond the payment for liability claims taken care of by your insurance company, the right policy protects your small business. There's an unusual peace of mind that comes with knowing that you are fully protected against all forms of risks.
If you are wondering how insurance protects a person, this is it. The right amount of coverage can provide you with financial replacement when the unexpected happens.
How small business insurance offers you peace of mind will depend on a lot of factors. These factors are the policy, the country or state where your business is located and the deductible.
ALSO READ:
5. Insurance Covers Acts of God
What is an act of God in the insurance industry? An act of God is a natural disaster that is not caused nor controlled by humans. An act of God could be common or extreme. 
Does insurance cover acts of God in the United States? Property and casualty can protect you when common acts of God occur.
The common acts of God are disasters like hurricanes, tornadoes and lightning storms. The extreme acts of God are disasters like floods, earthquakes, landslides, etc. Why most insurance providers don't provide coverage for the extreme acts of God is because of the cost implication of their impact.
Most homeowners insurance companies in the U.S. only cover for the common acts of God.
Is coronavirus considered an act of God? Recently, this question has been going on about whether COVID should be classified as an act of God or not. Most business insurance policies specifically exclude communicable diseases like COVID-19 and don't consider them to be an act of God.
The Disadvantage of Insurance to Businesses
Are there disadvantages to getting insurance for your business? Yes. Like everything else, business insurance has advantages and benefits as much as disadvantages. The key disadvantage of insurance to every startup is that not all types of loss that happen to an individual or business can be covered. It doesn't even matter if you carry extra liability/ umbrella insurance.
Do you need help with getting the best policy ever? Contact a reliable business insurance agency near you. You can call them on the phone or visit their website to get a quote.