How do you know if you are eligible for workers' compensation insurance benefits even before taking a new job offer? Are there factors that could deny an employee the privilege of enjoying workmen's compensation?
Workers' compensation provides benefits to both employees and employers. Not everyone is allowed to take the advantage of the compensation for workers. 
Before we discuss what determines if you are eligible for workers' compensation insurance, let's first look at the definition of workers' compensation insurance.
What is workers' compensation insurance?
Workers' compensation or workers' comp is a form of insurance mandated by the government on employers to provide wage replacement and medical benefits to employees injured in the course of employment so that employees can forgo their rights of suing their employer for negligence.
Is purchasing a workers' compensation insurance policy compulsory in Florida, USA? Yes, workers' comp is compulsory in Florida for all businesses with four or more employees.
Within a period of 21 days, anyone eligible for workman's compensation insurance must receive their first check after reporting the incident to the employer. This is the waiting period in Florida.
ALSO READ:
Basically, there are four basic requirements for taking workers' comp benefits. These are:
You must be an employee of the company.

The employer of your company must be having workers' comp insurance.

The injury should only be work-related.

Claiming must be done within the reporting period. 
Let's discuss these eligibility criteria in detail now!
How to Know If You Are Qualified for Workers' Compensation Insurance
1. You Must Be An Employee
Not every worker working for the company can take benefit from the workers' compensation. Many of the workers are not considered as employees, such workers don't fulfill the workers' comp eligibility criteria.
Typically, independent contractors that mainly include consultants, freelancers, etc are not eligible for the insurance. Volunteers aren't considered employees in the company. 
However, some employees are misclassified as independent contractors but in actual they aren't, for example, drivers. 
The rules vary from state to state but majorly the employee status is decided upon the working relationship of the person with the employer. 
ALSO READ:
2. Employer Must Cover Workers' Comp
For the employees to take benefit from the insurance, this is one of the most important and crucial requirements. The employer of the business must be covered by the workers' compensation. The coverage mainly depends on the number of employees in the company, the type of duty of employees and also on the nature of business. 
State rule varies from one state to another, in general, a company should have a minimum of two to five employees. Agricultural and construction businesses have different requirements than others. You must read out your state rules before jumping into this.
Are agricultural workers covered under workers' compensation? Since farmworkers are considered to be independent contractors, Farmworkers are exempted from the workers' compensation law, but employers may choose to provide coverage. This is one of the reasons why some employers opt for temporary employees.
Employers buy the workers' insurance from a private market or in some cases from the state fund. If the employer isn't legally required to buy workers' compensation then he should not opt for it, as it is against the state laws. If you belong to the federal system then you must look for your own system rather than the state system.
ALSO READ:
3. Injury Must Be Work-Related
While loading the boxes in your temporary or permanent warehouse, if you hurt your back or you get occupational illness due to continuous exposure to toxic chemicals, then you are eligible for workers' compensation insurance. 
These are truly work-related injuries and as such, you will get your full benefit if you report on time.
If you are doing something on the job you are employed to do and get injured or sick because of that work then the injured employee will get the benefit from workers' compensation. 
When you are driving to and from work and you get injured then this will not be included in a work-related injury. Similarly, there are many other causes that are complex to deal with. You may need to learn about the rules of your state or consult with a reliable insurance agent or personal injury attorney near you.
4. Claiming and Reporting
Reporting the employer within the reporting deadline is very important for the employee. Although most employers may not like it, however, state laws already prohibit them from discriminating or retaliating against an employee for filing a workers' compensation claim.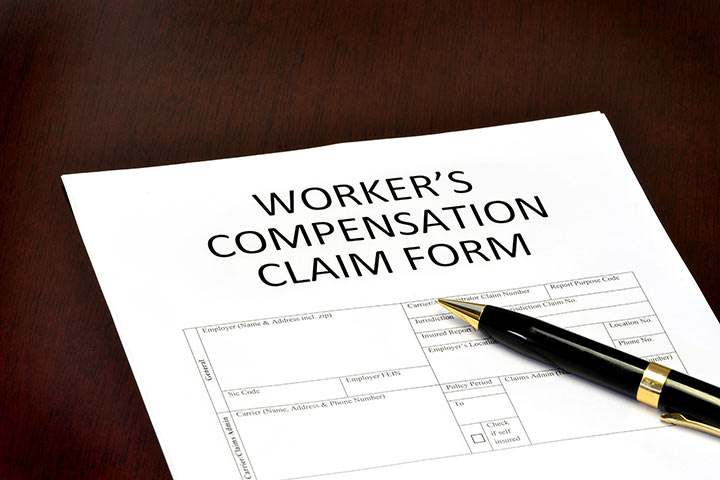 After meeting all the requirements, if the employee doesn't make a claim for his workers' comp insurance benefits within a specific time then he won't be able to take benefits. 
Workers' compensation only provides advantages to those who claim with their complete paperwork. 
If you've reported a case of sustaining an injury while at work and nothing is done about it over the years, or your due benefits were outrightly denied because of racial inclination, you may need to hire an experienced personal injury lawyer to give you a second opinion in your case.
The time limit for filing a workers comp claim in California is one year from the time of the injury. In some states, it could be as high as 3 years.
ALSO READ:
How to File Workers' Compensation Insurance Claim in Florida
Make sure you reported your injury to your employer.
​Try to resolve the dispute before you file the Petition.
Contact an attorney for help before you file a Petition.
Carefully fill out the Petition.
File and serve the Petition.
Special Rules
Even after meeting all the requirements, there are some exceptions, if someone falls in these categories he won't be qualified for workers' comp:
All the domestic workers that include employees working in private homes, child caregivers, or housekeepers don't require coverage of workers' compensation.

Agricultural and farm workers that work in small farms.

Leased or loaned employees.

Seasonal or casual workers.

Immigrant employees that don't have complete documentation.