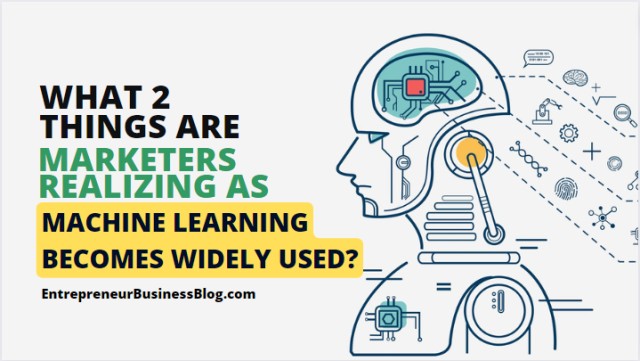 Smart marketers have now discovered new ways machine learning can help them reach more ready-to-buy customers. Businesses are constantly evolving today and Artificial Intelligence is taking market operators by surprise. 
Consequently, the need to rise to match up with current trends and deliver effectively is top-notch for every Charles and Harry in business. 
According to billionaire entrepreneur, Mark Cuban, Artificial intelligence, deep learning, machine learningーwhatever you're doing, if you don't understand itーlearn it…." Obviously, he meant that as a business person, if you fail to upskill and acquire relevant knowledge with the new order of things (artificial intelligence), you will lose relevance and soon become seriously broke.
As the marketing business is thriving, coupled with the increasing acceptance and usage of machine learning, marketers are beginning to realize certain things.
In this article, we will show you the two things marketers are realizing as machine learning is widely used. But before we go further, let's quickly see the definition of machine learning.
What is Machine Learning?
Machine Learning is a branch of artificial Intelligence that 'learns' using data and algorithms to understand and build methods of improving performance on certain tasks. It is devoted to leveraging large data sets to make informed decisions that further enrich performance.
In marketing, machine learning enables marketers to largely improve their decisions on a variety of things such as pricing, profitability, customer service, and marketing campaigns.
Machine learning achieves this by analyzing big data and producing insights about the market, industry, customer profile and current trends.
The importance of Artificial Intelligence in marketing cannot be overemphasized. Even when it seems to pose some challenges (that can be dealt with) like customer privacy issues, one cannot ignore the huge benefits involved in artificial intelligence marketing.
ALSO READ:
4 Benefits of Machine Learning in Marketing
Organizations can deliver hyper-personalized customer offers, content, products, and services as a result of integrating machine learning into their marketing. Here are some of the benefits of machine learning:
1. Content optimization
Machine learning enables a company to produce content that resonates with customers, increases engagement, includes relevant keywords and title tags and reaches a large/wide possible audience.
2. It enhances the customer experience
Customer service just got better. With the use of AI tools, marketers can easily answer customers' most frequently asked questions (FAQs), segment customers' profiles, speed up response times, deliver personalized offers, suggest useful products and customer engagement.
The most common use of AI tools in customer service is chatbots. Other areas include natural language processing like ChatGPT, agent assist, etc.
3. Decreased costs
Machine Learning enables marketing automation consequently helping companies reduce costs and save time for other value-added tasks.
4. Hyper-personalization 
With the huge data sets available via machine learning, companies know and understand their customers better. This enables creating of highly personalized deliverables for customers, also increasing customer lifeline with the company.
Other benefits include creating new revenue streams and developing more products and services  
A New Dawn for Marketers
Marketers who know their onions are not slowing down on this tide of machine learning that is structuring the whole process of marketing. Instead, the best marketers are working with machine learning to understand and work smarter than their competitors. 
The more insight a marketer has on their sales prospect, the better for them. With the use of artificial intelligence-based apps, marketers can tailor contextual content, drive more MQLs and SQLs, have clarity on each prospect, and enhance sales forecasting amongst a few. 
Top 2 Things Marketers Are Realizing About AI & Machine Learning Marketing
Top 1: Possible job losses as a result of changing and evolving roles as a marketer
Marketers may be wondering, "will I end up losing my job" as a result of machine learning proliferation? As the evolution of artificial intelligence continues to grow, marketers may not necessarily lose their job but they will in the coming years if they fail to upskill and upscale with AI Marketing.
Founder and CEO of the Marketing AI Institute, Paul Roetzer has this to say about the subject matter, "AI will not replace marketers, but it will be infused into marketing tools and software to make us more efficient, and enhance our creativity and decision-making."
How do marketing professionals need to prepare for the jobs of the future? Marketers need to be tech-savvy if they must survive in this digital world. When it comes to hiring, employers value skills more than degrees. 
Hence, marketing professionals should learn at least a skill that will keep them relevant with jobs integrated with machine learning. However, artificial intelligence will complement jobs and not take jobs as some people believe. Instead, there will be greater opportunities for marketers.
Traditional roles will change to conform with available job needs such as leadership function, content curators, analytic and data scientists, brand marketing psychologists, cross-platform creatives (video, print, digital, social ー all machine-assisted), machine-assisted events and PR developers, etc.
All marketing jobs will change as a result of the integration of machine learning. However, marketers will coexist with AI to become efficient and effective marketing professionals.
ALSO READ:
Top 2: AI marketing may incur high investment
Since marketers need to evolve with the current trend of integrating machine learning into their tasks, how will small marketing firms achieve this? 
Incorporating a machine learning strategy into your business as a marketer may be quite challenging due to the cost but AI marketing saves costs as well. 
The State of AI Marketing survey for small businesses conducted by Blue Research, sampling 401 small businesses across the US and Canada shows that artificial intelligence marketing helped them to generate more leads and revenue growth and helped decrease costs.
Investing in AI tools makes small companies spend less on overall digital marketing compared to those who have not yet integrated AI into their services. Whichever way the marketers tend to look at it, costs will be incurred. Therefore since effective costing is crucial for marketing plans, it's better to invest or plan towards investing in possible machine learning-driven tools for the company. Marketers just need to weigh the cost of the investments they may incur.