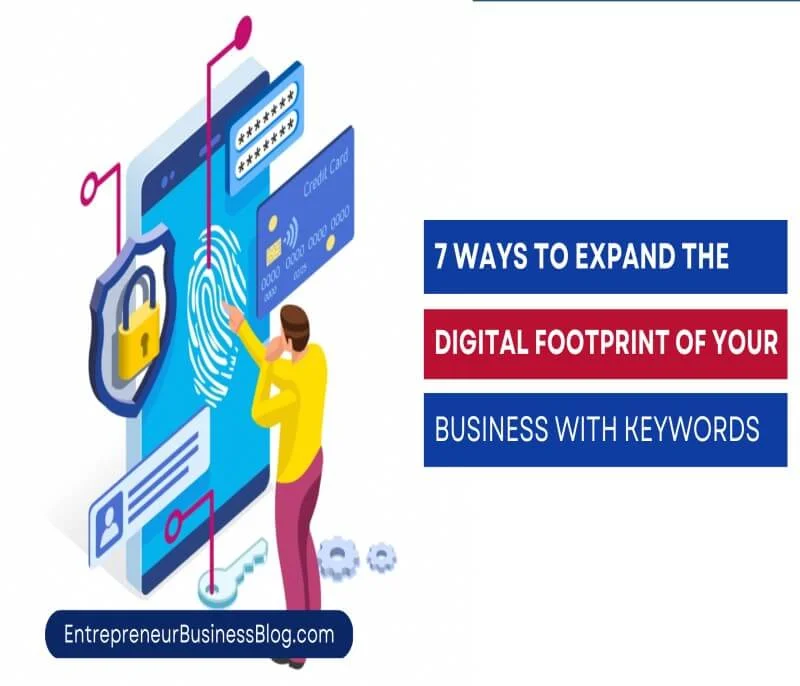 How do you boost the digital footprint of your business by simply using keywords strategically?
Over the past few years, the digital landscape has experienced tremendous changes, springing especially from the events of COVID-19, advancement in technology, and the rise of social media.
Consequent to this, customers' online dwell time has increased, as well as the trend of online shopping. A recent report suggests that by 2025, the global eCommerce industry will have grown by 23%.
Similarly, businesses, especially the big box brands are moving away from traditional advertising methods to digital advertising. According to Research and Market, the digital ads market is predicted to hit a growth rate of 15.1% between 2021 and 2026.
With reports such as these, it is quite obvious that businesses without a strong online presence will struggle to keep up with the raging competition. Therefore, improving your digital reputation and leaving remarkable trails of your business online have become imperative.
So if you are not sure how to expand your digital footprint to remain viable and successful in business, we have revealed here seven actionable ways to do that with keywords.
What is Digital Footprint in Business?
Think of your business's digital footprint as the mark it leaves on the internet. What information do people on social media and on the web have about your business? What are your online reputation and digital behavior? Can people define what your business stands for from the traces you have left behind online?
The digital footprint of your business is a key factor in its public image and appeal. If it is attractive, you will enjoy the benefits of referral and faster growth. But when the reverse is the case, then get ready for a serious fight for survival.
7 Concrete Ways to Expand the Digital Footprint of Your Business
Here are tips to improve your business's digital footprint;
1. Create a Professional Business Website
For a business that wants to establish a formidable online identity, creating a professional website is a step in the right direction. The era is gone when websites basically display addresses and contact. Today, you need a custom-designed website with an intuitive user interface (UI) that appeals to users.
With the right pages, you will, in clear terms and keywords, tell your business stories, define your goals, and why you are the better brand. Doing this will establish trust and confidence in your future clients.
Setting up a good website today is somewhat easier than it used to be in past. You also do not have to break the bank to have a decent one, except if you are incorporating special features like web apps or tools. It is best you hire a reliable web developer near you to handle it. But if you can, then why not?
2. Blog More Often and Optimize for Search Engines
It does not stop at having a website. If expanding digital footprint of your business is your goal, blogging is one tool you must not look down upon. Research by Hubspot revealed that businesses that blog often witnessed a 126% increase in leads than those that don't.
By writing and publishing content often, you give your business a voice and the opportunity to inform customers about your products, events, and trends in the industry. While doing this, blogging helps businesses to position themselves for valuable search keywords in their industry, create a personality online, and give new and old customers the opportunity to interact.
To succeed in this direction, you should pay huge attention to search engine optimization. If you are not quite sure, here is how to write successful business blogs that grow businesses.
Conduct keyword research

Write for humans and not search engines

Use subheadings

Include images, infographics, and videos where necessary
You can achieve more success with less stress if you use important SEO tools and apply the proven methods of the art.
3. Share Video Content of Your Business and Talent
Some marketers fail to exploit the advantages of video content marketing, and that is where you will get it all wrong if you tow the same path. In a recent study, 97% of marketers confessed that video increased the user-understanding of their products and services. Take a look at the top 10 YouTube video ideas you can start with as a beginner.
Visuals especially video increases engagement. So, for a business that desires to expand its digital footprint, creating and sharing video content is imperative. You can begin by creating videos from your blog posts, telling your brand stories, teaching your audience about your industry and your products, and sharing other valuable information.
Increase your ROI by posting them across your channels including, social platforms, websites, and YouTube. Doing this over time will strengthen your online presence and the consequent business growth.
4. Post Regularly on Social Media
For your business to succeed online, you must not give in to epileptic social media posting. Companies with active social media presence build better trust and confidence in their customers. That way, it is easier to sell to them and influence their decisions.
You can create social profiles on Facebook, LinkedIn, Instagram, Twitter, etc, depending on your business needs and target audience. Ensure that you post a few times weekly, sharing business happenings, your offers, and relevant content that will interest your community. Do not also forget to link your website to your social platforms and make it easier for people to find you.
5. Join a Community in Your Industry and Interact Properly
This is one method of expanding digital footprints that some business owners overlook. By joining a community and interacting properly with other experts in your industry, you leave valuable imprints in the minds and hearts of your customers and partners. It positions you as an expert and over time, the value trickles down to your business.
Aside from the above, through your internet community, it is easier to learn about new industry trends and technologies, get feedback and growth insights, as well as discover untapped areas that you could explore. Virtually every industry has an online community. Go and discover yours, join and contribute value to it.
6. Setup and Optimize Your Google My Business Account
Keyword matters a lot in building a lasting digital reputation. It is with these strings of words that new and existing customers discover your business. The Google My Business (GMB) tool now Google Business Profile presents one of the best, easy, and free ways to optimize your brand for valuable keywords in your industry.
It allows you to set up your business profile in such a way it can easily be discovered through Google search and Google Maps. You can include details like operating hours, images and videos, contact details, website, etc.
Customer reviews are also a key element of the GMB tool. Through these reviews, your previous customers display social proof of their experience with your brand. Thus, it presents an opportunity for your business to build trust and confidence in new and intending customers, especially if you have good reviews.
7. Register on Business Directories
By business directory, we mean an online list of businesses that are possibly in the same industry, location, niche, or category. Although this method used to be more popular in the past, it is still a viable way to leave important traces of your business on the internet.
Some popular business listing platforms are Angie's List, Yelp, Nextdoor, Better Business Bureau, etc. From there, you can walk your way down to a more location or niche-specific business listing provider. When listing your business, ensure that NAP (Name, Address, and Phone) are consistent across the platforms.
Why is It Important to Expand Your Digital Footprint As a Business?
The advantages of growing your digital reputation cannot be overemphasized. Judging from available statistics and trends of business growth, if your online footprint is not visible enough, there is a high chance of failure.
Here are some reasons why it is important to grow your online presence:
By taking the advantage of a digital footprint accurately, businesses can connect with their potential customers easily, build relationships, and improve the rate of conversion.

With a proper understanding of your digital footprint, you know where your brand is in the digital space. That way, you can manage your marketing efforts better.

Taking your business's digital footprint seriously will yield better ROI over time.

With a stronger online presence, you will increase the trustworthiness of your business.
What Are the 5 Ps for Digital Footprint?
The 5 Ps of digital footprint are:
People

: This is the segment of the market which you have created the product or services for. In summary, your customers.

Product

: What you are selling to satisfy the needs of the people is what defines your product.

Price

: This is the monetary value you attach to the product you have created. How much money it is worth and how much the people will pay for the product.

Place

: The location that your product or service serves, or the channel where it is found defines the place.

Promotion

: This answers the question of what manner you intend to inform your target audience about your product or service.
Key Takeaway
The way businesses operate is changing and companies that do not expand their digital footprints will gradually fizzle out over time. With the methods shared in this article, you are sure of actional steps to growing your online reputation and all round digital prowess.