Talking about money with your partner on the first date is not always on the list of things to talk about. You would rather talk about your interests, the movies you've watched, the celebrities you admire – and even how your first date went.
But it is also very important to talk about money in a relationship. The challenge is knowing when to bring it up, how to present it and the aspects of finance to discuss. It's possible you are dating someone whose cultural assumption is that men are expected to pay for everything in a relationship. So, the need to talk about it is pertinent.
If you have been meaning to do this, I have some tips to help you. In this article, you will find out some of the best ways to discuss finances in a relationship.
When to Talk About Money in a Relationship
When is the best time for this money conversation? At what stage of the relationship should you bring up money conversations? Below are some clues:
1. Talk About Money while Dating
While courting your partner, don't fail to hold conversations about your finances. Agreed, you don't need to go all-in or talk about every aspect of the finance at this stage.
These are some of the important finance discussions to have with your partner while dating:
Discuss how to pay for dates. Are you going to pay for each date? Should your partner make the payment or would both of you split the bill?
You can talk about how to make more money.
2. How to Talk to Your Partner About Money Ahead of Marriage
Both of you have seen the "big picture" in your relationship and are looking forward to living happily ever after. At this stage of the relationship, discussions about money take a different shape. You will move from talking about date payment and salaries to more important aspects of finance.
These are some of the things to talk about:
Expenses Division: Who handles the bill/payment for specific expenses?
Discuss insurance policies and how to contribute towards the same.
Who pays the rent and utility bills?
How about the kids' tuition?
How can the family adjust if one of you loses the job?
3. Money Conversations to Hold After Marriage
Now that you are married, it is assumed that both of you need to be financially prudent and responsible at the same time. At this stage of the relationship, you want to be as open as possible about your finances.
Some ideas on what to discuss are:
Who is better at managing money?
Is it possible to run a jointly-owned account?
How to add additional sources of income.
Are we going to be using credit cards?
Where do we save our emergency fund and do you have one?
Tips on How to Talk Money in a Relationship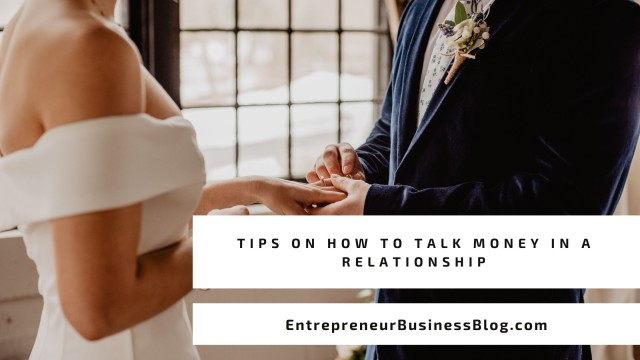 Here are expert tips on how to hold "difficult" money conversations with your partner, irrespective of the stage of the relationship:
1. Be Sure You want to Hold the Conversation
One of the things you want to do is to be sure you want to hold the conversation. If you are unsure, consider deferring it until you are comfortable talking about it.
2. Don't Talk About It Yet – Just Observe
Understandably, money conversations are one of the most difficult conversations to hold in a relationship. For this reason, you want to be sure that both you and your partner are comfortable talking about it.
Thus, it may be wise to make some observations about your partner before bringing up the conversation. The outcome of the observation can help figure out the best way to bring up the topic.
Not sure of what to observe? Here are some clues:
Does your partner hint at saving money?
What does your partner like spending the most money on? Do you think such items are worth the amount spent?
What is your partner's spending habit? Is it calculative or planned for or is it impulsive?
3. Make a Note of What to Discuss
You don't just start having money conversations without planning for it, otherwise, you will make your partner uncomfortable.
Thus, make a note of or be sure of the things you want to discuss. Here are some ideas:
Discuss any saving goals you may have.
Talk about any debt that you or your partner may have. You can also discuss your credit scores.
Talk about your salaries.
Also Read: 3 Lesser Known Facts About Marriage Loans And Its Advantages Over Generic Personal Loans
4. Know Where and When to Bring up the Conversation
The place and time have a way of influencing the discussion. While some would prefer talking about money in a relationship when in a happy mood, others would prefer deferring it to when they are sober.
These tips can help you start the conversation in the right way:
Talk about it over dinner.
Have a special date night to discuss your finances.
If you don't mind, consider having a casual talk about it, maybe, when taking a stroll.
5. Keep Your Options Open
Don't expect a specific response from your partner. Remember that both of you may not have the same spending habit but there may be compromises. Always be transparent with your finances and don't hold anything back. Trust that your partner is doing the same.
With this trust, you can both work out the best way to manage your finances, and figure out how to improve on it as the relationship grows.
Conclusion
How to talk money in a relationship can be one of the easiest things to do, depending on how it is approached and the response from your partner. Now that you know what to ask and how to ask it, go ahead and bring up the conversation with your partner.