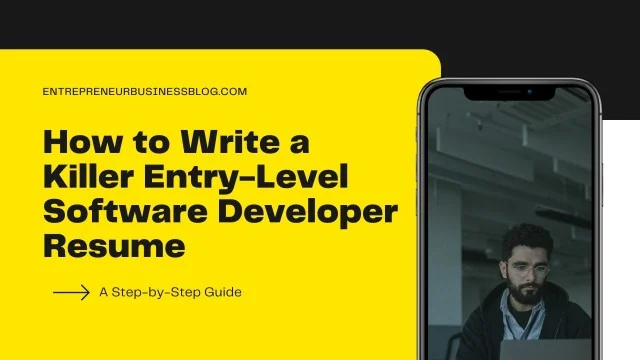 No software engineering resume writing experience whatsoever? Here's how you can craft an outstanding entry-level software developer resume that will land you your dream job.
Software development is one of the most anticipated career niches of the 21st century. According to a report by Statista, there are nearly 3.2 million software developers present worldwide which are expected to grow up to 28.7 million by 2024.
Currently, many educational degrees are available across the globe that can help you grow as a software developer. You can easily step into the software development market, however, education will only make you eligible for this profile.
You will require a highly impeccable resume to get a software developer job. Considering this, here we are elaborating on the 7 steps for a killer entry-level software developer resume:
1. Gather All the Details
Start the process by gathering all of your documents, degrees, and certifications in a master folder. This step will avoid confusion and help you ensure submitting every relevant detail to your software developer resume appropriately.
2. Outline Your Resume With The Right Format
A resume outline made up on the correct format as per your education, experience, and skills will make you impress the recruiter. Let us see the 3 majorly used resume formats in the world here and what the best entry-level software developer resume is:
Chronological Resume
Combination Resume
Functional Resume
The chronological resume format will be the best fit for an entry-level aspirant as it focuses on recent status/achievements and goes down with degrading even dates.
ALSO READ:
3. Add All the Required Sections
A perfectly framed resume having all the necessary sections will make your resume professionally strong. Using illogical layouts is one of the most common resume mistakes applicants make today. Here you can see all the important sections for an entry-level software developer resume:
Header
Personal Details
Profile Title
Summary/Objective
Key Skills
Technical Skills
Internship
Professional Experience
Education
Certification
Volunteer Experience
Additional Information
4. Showcase Your Details in Bullet Points
It is the best way to hook your recruiter's attention. A recruiter has to screen a lot of resumes in a limited time. Hence, writing your resume details in one-liner bullet points will make it easy to read. Following the below-given guidelines will make your resume points more effective:
Use power verb at the starting of every resume point
Mention every point addressing the cause-effect relationship
Quantify your information to make it look authentic
ALSO READ:
5. Add Profile-Centric Skills and Keywords
Keyword studded resume gets higher rank on the Applicant Tracking System (ATS), which is currently used by most recruiters across the globe. Apart from this, adding industry-specific hard and soft skills will also grab your recruiter's undivided attention.
Always keep in mind that mentioning separate sections for technical skills and soft skills will make a better impression and your resume look organized.
6. Highlight Important Keywords & Data in Your Software Developer Resume
Highlighting your keywords will also make your bullet points attractive. Moreover, it will help in the recruiter screening round of your recruitment process. Both bold and italic fonts can be used to highlight important keywords and metrics.
As an entry-level software developer, you may need to do a lot of keyword research so as to fully understand all the important keywords and metrics that can make your resume stand out during the first round of the automated recruitment screening process.
7. Pay Extra Attention to Summary/Objective
This section keeps special importance as it comprises a compressed paragraph form of your entire resume. A resume summary must also be connected with the key skills and professional experience section of your resume.
Frame this section after winding up everything in your entry-level software developer resume. Moreover, write a summary only if you have 3+ years of previous work experience, otherwise, always opt for an objective for your software developer resume.
ALSO READ:
Key Takeaways to Writing Software Developer Resume
Here are some of the key takeaways of this aforementioned article:
Collect all of your information useful for resume building in a master folder
Outline your resume in chronological format if you are an entry-level candidate
Add all the required sections to make your resume look professional
Mention all of your details in one-liner bullet points to improve readability
Embed industry-specific keywords and skills to parse through the ATS
Highlight your keywords and important metrics to grab your recruiters attention
Spend extra time to craft the perfect resume summary or objective
Resume-building tasks are not easy for an entry-level aspirant. Hence, we have listed the 7 steps for a killer entry-level software developer resume in this article. Still, you can express your issues or confusion while making your resume in the comment section given here. Our team members will try to help you as much as they can. And if you've had any form of employment gap, here's an article that will teach you how to explain employment gaps in your resume.