When it comes to selling ANY product on social media I have been able to master a few social media marketing strategies that work every single time, non-stop.
These unique marketing strategies don't necessarily require that you have tons of traffic or followers before you can start making huge sales with them.
With less than 1,000 followers or fans, any entrepreneur that adopts this step-by-step guide on how to market on social media can make sales others with 50x their traffic won't make. I kid you not.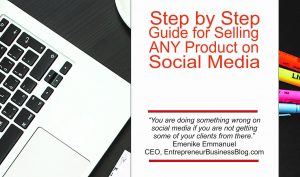 An average company in the U.S. earning $5 million in revenue spends 5 – 7 % of it on marketing. You do the mathematics. This is an indisputable social media selling statistic.
In 2015, social media marketing alone gulped up over $23 billion with 64% of it going to one giant firm called Facebook. And in 2018, social network ad spending was expected to hit above $35 billion.
Why am I giving you this social media analysis?
I want you to see great opportunities waiting to salute you this year. You need to start thinking of how you will draw your share of the billions of dollars that will be circulating this year. Big corporations are as interested in social selling as we startups are.
If something that first started as an entertainment tool and means of connecting with fans, friends, and families could end up connecting customers to marketers and in the process, billions of dollars are exchanging hands, then there's a need for you to discover the step-by-step guide you should take to make your dream of boosting your income from social media a reality.
Whether it is tangible or intangible, it's rare to find a product that can't be sold on social media if accompanied by a compelling sales copy. If you need a sales copy for your product our team at Ebusinessroom Ventures can help you get that done.
Over the years, I have come to discover that social selling is the most cost-effective means of marketing. It doesn't matter what you are selling, if you follow this guide, it will save you more money. I'm not telling you cock and bull story — this is something that has changed my life.
Write Your Sales Copy First Before Selling on Social Media
Although not all social media marketing experts will believe me on this, however, when we look at what works best for me, I have discovered that writing my sales copy before creating the product helps me figure out what exactly my clients would want, how they want it, and how to deliver it to them.
It doesn't have to be a long one. You can sketch it on your notepad so that it will serve as a guide. And if after writing your sales copy it doesn't excite you, don't bother creating your product because it won't sell. Sales copies that convert have the capacity to get you excited and always looking forward to your product launch. You may need to read the results obtained by analyzing one million website conversions in the USA.
Becoming successful in any online business doesn't have to be the usual way others are doing it. When you find out what works for you, do it consistently and it will amaze you how great your success will be.
Be Clear on What You Do on Social Media
If you aren't making sales through social media it could be that you are confusing your potential customers. You are probably making it difficult for people landing on your timeline to know exactly what you do.
Some of the reasons why your social media marketing effort doesn't convert could be a result of the following:
You talk about so many things. You didn't niche down.
You have allowed your timeline to become a dumping ground for all manner of topics, most of which are either unprofessional or completely not related to your niche.
An attempt to be everything to everybody is the worst level of disservice any startup entrepreneur intending to market their product on the internet can be doing to themselves. It's a sure bet recipe for failure. Don't do it!
Get real about who you are. Define yourself and keep building on who you have chosen to be long before you think of crafting your product.
Market to Social Media Audience that Are Interested in Your Product
Before creating a product, it's important you find out what exact problem you want to solve, who you want to solve it for, and where you can connect with people having that problem. Failure to do this means you will end up creating a product that will start and end with your family and a few friends who may want to pity you.
The most awful thing that happens when you market to the wrong audience is that you will end up losing more money than you would have made.
The big question is, who became rich spending more money than they made? The answer is simple. Nobody!
Finding the right audience that suits your product can be quite difficult but the advent of social media has made it easier.
On social media we can find people who are talking about certain products, we can find where people of common interest congregate and we can easily predict what kind of product to create for them. Using Facebook audience insights can also help you get your metrics right. That's the best way Facebook for business works.
Target Audience is What Determines Your Pricing
Not your worth but your target audience is what determines your pricing. If you want to sell high-priced products then you must start serving and attracting high-earning individuals and corporate organizations.
It's funny to see ambitious entrepreneurs who over 80% of their active friends on social media are low (and probably zero) income earners displaying exorbitant products. In the end, it ends up in one thing, and that is "frustration".
However, if you must target the same audience with a high-priced product, then you must be ready to present an extra value with a more compelling sales copy that will enable them to see the worth.
Plan Your Product Launch on Social Media
The best time for entrepreneurs to kick off their product launch campaign is a week before the month-end.
This social media marketing strategy is to enable salary earners to have fewer excuses for not buying your product. Timing is a very crucial factor you must consider if you want to make huge sales through social media.
I met a huge percentage of my clients on social media. Most of them I never pitched to. My responsibility is to create education-based marketing content like the one you are reading now and I will have people calling or emailing me to work with me. You too can do the same. You can make tons of profit by simply bringing your offline business online – and of course, using content marketing to promote it. Good enough, it's not as expensive as you think.
3 Things to Do to Have a Perfect Product Launch on Social Media
Launching a new product on social media can be quite interesting and at the same time very profitable if you know exactly what to do.
Having worked with a few individuals to get their brands out there on the internet, three fantastic strategies stood out which I think every startup entrepreneur hoping to have a perfect product launch need to know.
1. Be Known for Your Product Long Before You Create It
Don't give your audience a shock, or else they won't pay heed to your launch. Give them a high-valued product of something they have always known you for. If you've been talking about goal setting on your timeline, let your new product release be about goal setting.
If you've been sharing free articles on social media on how to relocate to Canada, Australia or the UK you can as well create an information product on the same subject.
When blogging is mentioned today, most people are more likely to mention Emenike Emmanuel because they all know me as one who runs a highly profitable blogging business.
You can also use Facebook Reels, TikTok videos, Twitter Spaces or Instagram Reels to reach more people. This can be a smart way to create viral content and sell any product on social media with ease.
2. Craft a Unique Hashtag for Your Product or Brand
Beyond having the capacity to direct unique visitors to your blog, the hashtag is also a strong marketing tool that can make your brand to be easily discovered online. #TheCakeMakingGuru, #FreelanceWritingCoach and #BloggingBusinessMasterclass are good examples of what I'm talking about.
With Hashtags.org and Hashtagify.me you can research a hashtag to know if it is already in use and what they are associated with.
3. Organize an Online Event Ahead of Your Product Launch
An online conference is an amazing way to create awareness for a new product release. With Facebook L*ve video and Facebook l*ve audio, it has become easier to organize events online.
From the comfort of your home, you can reach as many people in your tribe who are ready to connect at the same time. Come to think of it, if you offer them rich content in your live video or audio for free and at the end of the day you present your premium product, don't you think they will be willing to buy it? Of course, they will.
Set Up a Team
After launching your product you will need a team that will help to continue to talk about the benefits.
Forget all the gimmicks and strategies you have applied in the past, "Hyping" is very important. As an influencer, I have hyped a lot of people to stardom while making good money doing so.
The good thing is, they were all naturally done that you won't even notice it. You can get in touch with me if your brand needs heavy exposure on social media in the most natural way.
You will need a selected group of people or an organization that is into PR to keep talking about it.
Organizations like Ashoori Law, Cogo Port, Roula Rouva Real Estate, Vids Place Empire, Naemarich Couture, De Adroit International Magazine, Aba Dog Breeders Association, LizBeth Hub, TechBucci, Vidars Exotic Cakes, Awele Body Works and individuals like Mercy Macjoe, Kingsley Kalu the young man who could recreate the world with a pencil, Joseph Charles, etc., our company, Ebusinessroom Ventures partnered with have been receiving amazing traffic and profit.
Start Receiving Payment on Social Media
Payoneer or no Payoneer, PayPal or no PayPal, Alipay or no Alipay, you can start receiving payment anywhere in the world via Social Media.
If you have a blog, that's fine, but if you don't have a blog yet you still have nothing to lose. Some of Africa's most dynamic entrepreneurs have gifted the world with awesome platforms that can enable you to receive payment directly on social media from anywhere in the world.
Talk about Paystack, Flutterwave, Selar.co, etc. In this digital space, there's no more limit. Your journey to making millions in the next few months can begin now if you already have what to sell.
But if you don't have what to sell, get a mini importation course now so that you can learn how to import products and sell them off in a few days for over 200% pure profit. If you prefer creating and selling digital products you can check out my digital product business webinar.
Conclusion
Why won't you make money while socializing with friends and fans? You need to change your orientation about social media if all you are sold is that it's only a place for entertainment and exchanging pleasantries.
Take this article to heart and it will amaze you how creative you will become selling your ideas on social media. It's as simple as that. So much can be done with social media if you can commit yourself to knowing more.
Facebook and Twitter pages having 5,000 fans/followers and above can register with one of Google's acquired Startups, Famebit to start running Ads on their platform and in the process make an extra dollar for themselves. Or you can create an App and market it on Facebook. Don't let the billions of dollars in social media pass you by.
Was this article helpful to you? Share it.
If you want me to personally coach you on how to use social media to increase your sales, get in touch me today – [email protected]