Ninja Strategy

For Marketing On Social Media
An appetizer for Social Selling Mastery
Are you a business owner, consultant or freelancer?
Do you have some products and/or services you would like to sell tons of them if given a simple yet proven strategy that the likes of Tai Lopez, Frank Kern and John Obidi are using to generate hundreds of thousands of dollar and even millions?
If your answer is yes, then I can bet you that after reading this ninja strategy for marketing any product on social media, you will go back to thank your God or whatever you believe in for the privilege of getting to know Emenike Emmanuel today.
Back in the day when I got to know about social media, all I was told was that it's a platform where you can connect with new and reconnect with your old friends.
Of course, that definition of social media isn't wrong anyway but fast-forward to our present age, social media has evolved.
In this social media marketing tutorial, you will learn:
What social media has evolved into

3 Stra-tricks for writing a highly engaging social media content

The No.1 business skill you need to start selling online

How social influence controls people's buying decision

The rise of social commerce and how to tap from it

Why you should start marketing your products on social media

6 Basic steps to marketing your products on social media

How to know the right social media platform to market your product



That's not all. If you read to the end, I will show you a blueprint you can take and implement right away in your business that will keep you competitors struggling to meet up the new order you've brought into the industry.
Are you ready? Let's dive right in.
Why Choose a Ninja Approach to Social Media Marketing
The word, "Ninja" is a martial arts word from the Japanese origin, which simply means: "A person who excels in a particular skill or activity."
When we bring that into the social media marketing scene, a ninja strategy therefore means developing and taking skillful actions in selling your products on social media that your competitors never thought of. If you call it being proactive in developing social media marketing concepts, you are also right.
What Has Social Media Evolved Into?
Social media has evolved into a business centre, a marketplace, a solution ground, a customer acquisition hub, a platform for receiving customers' feedbacks, a platform for checking out product reviews before purchase is made and a testing ground for new business ideas. [Quote Emenike Emmanuel on this]
Any business that social media can't influence is probably not a 21st century business. Trust me! Give such business time and it will walk the path of the dinosaur. Sincerely speaking, such business is not the best business to invest into.
No matter the type of business you are into, social media has a way it influences people's buying decision in that niche. Don't tell me because it's a legal firm or a chartered accounting firm that social media will never influence them… That's a no, no. Even if you don't sell your product online, a little social media growth hacking strategy can still have a significant influence on it.
I didn't just put that up. I will show you how social media influences customers' buying decision with statistical evidence.
How Social Influence Controls People's Buying Decision
According to a 2016 social global survey conducted by PwC on 22,000 people from the age of 18 and above in 160 countries (including Nigeria), it was deduced that 45% of respondents who shopped online at least once in the last one year agreed that reading reviews, comments and feedback on social media influenced their digital purchasing behavior.
In another digital buyers report made available by a digital marketing agency, ODM Group, they had it that 74% of consumers rely on social media to make their buying decision.
Of course you know that this is not unconnected to the rise in social influencers across the globe, especially on a platform like Instagram. When an influencer says something about a brand, whether positive or negative, majority of their followers tend to nod in affirmation.
A recent example is a tweet Patrick Bet-David made against Avis Car Rental where he called them out on Twitter as a brand that has a "HORRIBLE customer service." This may not have an instant crackdown on Avis Car Rental but over time it will.
In case you don't know, Patrick Bet-David is a social influencer.
He has a massive following of 68,000 on Twitter, over 370,000 Facebook fans and over 500,000 YouTube subscribers. So, the tendency of people following his opinion is huge.
Why You Should Start Marketing Your Product on Social Media
Social media marketing has come to stay. Social commerce is now a billion-dollar industry. It's either you commit yourself to mastering how to sell your products on social media or you seat back there and watch your competitors take over the market.
For the following reasons, it's important that you learn how to market your products and services on social media:
1. Your target audience are already on social media
2. The privilege of selling your product to even 0.005% of 3.028 billion active social media users is still a huge one. [A report published by The Next Web but compiled by Hootsuite and We Are Social has it that we are now over 3 billion on social media]
3. You have the privilege of building quick relationship and establishing trust with your customers
4. On social media, you can be easily reached by people who are interested in what you offer
5. It's cheaper to advertise on social media
6. Becoming an influencer and hiring one is faster on social media
7. It's easier to predict what will sell and what won't when you are on social media
8. And many more.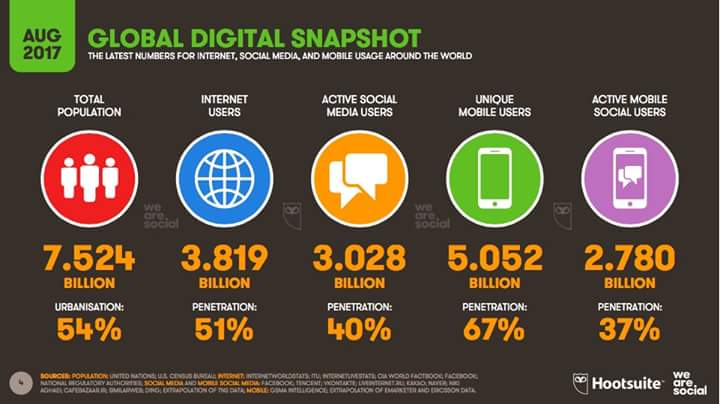 Are you on social media?
If you are, I want to ask you another question…
Is your business on social media?
And if your business is on social media, other questions I have for you are:
How profitable is your business on social media?
Are you making sales via social media?
Can you run a profitable Facebook ad or you are still blowing away your money?
Do you know how to run an ad on social media in a way you will never lose even if you didn't sales?
Do you have some social media hacks that you can copy and duplicate from time to time to make your result consistent irrespective of who's managing your business?
If your result isn't something you are proud of or you are already making sales but you believe you can do more than that, I want to tell you congratulations because that's exactly what I, Emenike Emmanuel has agreed to teach you in this social media marketing tutorial.
Name any internet marketing ninja leveraging on social media, he's already using these things I am going to teach you here.
According to a survey made available by Sales for Life, 72% of sales professionals are yet to master how to sell on social media. These are sales professionals we are talking about here… Hope you know that?
But the exciting thing is that you don't have to wait until you become a sales professional before daring to become proficient at selling on social media. At SOCIAL SELLING MASTERY, I will walk you through all the steps to mastering social media marketing. But before then, follow this guidelines.
Basics of Marketing Your Products on Social Media
#1. Find a Need in a Niche
You are not going on social media to market to bots. No. You are dealing with human beings with feelings like you. So, if you must get them to stop and listen to you, and possibly buy from you, you must have something that they need.
#2. Identify the Right Social Media Platform to Market Your Product
Different social media platforms work in different ways and have different sets of audiences. What will determine the platform you should be active on is the kind of audience you intend to meet. You can't be active on all social networks. Just find where your target audience are and start cultivating relationship with them.
#3. Interact with Your Audience to Validate Your Finding
When you find a need in niche, pick a social media platform where people in that niche are most active. The next thing you should do is to interact with them to validate your findings. It will be stupid to start making offers to an audience without first finding out if your offer is something they would like to have.
#4. Master the No. 1 Business Skill When Selling Online
When it comes to selling online, (social media not excluded) I was able to uncover 2 powerful soft skills that can set even a newbie apart in 30 days or less.
I will discuss them in details at Social Selling Mastery. Among these 2 skills, one of them is, INFLUENCE.
If you are good at influencing people to follow your line of thought, selling your products and services on social media will stop being a hard nut to crack.
#5. Create a Product or Service You Can Market on Social Media
If you influence people and also use the second skill (which I will reveal later) but you don't have a product to offer them, you risk losing them to your competitors. This is why I strongly advocate that you produce free contents only in the niche where you have a product in or an affiliate partner to.
#6. Add Complementary Products
Complementary products are products that can be sold separately but are used together, each creating a demand for the other. Typical examples are: pen and paper, bed and bed cover, blog and social media pages, Facebook pages and messenger bots, blog setup and SEO, mini importation and Facebook marketing, etc. The list can go and on and on. When selling on social media, make sure you have complementary products for your core products to help you increase your revenue.
3 Stra-Tricks for Writing a Highly Engaging Social Media Content
There's a small catch there, especially when you consider the Facebook algorithm that makes you see mainly posts of those you interact with. So, my advice here is that you should only interact with people you would like to be seeing their posts often. Or those you would like to do business with.
It's easy to become a coward on social media. By that I mean, shying away from hard talks people are afraid to speak out. But when you pick up a "common enemy" and talk about it on social media, people will be forced to engage with your post. For instant, when you talk against religious extremism, sexual abuse, poverty, and all the rest of them as it relates your niche or target audience, people will be moved to engage you.
Don't always rush to publish a new post on social media. Have 'someone' in mind you would want to impress your thought on. It could be spotting mistakes people make, it could offering answer to a question someone raised in a group. It could be inspiring someone to take action. Whatever... Just make sure you are giving value. Every stellar content must do one or all of the following: engage, persuade and inspire readers. I took time to break them down at Social Selling Mastery.
Would you like to break a new record in

sales volume

?
If yes, read further to see how you can participate in ...
A 5-days masterclass where you will discover the step-by-step, non-salesy guide on how to sell your products on social media, faster and more profitably without sounding like a boring salesman
My dearest friend,
If you read to this point, it means you are really serious about transforming your business, it means you are hungry for a positive change and it means you have the never-give-up kind of spirit. In fact, let me say this to you, you indeed have what it takes to be a successful person.
Congratulations!
I purposely made it difficult to get here because I know it's not everyone that actually want their business to thrive. Some are just waiting for things to get bad so that they will dust their certificate and go back in search of salary jobs. There's nothing wrong with salary job, anyway.
There's something you probably didn't notice.
Before getting to this point, you've read over 3,000 freaking words from me. Yes! I mean it.
"3,000 words."
But you didn't stop, because there's something in it for you. If there's anything I have vowed to do this year, the number one of them is to make it more difficult for lazy people to succeed.
Tell me, how can someone that can't read 3,000 words that will transform his business value what anyone will tell him? It can only happen by chance or an expert was hired to manage the business on his behalf.
Congrats for making it to the top where others couldn't.
Now you've got the pre-qualification to be one of my students when it comes to Social Selling.
Without further fussing, let's get to it: