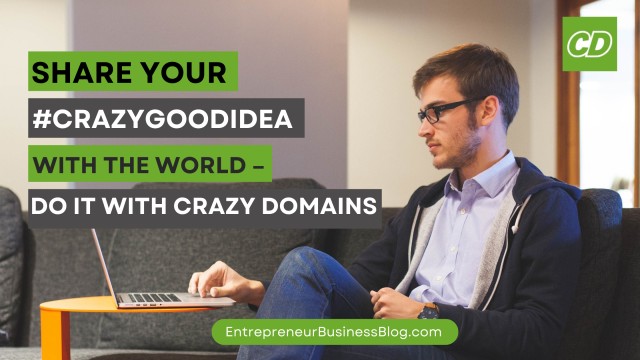 You may have a brilliant business idea or a whole list of them, but the question is: How do you bring it to life?
Truth is, several barriers are stopping businesses from kickstarting an online presence. Here are the top two concerns:
They don't know where to start

Building a website is costly
With its core mission to help small to medium businesses go and grow online exponentially, Crazy Domains aims to resolve this struggle by providing efficient and affordable online tools and solutions.
But this time, we're going the extra mile to achieve that mission.
About Crazy Domains
Established in 2000, Crazy Domains has grown from humble beginnings to become the #1 online solutions provider for Australia, with customers expanding to New Zealand, Southeast Asia, the UK, and India. 
Crazy Domains has launched various initiatives to ensure business growth and continuity. Our services include web hosting, servers, online marketing platforms and services, web design services, and more.
In line with this, Crazy Domains has put together great deals and surprises for you:
Crazy Good Sitewide Sale!
Get all your online essentials at a crazy affordable price. Crazy Domains' sitewide sale offers up to 75% off its top-tier online products and solutions including Domains, Linux hosting, Web Design, Website Builder, Email Hosting, Managed SEO, and more.
You can avail of the promo from the 31st of October to November 30, 2022. Visit the official Crazy Domains website, select your solution(s), and the promo will automatically apply upon checkout.
Kick off your online journey today with Crazy Domains: https://bit.ly/3TZ7WRV. Here's what we have to offer:
Domain
Your domain name is what users type in their browsers to visit your website. Think of it as the equivalent of your business's physical address.
When choosing a domain name, keep it short, memorable, and relevant to your business and niche. You may want to see more factors for choosing a good domain name for your business.
Web Hosting
Web hosting is an online service that makes your website's content accessible on the internet. When you purchase a web hosting plan, you rent a space on a server to store your website's files and data.
Email Hosting
Increase credibility when connecting with your customers. Rather than having a generic email address, such as [email protected], you can personalise it to [email protected], matching your business name.
Website Builder
Creating a website used to be a lot more complicated with all the coding needed. With Crazy Domains' Website Builder, you can drag and drop your way into creating your own fully functional website in minutes.
Site Protection
Cyberattacks can cause serious damage to your business. Site Protection scans your website daily for malware and other vulnerabilities and quickly fixes them to stop online threats in their tracks.
Traffic Booster
Let customers easily find you online with Traffic Booster. It's an efficient solution that lets you submit your website on the most popular search engines and online directories, like Google, Yahoo, and Bing.
Crazy Domains has recently launched an Improved Affiliate Programme: What to Expect? 
4 Best Ways You Can Benefit from Being a Crazy Domains Affiliate Program Partner 
1. Quick onboarding
Registering for the Crazy Domains Affiliate Programme is simple.
To start, you can sign up for free. Once onboard, you will receive a unique affiliate link to add to your tweets, posts, and blogs.
2. Enjoy competitive commission rates
Your commission depends on the product or service that the customer purchased. Refer to the table below to see the commission fee rates of Crazy Domains for each product category.
| | |
| --- | --- |
| PLAN | COMMISSION |
| All Domains | 20% |
| Web Hosting, Email Hosting | $70 AUD |
| Servers, Design Services | $140 AUD |
| Traffic Booster | $70 AUD |
| Simple SEO | $140 AUD |
| Managed SEO | $280 AUD |

On top of getting quality products, your referrals also get 24/7 support from a brand that's been in the business for over 10 years. 
3. Accurately track commissions with an intuitive platform
To help you manage your sales and commissions easily, Crazy Domains partnered with a world-class affiliate tracking platform – Impact Radius. Once you successfully sign up for the programme, you'll be redirected to the platform.
4. Access Crazy Domains library of promotional assets
For easy onboarding, you will gain access to our wide library of attractive visuals and product banners to set up promotional placements with ease. You can choose from any of these materials to put up on your websites, blog, and social media pages.
Become a Crazy Domains partner today!
Are you ready to monetise your website, blog, and social media?
Leverage Crazy Domains Affiliate Program to turn a side hustle or a passion project into a source of passive income. Plus, you'll be able to help your audience achieve their online goals by providing quality online solutions.
For more information, visit [https://www.crazydomains.com.au/affiliates/]