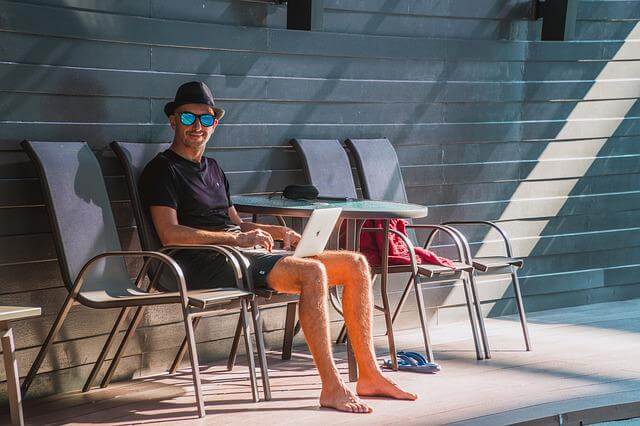 Are you looking for the best remote jobs that pay better than the average American salary? Would you like to work from home while servicing clients all over the world? Do you care about building a freedom-based business? I mean business ideas that give you location, time and financial freedom?
If your answer is yes, then I have something to share with you. I want to show you the top 10 high-paying jobs that let you work from home while earning over $100,000 monthly.
Why are remote jobs becoming popular these days? Remote working is not new. But since the outbreak of the pandemic in 2020, many companies now encourage their employees to work from home.
Statistics on remote workers reveal that more than 4.7 million people work remotely at least half the time in the United States. 44% of companies do not allow remote work and only 16% of companies hire remote workers. 
Most In-demand Jobs for Remote Workers
1. Blogging
When it comes to making passive income online, blogging ranks at the top of the list. As a blogger, you enjoy the privilege of working from anywhere in the world. The basic tool you need to run your blogging business is an internet-enabled laptop.
To run a successful blog, you will need to choose a profitable blogging niche. A niche has to do with the area of blogging you would like to write about. Your passion and expertise are the things that will frame your choice of a blogging niche.
What are the best and most profitable blogging niches? In no particular order, here are the most profitable niches: insurance, health, digital marketing, business, education, biography, real estate, technology, etc. These niches can be further broken down into sub-niches.
You will need to secure your domain name from Namecheap, web hosting services from HostGator and a responsive WordPress theme from Themeforest.
2. Affiliate Marketing
Is it possible to make money online with zero startup capital? The answer is yes. You can achieve this by selling other people's products in exchange for a commission. Affiliate marketing is the business model that pays you a commission for the sales or leads you generated on behalf of the vendor. That goes to show that this remote business idea is performance-driven.
On affiliate marketing platforms like WarriorPlus, Impact, CJ, JVZoo and Amazon, you can earn a decent income working from home. Your job as an affiliate marketer is to recommend products you believe in. This product could be physical or digital but what matters most is that it's solving a unique problem.
It's important you know the clear difference between dropshipping and affiliate marketing before you get started. Just like blogging and dropshipping, you can run a successful affiliate marketing business from anywhere in the world. 
And the best part is, affiliate marketing is one of the remote jobs where you can earn more than the average American salary. Take a look at this guide to see how to make your first $1,000 as an affiliate marketer.
3. Data Entry
Data entry professionals use computers and data processing programs to input information. When it is done electronically, you can easily work from home as a data entry specialist.
Companies in and outside the United States are always on the lookout for who to outsource their data entry jobs. If you position yourself as the best service provider, you will always get more contracts than you can handle.
To get started in your data entry business, you will need to obtain the necessary operating license from the local authority. 
What are the top skills needed to excel at data entry and management services? Below are the most prominent skills every data entry service provider would need:
You can start offering your services for as much as $10 per month even when you've not taken any data entry certificate course. And as you perfect your craft and build your customer base, you can charge more.
ALSO READ:
4. Dropshipper
Dropshipping is a type of e-commerce wherein the business owner doesn't keep the products they sell in stock. The role of the dropshipper is to fulfill orders while the manufacturer or wholesale dealer supplies the product.
Is the dropshipping business profitable? The answer is yes. You can make millions of dollars in profit annually as a dropshipper. If you have an interest in selling a particular product but you are on a shoestring budget the best way to start is to dropship it from AliExpress or eBay.
As a low-cost business idea, you can start dropshipping any product without bothering about warehousing it and delivery. It's a good idea to take a dropshipping course from an expert who's deeply grounded in the field.
In one of our previous articles, we discussed the most profitable evergreen dropshipping products. You will definitely pick a product from there that aligns with your passion and expertise. We've also written about the worst dropshipping niches to avoid for your reading pleasure.
How much can you make dropshipping a month? If you are strategic enough to pick a hot product to sell, a Shopify dropshipping store can earn you anything from $100 to $100,000 per month. It's important to note that picking a hot product is not enough. You will need to invest in direct-response marketing, product description and paid advertising.
5. Graphic Designer
The popularity of free graphic design apps has made getting remote jobs online very easy. Gone are the days when you have to spend years learning how to manipulate photoshop, adobe illustrator and many others.
Today, with an app like Canva, co-founded by Melanie Perkins, you can start offering basic graphic designs to small businesses. You can earn a decent income working from home as a graphic designer.
How much can you make working remotely as a graphic designer? According to the Bureau of Labor Statistics (BLS), the median annual graphic designer salary in 2020 was $53,380.
6. Copywriting
You can earn a decent income writing sales copies and email copies for businesses working from home. If you are good at writing persuasive and seductive copies that convert, you can earn as much as six figures per copy. There are cases where you will also earn royalties from your copies.
It becomes more interesting if you are great at technical copywriting. To get started, you can sign up on freelancing platforms like Upwork and Fiverr.
When you start getting more copywriting gigs than you can handle alone, you can launch a freelance copywriting agency. Your freelance copywriting agency can be serving entire North America and beyond.
Copywriting is one of the remote jobs that pay better than the average American salary. And the interesting thing about this online business idea is that you can start with zero startup capital.
7. Virtual Assistant
Extremely busy business professionals are constantly looking for assistance. Do you know why? It's because they understand the power of a virtual assistant in today's businesses. What are the basic requirements for working as a virtual receptionist? All you need to qualify for this work-from-home job is to prove that you are organized and can pay attention to details. 
Your role as a virtual assistant varies based on the type of business involved. You may be required to oversee appointment booking, social media management, sending and replying to emails, etc. As the one handling all the administrative support, do all you can to ensure that your client's business thrives.
How much do virtual assistant jobs pay? You can earn as much as $20 per hour working as a virtual assistant. It can be more depending on the company you are working for. Continuously researching for the best companies to work for in your city or any region of your choice will help. Take a look at the top tasks Amazon virtual assistants do.
ALSO READ:
8. PPC Consultant
Do you know the best keywords to target when running a PPC campaign? Do you know how to manage your advertising budget to ensure you have a high ROI? And do you desire to help businesses achieve their sales goals? If yes, then you should consider becoming a PPC consultant.
Businesses within and outside the United States are in need of pay-per-click consultants that can help them grow. If you can help businesses generate more leads and sales with a minimal budget, you will never lack gigs. Quite a good number of businesses will be glad to sign a retainer contract with you.
Remote jobs like PPC campaign management and digital marketing can pay you more than the average American salary would do. But for this to happen, you must distinguish yourself as an expert.
What is the average salary of a PPC consultant in the United States? According to the 301 salaries of PPC specialists reported in the United States by an online job site called Indeed, the average salary for a PPC specialist is $56,907 per year.
9. Travel Agent
Planning a trip can be time-consuming. It doesn't matter whether it's a business trip or a family vacation. It's not everyone that has the free time to plan their own travels. However, with the help of a travel agent, individuals and corporate brands can achieve their travel goals.
The job opportunities for travel agents are enormous. But for you to maximize them, you must know where to find the best travel deals and destinations for your clients. Knowing the best places to eat or visit in the Bahamas will help first-time tourists who come to your website. They might even work with you on their next trip.
You can either start your own travel agency or work with other travel companies remotely while earning a commission. 
Is starting a travel agency competitive? The right answer is yes. This is because there are millions of travel sites out there sharing for free some of the services you might want to charge for. But do not let that scare you. Do you know why? Most people will consider combing through different travel websites in search of good deals a waste of their time. So, they will rather hire your services.
A travel agency is one of the remote jobs that pay better than the average American salary that you can start with minimal startup capital.
10. Cyber Security Consultant
Data theft and phishing are at an all-time high now. Big brands are in search of network and cyber security experts who can help protect their company data. Hiring an IT expert to manage their network security can help them mitigate hacking and lawsuits.
One of the reasons why cyber security is a great career is because there's zero unemployment in the industry. If you are looking for cyber security jobs in the United States today as a remote worker you will find one. The question should be, do you have the skills?
You can install data protection systems to prevent any form of successful cyber security attack on your clients' websites.
How much can you make with a cyber security certificate? According to the United States Bureau of Labor Statistics (BLS), the average salary of a cybersecurity analyst in the US in 2020 was $103,590. The equivalent is $50 per hour. Remote jobs that pay you this high are definitely better than the average American salary.
ALSO READ:
Conclusion
The best-paying remote jobs aren't always the easiest to start. But the interesting thing about them is that they are worth your time investment. Knowing them is not enough if you don't take action. So, do yourself a favor by picking any of the work-from-home jobs that fit your personality.
Other amazing, most in-demand remote jobs right now are translator, online tutor, business coach, web developer, freelance writer, editor and proofreader, software developer, social media manager, telemarketer, vblogger, etc.