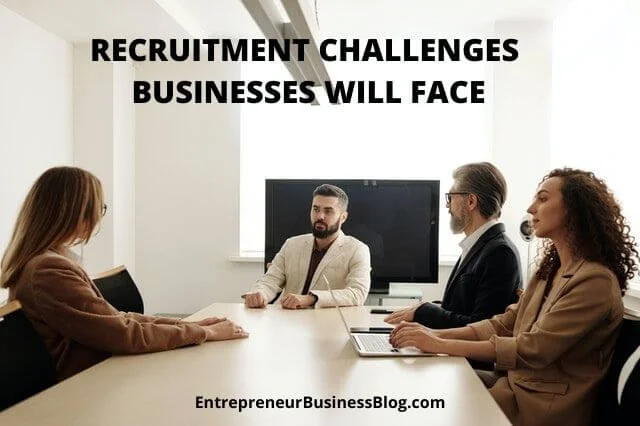 Knowing the most common recruitment challenges you will face in your business and exactly how to overcome them is key to succeeding in 2023.
Why it's easier for great companies to hire the best talents is not just because they pay a higher salary than their competitors. Using the best-recruiting tools won't cut it either. But because they have the best approach to solving the biggest hiring headache.
In this article, we shall discuss the problems facing human resource managers and how they can solve these pressing recruitment challenges whether it's offline or e-recruiting.
The Biggest Recruitment Challenges and How Businesses Will Overcome Them in 2023
In 2022, small businesses in the United States and other parts of the world will face these top three recruiting challenges.
1. Struggling to Attract the Right Candidates
Nothing can be more frustrating than trying to find the right candidate for a role in a pool of unqualified applicants.
Even with the best recruitment management tool that uses automated processes, HR is still finding the process difficult. In the end, you will be forced to settle with the best person you can find at the moment even when you know that the person is not the best fit for the job.
According to a 2017 Recruiter Sentiment Study by MRI Network, 63% of recruiters said that talent shortage is their biggest problem.
ALSO READ:
How do you solve this recruitment challenge that has to do with attracting the right candidates for the job?
It's very simple. Be very clear about the requirements for the job in your job ads. Take a cue from Amazon's first job ad. It will show you what being concise actually means in practical terms. Little wonder they grew to become a trillion-dollar company.
A streamlined selection process powered by innovative recruitment software can help you to knock out anyone who doesn't meet the minimum standard required for the role.
The faster it is to screen out those who don't qualify for the job you advertised, the more time you will save and invest in what matters to your bottom line. The LinkedIn jobs board has a simple feature that can help you achieve this.
Recruiting statistics published by Glassdoor say that on average, each corporate job offer attracts 250 resumes. The typical employer will then interview 4–6 candidates for the job, and only one will be successful.
2. Conscious Attempts to Create an Amazing Candidate Experience and Protect the Company Brand
The strength of your company lies in your brand reputation.
In case you don't know, how you treat your job applicants throughout the recruitment process plays a key role in how the marketplace will perceive your company.
Candidate experience statistics published by Deloitte say that 80% of candidates who had terrible recruitment experiences will openly share it with others. And the worst part is that they will do it repeatedly as though they were paid to do so. This alone can hinder the best talents from ever accepting to work with your brand.
A poor candidate experience can damage your brand image, impacting how both candidates and customers may see the company in the future. Yet understanding how to execute a positive candidate experience seems to be one of the biggest recruitment challenges.
This was further confirmed in LinkedIn Global Recruiting Trends of 2017 where employer branding was said to have a significant impact on hiring talent according to 80% of recruiters.
ALSO READ:
How do you improve candidate experience as a reliable recruiting firm? To give your job applicants an amazing experience during the recruiting process, we recommend that you do the following:
Write a clear, straight-to-the-point job description
Hire the best digital marketing agency to build your career website and improve its performance on search engines through SEO. You will find a good number of them in the United States, the UK, Dubai, Canada, New Zealand, the Philippines, etc.
Respect the candidate's time.
Communicate with your candidates through automated emails and sms at every stage of the application. An email marketing tool like Constant Contact can help you achieve this seamlessly. According to a PwC survey on the future of recruiting, 61% of candidates have experienced recruiters withdrawing from all communication suddenly and without explanation, even after they have had an interview.
Give and ask for feedback, and actually act on them.
Appreciate candidates for counting your company worthy of their talents and if you can afford it, give them refreshments. You can partner with the best food vendor near you to achieve your goal.
Be transparent during the recruitment process. Besides giving you a great candidate experience, it's also a great way to protect your company from getting sued.
Having a great candidate experience can boost your employer brand, boost employee loyalty when they are finally hired and increase positive word-of-mouth marketing.
3. A Delayed Hiring Process
It's said that the perfect candidate doesn't exist. However, recruiters are still doing everything to see if they can hire the right candidate.
But in the course of doing this, they face a lot of recruitment challenges. This can result in a delay in the hiring process.
If you have a strong candidate in mind for a position but are hesitant to proceed because of a lack of experience, this can delay the hiring process. In turn, you are likely to lose this quality candidate to a competitor.
To increase your chances of hiring the best candidate for a role, you must know how to sell your startup to prospective candidates.
Because a candidate who doesn't have all the required skills should not stop you from hiring them, especially if you know that they are teachable and have the potential to do better in the future. If you don't see their worth, your competitor will see it.
How long is too long for a hiring process? Nearly 40 percent of job applicants who meet the basic requirements of the job description say that 7 to 14 days is too long to wait to hear back from an employer.
Slow hiring process is not only because the recruiters are picky in who they approve to work with them. What causes delays in the hiring process most of the time is because of larger candidate pools or inefficient interviews.
Having a deadline and using the services of a reputable HR can help you minimize recruitment process delays.
Do You See Your Business Experiencing These Recruitment Challenges in 2023?
If you care about the financial implication of having multiple job interviews, your candidate experience and the reputation of your company, you must be prepared to deal with these recruitment challenges in your business.
There are tons of reliable interview tools used by most HR companies in the United States, Canada and the UK that can help you to conduct, record and review interviews faster and efficiently.
ALSO READ:
As I summarize this topic, I'm sure I've been able to answer the following questions in your mind:
What causes delay in the hiring process?
How long is too long for a hiring process?
How do silicon valley companies minimize recruitment process delays and what tools do they use?
What are the reasons for delay in the recruiting process?
How do you improve the candidate experience?
What are some hiring and recruitment statistics one should watch out for in 2023?
How do you attract the right candidates?
How to solve some of the biggest recruitment challenges in the United States, Canada, the United Kingdom, Australia, New Zealand, Hong Kong, Singapore, Bulgaria, Philippines, South Africa, etc?
What are the most strenuous problems recruiters will face in this post pandemic era?