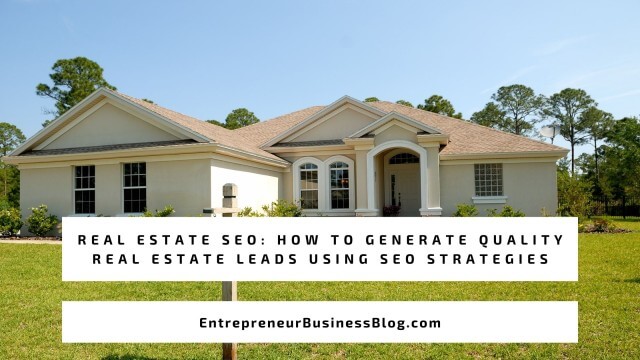 Do you want to master how to generate quality organic real estate leads using unique SEO strategies? How do you optimize real estate listings so that it ranks well on search engines? And how do you use search engine optimization to build brand trust and credibility with your property business audience?
You will find all the answers you need in this article.
What Makes SEO Important in Real Estate Business?
The majority of consumers nowadays begin their real estate search online. According to the National Association of Realtors, 93 percent of property buyers use online platforms to start their search for a property. In other words, your company has a lot of opportunities to connect with potential customers online.
However, if they can't find you, they won't be able to communicate with you. That's where real estate SEO comes in.
How does real estate SEO work? Search engine optimization is the act of assisting search engines such as Google in comprehending the content and value of your website in order to get higher rankings in search engine results page (SERPs), increase traffic to your website and ultimately improve conversion.
Answer Your Audience's Questions by Choosing the Best Real Estate SEO Keywords
Asking yourself, "What information are my users seeking for online?" is one of the best methods to start developing content for your website to assist improve your real estate SEO.
You will almost certainly be attempting to connect with people looking to purchase and/or sell a home in the United States, Canada, Greece, Grenada or the UK. So, what are some of the most common questions buyers and sellers ask? Here are some of the popular questions made on search engines when buying or selling properties:
What is the difference between a buyer's and a seller's market?
What kind of local amenities are available in this area?
Is there an ideal time to sell or buy a house?
What can a real estate agent do to assist me in buying or selling a home?
Does timing affect property prices in this area?
Can I easily resell this property whenever I wish to?
When you know the right real estate investment project to write about in your blog, it will help you attract the right kind of audience to your website.
ALSO READ:
Start Creating Quality Content to Help You Improve Your SEO
If you want to improve your real estate SEO, start creating articles around the subject line "Best of." For example, the best restaurants, best neighborhoods, best shopping areas, and so on. Such resources are extremely beneficial to anyone looking to buy a new home, and they will also establish you as an authoritative resource in your region.
You also have a distinct advantage over national real estate websites as a local real estate agent in the United States or London: your local knowledge and unique perspective.
Share the Right Content on Your Real Estate Website and Social Media Pages
Understanding all the frequently asked questions in your real estate business will help you improve your SEO. You need to know the kind of content that works for your property website and what works for your social media pages.
It's not every type of article that is appropriate for your website. Some might fit in for a personal social media page but not your real estate website. The single and most important purpose of your real estate website is to attract visitors, establish quality relationships with them and convert them using SEO strategies. 
When you take the time to create quality content and answer relevant questions, people appreciate it. They share it across all social media platforms and will always recommend and visit your real estate website.
Use Internal Linking to Boost Your Real Estate SEO
Why is internal linking an important SEO strategy when building a real estate website? Internal linking helps Google to understand your website and rank it better. It helps to connect various pages of your website together.
The more pages on your website you have, the more options you'll have to create internal links. That implies more opportunities to entice users to stay longer on your site, reduce your bounce rate and increase your website conversion.
ALSO READ:
Get Backlinks from Websites that Have High Domain Authority
A backlink is considered to be one of the most powerful ranking factors by Google. The more backlinks you receive from a website with high domain authority, the more yours rises.
How does backlink work? Backlinks are the internet's personal referrals. This is why Google treats them uniquely. There are numerous link-building strategies you can apply to get backlinks. One of them is guest posting.
Ahrefs and other similar tools can assist you in determining your website's backlink profile and authority. Ahrefs is a tool I use on a regular basis to aid in my SEO efforts, both in terms of link development and content production. It's a tool that you'll want to keep in your toolbox.
If you are serious about growing your real estate business, start using SEO to attract, retain and convert the leads you generate online. You can hire a digital marketing agency to help improve your real estate listings.