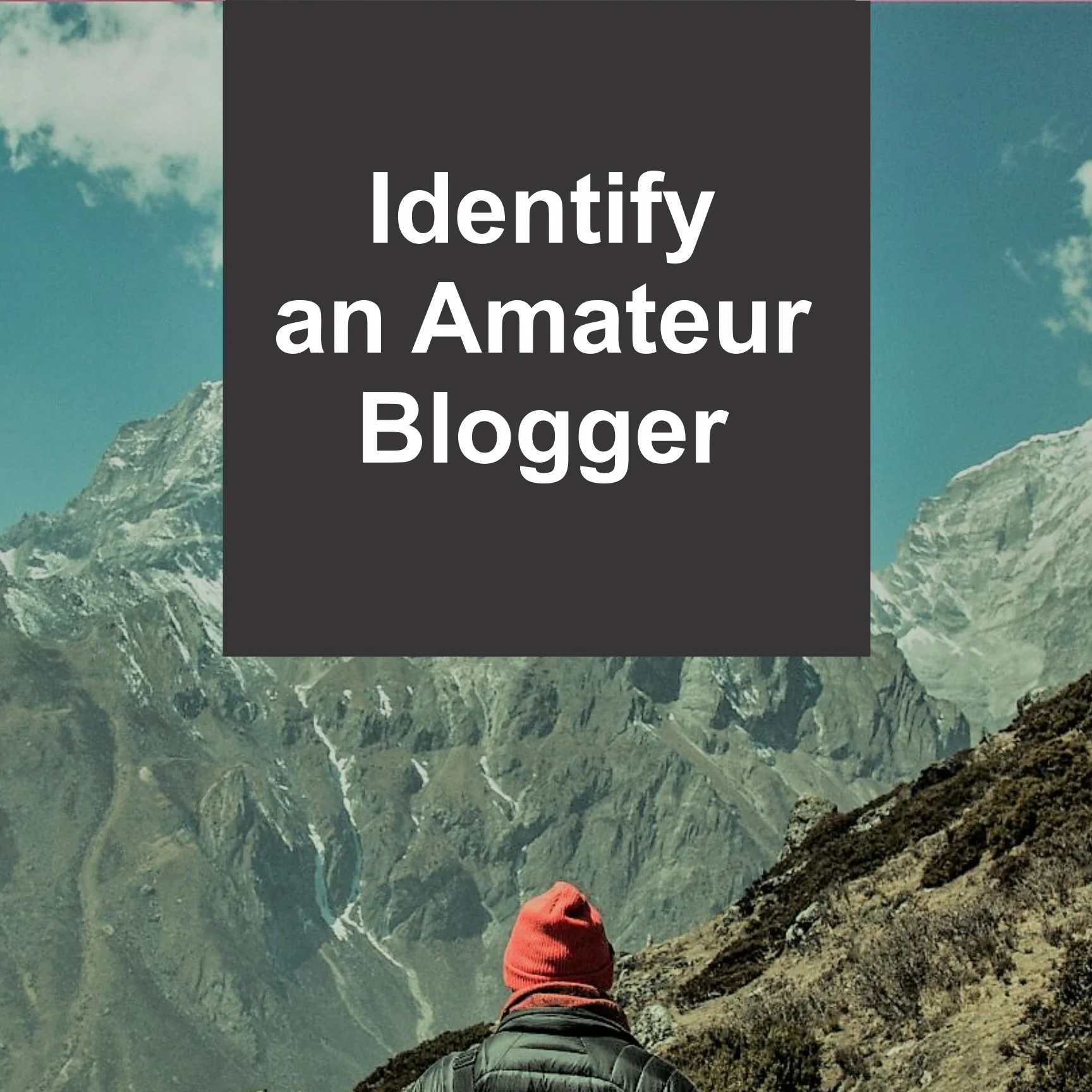 Are you struggling to make money blogging?
Is your site traffic and ranking continuously diminishing?
And are people finding it difficult to connect with you?
If yes, it's possible you've been an amateur blogger and you never knew it.
Reading a blog post managed by an amateur blogger can be very irritating. If you stumble on their blog while surfing the internet, I bet you, you will most likely regret the few seconds you will spend there.
First, you will notice a lot of things that suck. Secondly, they don't even know that these things suck so they go on to amplify them in all their contents.
If you want to grow a highly profitable online business, you must stop blogging like an amateur and start running your blog like a Pro.
You can't continue to be an amateur blogger and expect things to magically change. You need to learn why your bounce rate keeps increasing, you need to learn why people don't click on your affiliate links, you need to learn why nobody cares about your blog and you need to learn how to make your blog (online office) a fun place to visit and recommend.
However important learning these things are, you can't help yourself get off the amateur blogging zone until you know how to quickly identify an amateur blogger when you see one.
Whether you want to start a blog, hire a blogger to help in managing your site, run advertising campaigns or learn how to monetize your blog, you need to be sure you are not dealing with an unprofessional blogger.
To quickly identify an amateur blogger so that you don't fall prey to them, here are 4 things you must watch out for.
Most Amateur Bloggers Have Bad Communication Skills
Blogging is all about communication. The blogger with the highest ability to effectively communicate the thoughts going on in their brain to their audience wins. Little wonder Paul J. Meyer said that, "Communication is the key to personal and career success."
Bad communication skills I often notice most amateur bloggers use include: words that are derogatory, words that make their audience look insecure, words with no definite intention to help but to mock, fallacy of generalization and words with no iota of empathy.
When you use such words, your readers not only see as a disgusting blogger, but they will also make themselves a promise never to visit your blog again, irrespective of what you've got to offer. You and I know how this will affect your overall success as a blogger. Often times, it's a sign that a blogger will fail.
Blog marketing will be a total failure if there's no good communication. So, if you want to stop annoying your readers, you must master how to be a good communicator. Get your idea across to your audience is a well-organized manner so that they will see you an expert blogger you are.
Unprofessional Bloggers Hate and Scare Away from Guest Blogging
Though guest posting doesn't necessarily guarantee you the problogger badge but it's obviously one of the things people look out for when identifying professional bloggers. People want to know places you've been featured and mentioned in.
When you work your way into becoming a contributor in an authority blog, it plays a key role in boosting your social proof. Aside the ability to appear in so many places almost at the same time, viral guest blogging ability is one of the reasons I respect Ryan Bidduph. Another person that has made so much impact when it comes to guest posting is my freelance writing coach, Onibalusi Bamidele.
Despite the opportunities guest blogging present, many amateur bloggers still don't find any need to have their posts published in another site that is not theirs. They hold themselves down with too many guest posting myths that in reality don't make sense.
Referral traffic gotten by guest writing for another site with a higher domain authority can go a long way in boosting your page views and search engine ranking.
If your article gets published on a site with hundreds of thousands of page views in a month, there's no way 10 in every hundred who read your post will not check out the author – especially when you have a stellar content.
Guess the amazing thing here? Anyone that checks you out and eventually subscribe to your mailing list (subscribe to get a template for developing a profitable blog business plan) becomes very easy to convert from a mere prospect to a loyal customer.
If you want to push through the fear and get your first guest post published, I recommend you read what Susan Velez has to say on that.
Amateur Bloggers Enjoy Keyword Stuffing
Keyword stuffing! Keyword stuffing!! Keyword stuffing!!!
Most desperate bloggers who want their content to rank on search by all means often get themselves involved in keyword stuffing – irrelevant use of keywords.
Before I proceed, let me briefly tell you what keyword stuffing is, why it is dangerous and how you can totally avoid it.
What is Keyword Stuffing?
Keyword stuffing is the desperate attempt made by most bloggers to rank high on search engine for specific search phrases by loading the webpage with that particular keyword(s) more than it is necessary. They do this by overusing those search phrases in an unnatural manner that makes it annoying to readers.
A typical example of keyword stuffing is:
The reason most Nigerian bloggers find it difficult to make money as Nigerian bloggers is because Nigerian blogs do not rank well in Nigeria especially when you are using some specific Nigerian keywords that other Nigerian bloggers are also using to blog in Nigeria. – Emenike Emmanuel.
How does the above quote sound in your ears?
Unnatural right?
That's exactly how it is. It's simply annoying. But guess, what? Most amateur bloggers are damn guilty of it, and they enjoy it as though they are taking chocolate.
If you are guilty of keyword stuffing, please top. In fact, go back to your old posts and start editing them right away.
You know, why? If Google's hammer has not landed on your site, wait for it – it's coming. Google shows no mercy when penalizing blogs guilty of keyword stuffing. Here's what Matt Cutts has to say about keyword stuffing.
How to Avoid Keyword Stuffing Totally
In order to totally avoid keyword stuffing, here are things you must do:
Simply put, write the way you talk. Let your post be natural. Don't try to force keywords into inappropriate places. If you do, your readers will find out and Google will also penalize your site. Most blogs have been blacklisted for life just because they are guilty of keyword abuse.
Spread your keywords across the headline, subheadings and body of your article
The most ideal way to use any keyword you want to rank for on search engine is to put it in your headline, subheads and the body of your content. Spread them. I often recommend you have one in every 300 words. Doing that helps to boost your keyword density.
Master the art of using long-tail keywords
Long tail keyword should not be new to you if you have been blogging for quite some time. Long-term keywords range from 3 and 4 words upward. Take for instance I want to create long tail keywords for this post title, I might have things like:
What Amateur Bloggers Do
How to Know Amateur Bloggers When You See Them
Why Many Amateur Bloggers Fail
17 Reasons You Shouldn't Be an Amateur Blogger
How Not to Be an Amateur Blogger Even If You Are Just Starting Out
Hope you got the idea here? (If you want to learn how I generate powerful blog post headlines, read this post).
An Amateur Blogger Don't See Anything Wrong with Plagiarism
It's a big risk on your blog to get yourself indulged in plagiarism. The impact most times is not funny at all, especially when you do that to a blogger that has read my long-form post on how to deal with people that use your content without your permission. Trust me, if they implement the strategies I listed there, you can't succeed it.
To an amateur blogger, he sees nothing wrong if he decides to copy someone's post in part or in full.
When you see a blogger that does nothing but duplicate other people's post on their blog, you don't need a soothsayer to tell you that he or she is an unprofessional blogger.
Avoiding plagiarism totally is possible if you can pay more attention to what your audience want, read and write in a conversational manner so that writing won't look like one huge job to you.
In Vincent Spivey's publication where he talked about how to make your blog free from plagiarism, (you may like to check it out) he shared insights that were also related to what Marsha Kelly told us last time on how you can generate blog post ideas.
You can't get all of these information and still be stranded on what to write that will evoke interest and drive massive traffic to your site. Never.
Conclusion
Becoming a Problogger is possible. You don't need to spend years to attain that level, though having mastery on blogging is a continuous process. But at least, people, especially prospects won't see you an amateur blogger again if you paid rapt attention to what I and other bloggers in the comments below shared.
Let me hang it here. I'd be glad to hear your opinion, friends. Are there other things you think most unprofessional bloggers do? Put them in the comments below.