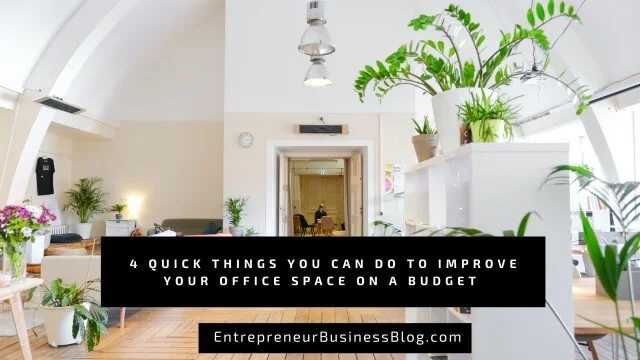 What exactly can you do step-by-step to improve your office space even when you are on a shoestring budget? How can you make an office space more efficient for work?
Running a business can be a very costly endeavour and finding ways to cut costs effectively and sensibly is incredibly important to your success. There are lots of things involved in the management of a company that can drain your funds excessively and unnecessarily and identifying them should be a priority.
When planning to renovate your office space and make it more energy-efficient, for example, you might find the projected costs are adding up and that you're going well over your budget. But there are ways in which you can cut these costs and still cost-effectively renovate and improve your office space, sticking well within budget.
Below are four smart ways you can quickly improve your office space on a budget:
1. A Lick of Paint
When aiming to refresh your office space, you might find that one of the only things that you need to do is to give it a fresh coat of paint. It's quick, easy, and cheap to refresh the walls in your office, and you could even do it yourself or as a team. The best colours for your office space are debatable but some people suggest wall colour could impact mood, meaning you might be able to find the right colour depending on the overall feeling you want to encourage in your office.
Bright and reflective colours like whites are a great way to boost the spirits of everyone in the office, especially during the gloomy winter months. Blues are also said to be great and increase the productivity of people within a workspace. You will be amazed at how using the right colour of paint in your office can boost employee loyalty to your brand.
ALSO READ:
2. Find Good Deals
When renovating a workspace, or any space for that matter, it's important to shop around. Finding good deals on everything from labour services to furniture is really important and can save you a huge amount of money in your budget. Instead of getting brand new desks and chairs, for example, you could look into buying second-hand office furniture from businesses like Recycled Business Furniture. You can save a small fortune by buying furniture like this, and you'll even be able to find some that have no problems with it at all.
Remember, second-hand doesn't mean damaged and these items may appear brand new. As well as saving money, you're also going to be helping the environment too by recycling and reusing unwanted products that may otherwise get thrown out.
3. Move Furniture Around
You might find that simply changing the layout of your office can entirely change the look and feel of the workspace. For example, you could just change the layout of your desks and instead choose a less boring pattern. Or you could entirely switch two rooms around, moving your breakout space into the office, and your office into the old breakout space.
Just working in a different space is enough to reinvigorate workers that have started to feel demotivated and bored of coming into the office. Anything to increase the productivity of your team members is worth doing.
ALSO READ:
4. Bring the Outside in
A cheap and effective way to brighten up any room, especially an office, is to add some greenery to the room. Indoor plants are a perfect way to improve productivity by reducing gloominess and having a positive impact on the mental health of your staff.
Plants help to reduce stress and are even a great, natural tool to dampen the acoustics of a room and soak up distracting noises from outside of the office too. Most startup founders in Europe looking for the best co-working space always desire to work in an eco-friendly environment.