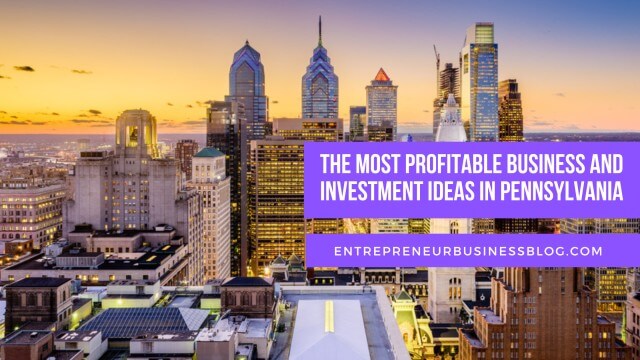 Would you like to know the most profitable business ideas you can start in Pennsylvania? Are you considering starting a business in the United States? Before we discuss the business opportunities, let me share with you the requirements for starting a business in America. 
To start a new business in Pennsylvania, you need to choose a business name and structure, register it, obtain the necessary permits, adequate business insurance and a business tax account. You will also be required to open a company bank account via which all your business transactions can pass through. Take a look at the economic profile of Pennsylvania before registering your choice of business.
The Economic Profile of Pennsylvania
The Keystone State has a population of 12.96 million people as of 2021. It ranks No. 17 amongst the best US states for starting a business with a top corporate tax rate of 9.9%. For tax years beginning in 2023, the corporate income tax rate will be 8.99% and will decrease 0.5% yearly until it reaches its final 4.99% rate beginning January 1, 2031. Does this not make it a business-friendly environment? This is unlike Kentucky which expanded the list of its taxable services to include SaaS.
Is Pennsylvania a good place to start a business? The Commonwealth of Pennsylvania is home to the headquarters of 24 companies on the Fortune 500 list. The presence of the following companies has shown that Pennsylvania is a good place for running a business: PNC Financial Services Group, Rite Aid, Universal Health Services, Aramark, Independence Blue Cross, Comcast, etc. If the state hasn't been business-friendly these companies wouldn't have grown to what they are today.
Pennsylvania shares a neighborhood with New York and Lake Erie in the north; New York and New Jersey in the east; Delaware, Maryland, and West Virginia in the south; and West Virginia and Ohio in the west. The economic implication is that you will have easy access to offer your services to Americans in neighboring states.
Below are some of the top lucrative business and investment opportunities in Pennsylvania:
1. Healthcare services
As a state with a fast-growing population, it's natural for the demand for healthcare services to be high. Right within the healthcare industry, you can explore any of these profitable business ideas:
How do you start a home health care agency in the United States? Having established that a home care agency business is profitable in the U.S., a super-easy way to start begins with creating your own business plan, registering with the state government, obtaining the state license, choosing a location and marketing your business. In Singapore, telemedicine business idea is now becoming a thing.
2. Software development and SaaS Startup
Pennsylvania is home to many leading technology companies like Sungard AS, SAP America inc., Bentley Systems and a host of others. If you have a great tech business idea, consider moving to Pennsylvania to launch it. 
You will find a wide range of IT startups that can inspire you to grow your technology or software development business idea. These brands are implementing a variety of SaaS marketing strategies that will also be relevant to your new company.
Before reaching out to angel investors and venture capital (VC) for seed funding, we recommend you work with a reliable incubator or accelerator to help you develop your business idea. No two SaaS are the same. However, there's always something you can learn from each other. There are over 250 software-as-a-service startups in Pennsylvania to learn from. The same reason most startups are now moving to Estonia.
On the side… Please note that computer software is not taxable in a state like Colorado when delivered through an application service provider, electronic computer software delivery, or transferred by load and leave computer software delivery.
ALSO READ:
3. Manufacturing and custom packaging
How do I start a small manufacturing business? To start a manufacturing business in Pennsylvania, you have to first and foremost do your market research. It's in the process of doing market research that you will identify problems and how to solve them.
Some profitable manufacturing business ideas you can give a shot at in Pennsylvania are in the following sectors: furniture making, textile, food processing, chemicals, coconut oil and olive oil production, etc.
Other small business manufacturing ideas include shoemaking, hair products, chalk production and much more. You can as well start a profitable custom packaging product that you can sell to e-commerce brands. Some leading manufacturing companies domiciled in Pennsylvania are PepsiCo, Estée Lauder Companies Inc, etc.
Learning how to make custom rigid box packaging design will help you raise money and still be of value to businesses near you. When you show your customers how to use it as a marketing tool, their minds will open.
4. Agriculture and food production
Livestock farming is one of the most thriving business ideas in Pennsylvania.  The state has a lucrative agriculture and food production industry, with a variety of crops and livestock being raised in the state.
How much does it cost to start a livestock business? Starting a livestock farming business will cost you anything between $40,000 to $5 million. Of course, this depends on the size of the land and how much you are willing to invest. Here are examples of agribusiness ideas you can start in Pennsylvania: dairy, fish, poultry, sheep, pig, rabbit and goat farming.
Before launching any of these agricultural business ideas that are guaranteed to be profitable you will need a business plan.
5. Financial services
Financial services have evolved over the years. Today, experts now use technology to improve financial services. This was what gave rise to the emergence of Fintech. 
It's easier to start a Fintech company today than it used to be 10 years ago. Beyond Fintech, you can also start an insurtech startup, instant loan mobile app or an investment firm. 
Pennsylvania has a strong financial sector, with many banks, insurance companies, and investment firms headquartered in the state.
You will enjoy robust growth in your financial services if you understand the roles blockchain and artificial intelligence play in the finance industry.
Are there financial services business ideas one can start today and start making money in 90 days or less? The answer is yes. Here are financial services business ideas that still work:
6. Education and training 
Pennsylvania has a large number of schools, colleges, and universities, making it a profitable business idea to provide education and training services. 
In fact, Pennsylvania is home to one of the leading Ivy League Schools in the United States, The University of Pennsylvania.
If you do not have the budget to start a university you can start with an e-learning platform. A great example of an online course platform with headquarters in Pennsylvania is Codepip.
Your online course platform can be focused on a specific niche or a general niche. You can create an e-learning platform specifically for people that would like to learn insurance, plumbing, or digital marketing. Your expertise is what will determine your choice.
From the comfort of your home, you can sell your brain by educating people via your online course. Making money from this venture becomes easier if you know how to drive traffic to your online course.
ALSO READ:
7. Tourism and hospitality 
There are loads of restaurant business opportunities out there for you to explore. With new technologies and innovations springing up every day, it's easier today to run a profitable hospitality business in Pennsylvania.
If you don't have the financial capacity to build a hotel or a walk-in restaurant, you can become a tour guide. You can set up a travel blog with ease to help you achieve this. All you need to start a successful travel blog are your domain name from Namecheap, a web hosting package from Inmotion Hosting, and a travel WordPress theme from Themeforest. When you establish yourself as a go-to expert in the area of tourism, you will attract the patronage of people coming to Pennsylvania, United States on tourist visas.
According to a report published by the Pennsylvania Department of Community and Economic Development, the state hosts over 204 million travelers from across the United States, nearly 1.3 million visitors from Canada, and 1 million from overseas markets. This is responsible for the US$43.3 billion and over half a million jobs generated within the travel industry every year.
Want your own share of the pie? One of the most profitable business ideas you should consider venturing into in Pennsylvania is a tourism and hospitality-related startup.
Some popular tourist attraction centers in Pennsylvania are Presque isle state park, Eastern state penitentiary, Gettysburg national military park, Hersheypark, Carnegie museum of natural history, etc.
Great examples of tourism business ideas are a coffee shop, travel agency, travel blog, jet rental services, hotels, photography, etc.
Which of these lucrative business ideas would you like to start in Pennsylvania? Let's know in the comments section.