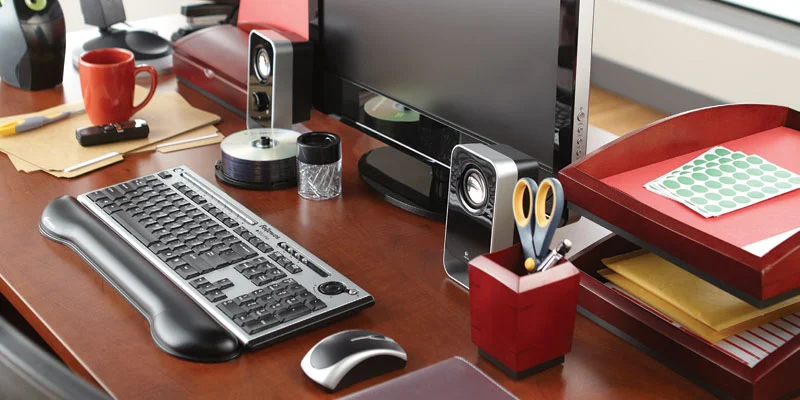 I run a home-based office from where I manage my virtual assistants from all over the world. To give my office that corporate touch, I designed one room in my apartment to be my office and our corporate headquarters.
There are a couple of office supplies that have been instrumental in making our work seamless which I need to share with you in today's article.
You see, a cluttered desk is symbolic of a cluttered mind.
Organizing your workspace can help clear your head, improve the clarity of thought, and boost work productivity.
So, if you want to stay ahead of your competitors in business it's important that get your workplace straight before you tackle the more pressing tasks of the day.
These are the must-have office supplies for any organized workspace. You can find these, as well as any other office supplies you may need, from Winc Australia.
Have your writing tools within grabbing distance.
It is an office, not a daycare, so you don't need every colored pencil and pen under the sun, but everyone's desk should have the essential writing tools.
For me, these include a blue, black, and red ballpoint pen, a pencil, a couple of Sharpies, and a couple of highlighters (I recommend a yellow and green highlighter).
These are the basics that should cover all your daily writing needs. Although, it might be worth grabbing a few extra so you can lend your colleagues a pen and don't have to worry about not getting it back.
Cable Clips
Cable clips are an organizational essential. I can't stand knotted cables and chords that seem to amass under my desk. Before I can charge my phone or plug in my laptop, I first have to do battle with the knotted ball of cables.
Cable clips are ideal because you can just snap them into a clip and the wire won't move or become knotted. All of your chargers, adaptors, and extenders will be neatly tucked away ready to use.
Binder Clips
When papers accumulate, it can be difficult working out what pages need to go with what projects. Staplers are great but aren't very mobile for if you need to constantly move and attach different pages to different projects.
Binder clips are better because they allow you to group papers, and even hand them, but you can quickly remove and attach additional pages when necessary.
A Small Personal Whiteboard
I used to be a post-it-note hog. I had pads all over my desk and the edge of my computer was just a flurry of yellow and blue post-its.
Then I discovered a small personal whiteboard. I attached it to the wall of my cubicle and now I can fill that with notes instead.
It is more environmentally friendly and stops my desk being cluttered up with post-its and loose scraps of paper.
A Desk Organizer
Every desk needs a desk organizer. The best ones have spaces for papers, pens, tape, staplers, and even a phone stand. That way, everything has a proper home and the center of your desk remains free to actually work in.
A Lamp
Most employees don't think to invest in their own lamp. But for me, a lamp significantly improved productivity. I don't have to rely on the office lights, natural light, or anything else to see what I am doing. I can pull the lamp up and illuminate the page I am working on, hassle-free.
Office Furniture
The type of office furniture you decide to use is determined by what you intend to do in the office. It could be a mere office desk, executive chair, file storage unit, writing desks, etc. No matter what your business needs to function effectively, Office Monster has a range of furniture that can give your business environment the look it deserves.
Partnering with a leading office supplier in the UK is going to be the best decisions you will make.
Conclusion
While you learn how these office supplies can help you have a more organized workspace, don't forget to watch out for some co-working space myths that might be limiting you from enjoying the liberty that comes with remote working.

Using these must-have office items, you can assured of having a brightened up office desk.