What are the most recommended web hosting service providers by the top 1% of digital marketing experts in 2023?
Why do these industry experts recommend these web hosting providers? And are they really worth purchasing when trying to build a brand new website from scratch?
The truth is, influencer marketing still affects consumer buying behaviour. You will be setting your business up for failure if you fail to realize the impact influencers have on the growth of your business.
According to a report by Digital Marketing Institute, 49% of consumers depend on influencer recommendations. By extension, that goes to show that some of these reliable web hosting service providers I will be listing out in this article as recommended by industry experts are going to get a truckload of new users.
Why digital marketing experts recommend these web hosting service providers
Some of the key reasons why most online marketing professionals often recommend these web hosting service providers as the best for small businesses could be because of the following:
The data centre of the web hosting company
How newbie-friendly the web hosting dashboard is
The security of data
GDPR Compliance
Cost-effectiveness of the web hosting service
Maximum support when necessary and through various channels like live chat, email, phone calls, forums, etc.
ALSO READ:
Disclosure: We are affiliate partners to some of the web hosting companies we recommended, and will receive a commission if you sign up through our referral link. This is at no additional cost to you, and you will get great pricing and a free domain name through our link. Using our referral link is a unique way to support us in growing this blog so that we will continue to make our best content available for free.
What is Web Hosting?
Web hosting refers to the server(s) that your website lives on, which are connected to the Internet and display your content when people land on its URLs. Web hosting companies purchase powerful (physical) servers with tons of storage and then sell monthly access to those servers for a fraction of the cost.
Below are the three most recommended American-based web hosting service providers:
Historical Background Information About DreamHost
Before we go into details of why you should host your website on DreamHost, let's first and foremost look at where DreamHost web hosting company started, the founders of DreamHost, and the year it was launched. 
Call it a straight-to-the-point DreamHost Review.
DreamHost is a Los Angeles-based web hosting provider and domain name registrar. It is owned by New Dream Network, LLC, founded in 1996 by Michael Rodriguez, Sage Weil, Dallas Bethune, and Josh Jones.
These four founders of DreamHost were undergraduate students at Harvey Mudd College in Claremont, California at the time of launching this classic web hosting site suitable for small businesses. The following year after launch, that was in 1997, Michael Rodriguez registered DreamHost.
Why Small Businesses Should Use DreamHost As Their Reliable Web Hosting Provider
DreamHost guarantees that your website will be fast, secure, and always up so that your visitors and search engines will trust you and send you loads of traffic.
DreamHost offers five different categories of hosting packages so as to satisfy the demands of fast-growing small businesses. DreamHost.com login requirements and support are not only hassle-free but also top-notch.
ALSO READ:
Below are the different website hosting packages offered by DreamHost and their various discounted prices:
Shared Website Hosting – This is the starter plan, selling at a 63% discount ($2.59/mo)
VPS Hosting – Gives you a degree of isolated resources for more performance, control and room for growth. DreamHost VPS hosting is available for $10/mo.
Managed WordPress Hosting – This is the web hosting package for you as a small business owner if you want your WordPress site to be faster, more secure and hassle-free. You can get it for $12/mo.
Dedicated Server Hosting – DreamHost dedicated server hosting, priced at $149 per month is for you if you want your own server and the best web hosting performance you can ever get.
Cloud Hosting – DreamHost cloud hosting package is also known as DreamCompute. If you want unlimited speed and you have good background knowledge in cloud computing, you can launch your cloud web hosting with DreamHost in less than 30 seconds or less. It's available at $4.50/mo.
Beyond DreamHost being the best web hosting provider for beginners, you can also purchase your domain name from their site for as low as $7.99/year for a .com domain.
Digital Marketing Experts That Recommends DreamHost
DreamHost is proudly endorsed by top-ranking digital marketers like Neil Patel, Ryan Robinson, Anil Agarwal, Mark Holden, Jelena Popovic, PCMag's Editors, and a host of others.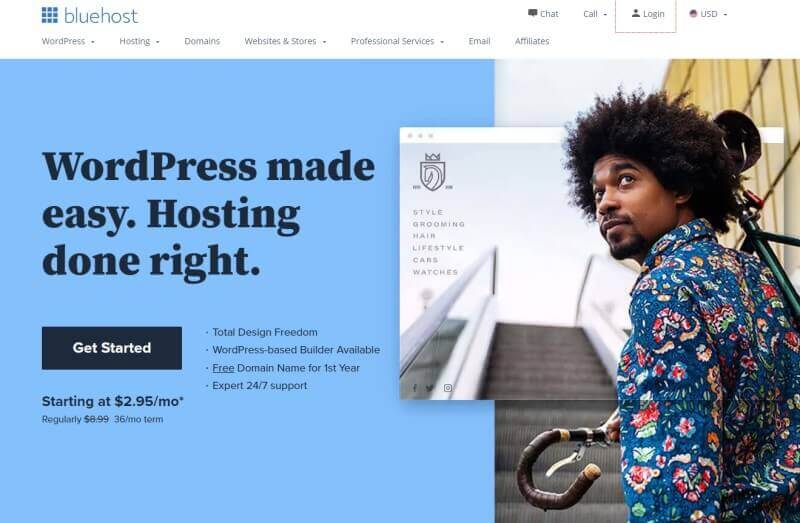 Historical Background Information About Bluehost
According to Bluehost statistics, about 1.2% of all the websites in the world are hosted on Bluehost, powering over 2 million domains in their servers.
Bluehost, which was started in 2003 and owned by Endurance International Group, has grown to become one of the top 20 web hosting companies in the world today.
With headquarters in Orem, Utah, USA, Bluehost is now one of the biggest American web hosting providers.
Popular Websites Hosted By Bluehost
Here are some of the famous websites hosted by Bluehost:
Bank-Zone.com
Extra.com
Reamaze.com
Javascripttutorial.net
There are other random websites hosted by Bluehost, of which yours might be one of them if you are not new to the world of website development.
Is Bluehost the Best for Small Businesses?
As an entrepreneur trying to establish your online presence, having a website for your business is no longer a nice-to-have, but a must-have. 
You need a website if you ever desire to automate your sales and attract new customers to your business from search engines.
Having concluded on getting a website, I'm sure you must be asking if Bluehost is the best for small businesses.
Yes, Bluehost is a reliable web hosting service provider committed to giving you value for your money. The Bluehost free domain makes it super-easy for small business owners like you to bring their business online without breaking the bank.
As a beginner-friendly web host, Bluehost is considered to be one of the best web hosting platforms in Australia, the United States and the UK.
Whether it's on Reddit or Quora, Bluehost reviews from existing customers have proven that it's a reliable US-based web hosting company.
How Does Bluehost Work?
Here's a brief breakdown of how Bluehost works to help you choose the most suitable web hosting package for your small business:
Bluehost Shared Hosting: This is the most popular web hosting package option sold by Bluehost. It's suitable for small businesses that are just getting started. It can only host one domain and is available for just $2.95/mo.
Bluehost VPS Hosting: This is suitable for businesses that want more power and control of their server. It's available for $19.99/mo.
Bluehost Dedicated Hosting: You can get your own dedicated server from Bluehost if you often get high traffic to your website. This is good for you if you don't want to jeopardize your web speed and performance. It's available for just $79.99/mo.
Digital Marketing Experts That Recommend Bluehost Web Hosting Service
Some of the highly successful digital marketing professionals that endorsed Bluehost on their blogs are Emenike Emmanuel, Neil Patel, Zac Johnson, David Utke, Chris Winter, Grant Sabatier, Michelle Schroeder-Gardner, and many others. These are just a handful of bloggers using Bluehost as their trusted web hosting service provider.
The History of Namecheap
Started in the year 2000, Namecheap has been on a mission to deliver the best domains at the most affordable price.
Namecheap is an American company with operational headquarters in Phoenix, Arizona, United States.
With over 1700 employees all over the world, Namecheap powers over 13 million domains. 
Namecheap gives you the liberty to choose between three data centre locations: the United States, the United Kingdom, and the European Union.
Top CEOs that Endorsed Namecheap As a Trusted Domain Registrar and Web Hosting Service Provider
Here are some of the top CEOs that gave Namecheap breathtaking positive customer reviews as a reliable domain registrar and web host over their competitors like GoDaddy, Nexcess, HostGator, Hostinger, etc:
Dylan Field, Co-founder and CEO of Figma
Alan Schaaf, Founder and CEO of Imgur
Bo Jiang, CEO of Privacy.com
Colin Ross, Engineering Manager of Buffer
Neil Patel, CEO of UberSuggest
Emenike Emmanuel, Founder, EntrepreneurBusinessBlog.com
Why Digital Marketing Experts Recommend Namecheap As the Best
Why Namecheap is the best when it comes to purchasing domain names and web hosting because of its affordability. For as low as $0.99, you can purchase a domain for the first year with many add-ons.
Is Namecheap better than Bluehost? Both Bluehost and Namecheap offer good and quality support to their users. If you are just starting out on a shoestring budget, we highly recommend that you go for Namecheap but bear in mind that their cheapest web hosting service plan runs on a 20G SSD disk space capacity. This solid-state drive may no longer be enough as your traffic volume increases.
While Namecheap offers you affordable hosting and domain, it becomes more expensive as your website traffic volume skyrockets.
Bluehost and Namecheap both offer live chat support but it's the only Bluehost that provides 24-hour phone support.
ALSO READ:
How Does Namecheap Work in Hosting Business Websites?
The image below shows how the various shared hosting options available in Namecheap: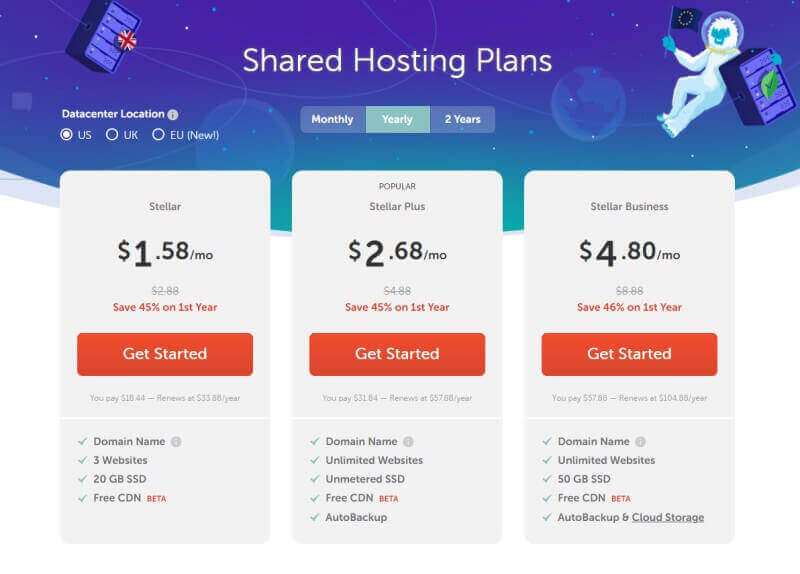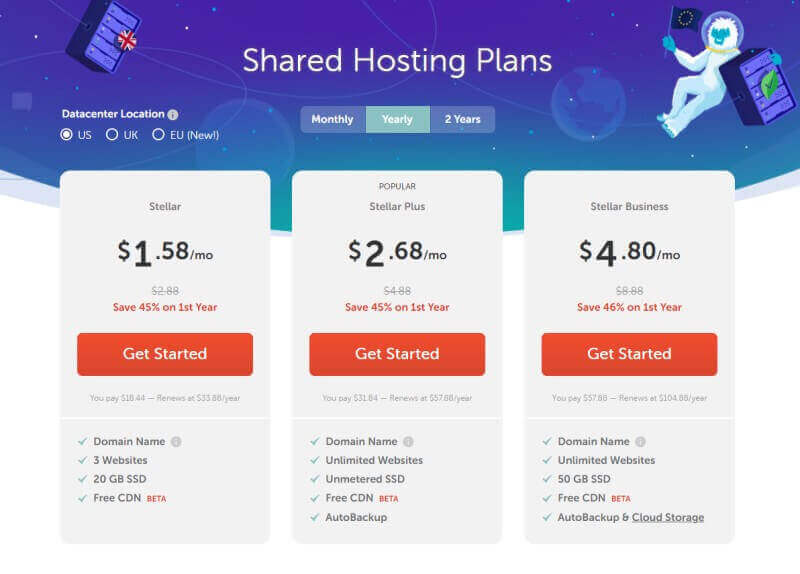 Let's take a look at what the tech specifications of the Namecheap shared hosting options are:
UK and EU datacenter selections will result in a different price.
Stellar$1.58/mo$2.88/mo
Stellar Plus$2.68/mo$4.88/mo
Stellar Business$4.80/mo$8.88/mo
Plan Features
Disk Space?
20 GB SSD
Unmetered SSD
50 GB SSD
File (Inode) Limit?
300.000
300.000
600.000
Bandwidth?
Unmetered
Unmetered
Unmetered
Uptime?
100%
100%
100%
Hosted Domains?
3
Unlimited
Unlimited
Parked Domains?
Unlimited
Unlimited
Unlimited
Subdomains?
30
Unlimited
Unlimited
Backups?
Twice a Week
Twice a Week + Autobackup
Twice a Week + Autobackup
Cloud Storage?
Included with EU datacenter
Included with EU datacenter
Included with EU and US datacenters
cPanel (Control Panel)?
Yes
Yes
Yes
Website Builder?
Yes
Yes
Yes
cPanel 2FA?
Yes
Yes
Yes
Dedicated IP?
$2.00/mo
$2.00/mo
$2.00/mo
Free Apps?
100+ apps with 1-click install
100+ apps with 1-click install
100+ apps with 1-click install
PCI Compliance?
—
—
Yes
FTP Users?
50
Unlimited
Unlimited
Money-Back Guarantee?
30 days
30 days
30 days
Personal Nameservers?
–
–
Yes
Tech spec of Namecheap Shared Hosting Plans
Here are other awesome web hosting service packages offered by Namecheap that tend to address the various needs of small businesses:
Reseller Hosting: You can make money by reselling hosting to your own clients. You have a choice to make between two data centre locations; the United States and the UK. Namecheap reseller hosting starts from $19.88 per month for 25 cPanel accounts to $54.88 for 150 cPanel accounts and 150G disk space.
WordPress Hosting: With Namecheap WordPress hosting package, you can set up your blog in less than 2 minutes with EasyWP. You can even try out for 30 days for free to be sure it's actually something you'd like to have. Namecheap WordPress pricing and plans start from $3.88 per month to $11.88.
Namecheap VPS Hosting: This hosting plan is for you if you want total flexibility, complete control and a highly secured hosting server. VPS hosting pricing and plans start from $6.88/mo to $12.88/mo.
Email Hosting: Do you want a professional business email that looks exactly like your website? This is for you. For as low as $0.84 per month, you can get yourself a brand-boosting business email from Namecheap.
Dedicated Hosting: Are you running a high-traffic website or thinking of launching a SaaS that will require a high volume of data? Getting a dedicated server for your hosting needs is the best option for you.
You can access any of these web hosting plans and their prices by clicking on the image below:
How Do I Conduct Web Hosting Speed Tests?
Before settling for any of our recommended web hosting service providers, it's important that you check out their response time, aka speed test every two weeks.
ALSO READ:
Knowing the speed test of a web host will help you make an informed decision so that you don't end up settling for the cheapest web hosting provider with a ridiculous snail-like loading speed.
If a web server has a poor loading speed, we guarantee you that no amount of search engine optimization will help you increase your website loading speed and reduce your bounce rate.
Here's the tool for checking your web hosting server speed test – https://www.dotcom-tools.com/web-servers-test
Check Out InMotion Hosting Shared Hosting