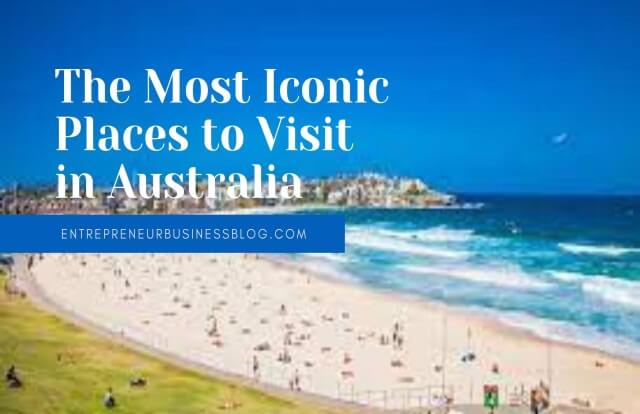 We took time to analyze some of the most iconic places American tourists can visit in Australia. You can check them out here.
Before visiting any of these places, do not forget to get adequate travel insurance coverage and the necessary travel toolkits.
If you are looking for the best places to spend your next family or business holiday, try visiting any of these unusual tourist attraction centres.
1. Great Barrier Reef in Queensland
The Great Barrier Reef ought to be listed among the Seven Wonders of Nature. It's probably Australia's most famous attraction centre for obvious reasons. 
Stretching 3,000 kilometers along the Queensland coast, the Great Barrier Reef is the dream of every diver. It doesn't matter whether you're an avid diver, an occasional diver, or a first-time diver, you can always find something that suits you.
If you want to enjoy the best of the Great Barrier Reef, you can book a diving boat vacation to reach remote reef dive sites, take a helicopter ride over the stunning waters, or try scuba diving with a helmet.
2. Bondi Beach in New South Wales
Would you like to hang in one of the best beaches in Australia? Bondi Beach is an iconic stretch of fine sand and curling waves. Located in New South Wales, Bondi Beach located is one of the world's most famous beach destinations to visit in Australia. It's globally believed to be the most famous beach in Australia because of the high volume of tourists it attracts every year.
For you to have the best of this beach, you will need to arrive early to see how men and women workout. You can also enjoy breakfast at the seaside and also go swimming. Trainers are always around to guide you should you need their services.
ALSO READ:
3. Sydney Harbour Bridge
The Sydney Harbor Bridge is the world's largest steel arch bridge, connecting Sydney's central business district to the North Shore. The bridge is 3,770 feet long and 440 feet high and has 8 road lines, 2 rail lines, and bike lanes. From 1923, the construction of the bridge took nine years. Today, the bridge is one of Australia's most photographed attractions, drawing thousands of tourists to climb it. 
When did tourists start climbing the Sydney Harbour Bridge for the first time? Tourists to Australia started climbing the bridge for the first time in 1998. 
What are the safety measures taken by tourists who visit Australia that want to climb the Sydney Harbour Bridge? Authorities take safety precautions such as measuring blood alcohol levels and simulating climbs. Visitors can choose to climb the Sydney Harbor Bridge during the day, at dusk or at night and enjoy stunning views of the surrounding city from the top of the bridge.
4. Kangaroo Island
Kangaroo Island is located 13 km off the coast of South Australia and is only a 30-minute flight from Adelaide.
It is known to be Australia's third-largest island, but few people have traveled by ferry from the mainland to the windswept Kangaroo Island. 
As for the triple threats to nature, this place is hard to beat. There are white sandy beaches to explore, lots of native, weird and beautiful wildlife, and even a national park next door. The Remarkable Rocks rising above the sea in Flinders Chase National Park are aptly named. For over 5 centuries, this group of orange granite stones has cooled here.
ALSO READ:
5. Uluru, Australia
Another notable location is a huge, distinctively shaped red rock on the flat desert plains of central Australia near Alice Springs in Uluru-Kata Tjuta National Park. Known as Australia's red centre, the region is the heart of the country.
Standing 348 meters high, this iconic rock has deep cultural significance to Aboriginal people. Take a tour with a local Aboriginal guide to learn more about the importance of this spiritual landmark. Be sure to stay until sunset, as the color of the rocks can change dramatically as the daylight recedes.
Why Do You Need to Visit These Iconic Places in Australia to Change Your Worldview?
Why is Australia one of the most amazing places to visit? The weird and beautiful wildlife, the presence of the world's largest rock called Mount Augustus, iconic roads and bridges and the rich cultural heritage of indigenes of Australia make it one of the best places to visit.
Want to take a helicopter tour over the Great Barrier Reef, you can book your tour in advance from a reputable travel agency. You may also find amazing tourist attractions places. Bahamas attraction centres share the same thing in common – they have awesome foods.
To find other interesting tourist attractions places to visit in Australia, search for the following on DuckDuckGo, Google, Bing, Baidu and Yandex:
Sightseeing places of tourist interest in Australia
The famous sightseeing in Australia
South Australia tourist destinations
7 things to see in Western Australia
The best unusual places to visit in Australia and New Zealand
Best holiday destinations in South Australia
Tourist attractions in regional Victoria
The best places to go in Queensland
The best season to visit Australia and New Zealand
Important documents you will need when travelling to Australia from the USA