Would you like to learn how to recover your website from core updates according to Google?
Blogging can be a reliable way to make money by sharing your thoughts and ideas with the world through written texts, especially when you are getting tons of traffic from Google.
Only after the Google core updates, you noticed a sudden decline in blog traffic.
It happens to almost everyone, and I am a victim of these updates.
These updates can significantly impact your website's ranking and overall traffic.
Google often makes several updates to its algorithm throughout the year, but core updates have the most significant impact on search results.

Once affected, there are steps you can take to recover your blog from Google core updates and get back on track. 
These step-by-step processes are what actually helped me recover from the core updates.
So I am giving that to you on a silver platter, just rinse and repeat and be patient and see how your site recovers.
But first.
What is a Google core update?
A Google core update is one of the most significant algorithmic updates rolled out by Google to improve the search experience for its users. 
These updates usually impact most websites' rankings and can cause a significant increase or decrease in traffic to a website once affected.
These updates are usually not targeted at specific websites or the type of content.
Its overall existence is to improve the quality of search results by making changes to the ranking factors that Google considers.
Core updates are typically announced by Google in advance, and website owners and SEO experts always pay close attention to them to ensure their websites are not negatively impacted by these updates. 
Once affected by the core updates, SEO experts or bloggers tend to see a significant drop in search traffic.
How to Recover From These Google Core Updates
If your blog has been affected by these updates, it could be that you are not meeting Google's webmaster guidelines. 
However, this is not the end of the world for your blog. Many amateur bloggers often suggest that website owners stop paying for their blog subscriptions and move on to a new domain when their blog is hit by these updates.
But there is always a chance to recover from these updates by making the necessary changes, as Google itself has acknowledged. 
So instead of giving up, it's worth noting what changes you can make to your blog that complies with the guidelines and improve your rankings.
The Core updates usually tend to have a large significant effect on YMYL sites, affiliate sites, and sites with a lack of E-E-A-T.
And when this happens, amateur bloggers or most SEO experts believe it all boils down to backlinks or that you need more links to become an authority.
There is usually one misconception behind this approach and it is due to the fact, authority in the eyes of Google is not the domain rating reports you see on Ahrefs.
Google tends to group a website as an authority based on multiple factors and backlinks are one part of them but not the most significant.
Because all backlinks are not created equal, so avoid relying on Ahrefs domain authority metrics.
Even sites with High backlinks profile metrics on Ahrefs can also be affected.
Don't quote me wrong, Backlinks are an important part of Google's ranking factor and have a lot of significance but when it comes to the core updates, they are just one part of the problem.
So how do you know which of the webmaster guidelines you are not meeting up with so you can modify changes to your blog to suit these needs and be able to recover from this downfall?
Spoiler Alert: You cannot know what exactly went wrong with your site, so assume everything is totally wrong with your site.
And that is where the work actually begins.
An SEO audit gives a detailed comprehensive report on a website's current search engine optimization (SEO) performance. 
The Main purpose of an SEO audit is to identify areas of a website that need improvement in order to increase the website's visibility and rankings in search engine results pages (SERPs).
So connect your sites to Ahrefs free webmaster and Check for Technical SEO errors.
Broken Links

Meta description tags missing

404 errors

Crawl errors and crawl depth

Missing H2 and H1 tags

Missing alt tags and description

Site loading speed

Schema errors
This may look like a lot of work to do and require coding experience, but in reality, it is easier said than done.
So connect your websites to Ahrefs webmaster tools and it identifies all these errors for you for free.
Trust me, taking time to work on the most important errors is definitely worth the stress.
Perform a Content Audit
Check for the following
If your articles match search intents

Grammatical errors in your texts

Update your content by ensuring you are providing more value to users.

Avoid Keyword stuffing
Once achieved, update your published date to its current date and hit Published.
But here are the most common issues you may usually end up with when performing content Audits
Having two articles targeting the same keywords AKA duplicate contents (use canonical tags)

Poor interlinking structure

Keyword stuffing

Low-value contents
When editing your blog content, ask yourself this question in favor of your readers.
Does your blog have enough information that covers that topic entirely?
If anyone searching for these keywords lands on my page, does my article explains to them what they need?
Is my article better than other related content on the same topic out there?
The earlier you realize that, the better content you will create.
Or use ChatGPT to demonstrate that for you.
Copy and paste the article on ChatGPT and ask if the article demonstrates some form of EAT.
Just like the way I did mine.
Pro Tips
Use exact match anchors for internal linking where necessary.

Interlink related posts to build a topical map
Build Topical Authority
Topical authority refers to the level of expertise or knowledge a person or website has in a particular topic. 
It is mostly determined by how well the content on a website addresses a specific topic in a particular niche and is able to provide valuable and accurate information to its audience.
It has nothing to do with how many backlinks you build but with how often your blog covers an entire topic.
When it comes to search engine optimization, topical authority is an important factor that search engines consider when ranking websites and downrank websites from core updates like this. 
I can explain.
Google focuses primarily on websites with the following criteria
E = Expertise

E = Experience

A = Authority

T = Trustworthiness
And your websites need to demonstrate all these criteria and if you don't, you will be a victim of the next core updates.
E-E-A-T is not just applicable to the contents of a website alone but to your entire website in General.
Expertise and Experience come from building topical authority.
Authority and Trustworthiness come when you prove that your website is a legit business profile (author schema, links to social pages, backlinks, Google my business profile).
The easiest way to rank for competitive terms without building many backlinks is through Topical authority.
How Do You Build Topical Authority?
Let's say you are in the Dog niche. You are expected to cover as many articles in the Dog niches so Google can classify you as an authority on that topic, not just backlinks alone.
For example, you would want to cover related terms like:
Dog food nutrition

Dog breeds

Dog behavior

Dog healthy
The more related articles you cover on that topic, the more Google considers you an Expert on that Topic, and the more you become a topical authority on that topic
How Do You Use Topical Authority To Recover From Core Updates?
One reason why I got affected by the core updates was that I went too broad with my niche.
I haven't established authority on a single topic before moving to the other topic.
And most likely, core updates will easily affect your blog if you have less topical authority.
Think of it this way, when Google considers a blog as an authority, they don't just judge based on their links profile and they don't have a system that can detect if the author is a specialist or a graduate of that topic.
But if you are covering more related articles on that topic, Google tends to see you as an authority.
Websites that have established topical authority are more likely to rank higher in search results because search engines perceive them as more reliable sources of information
How many articles do have to you write for Google to consider you as an authority? There are no exact values but the more closely related articles you cover, the better.
Answer the public and people may ask section are the best place to get keyword-related ideas to build a Topical map.
To recover from this Core Update Using Topical Authority
Cover at least 20 articles on a specific sub-category before moving on to the next category
Interlink-related articles in a proper silo.
Add Social Links To Your About Page Or Company Pages
As I mentioned earlier, E-E-A-T varies on multiple factors.
Backlinks

Topical authority

Social proofs

Reviews etc
Google is expected to see some proof of ownership from a website and when you don't provide this information to Google, they will not give you the awareness you want in ranking and you are usually hit by their core updates.
Many affiliate website owners usually tend to be anonymous with their sites and Google hates them.
As long as you have the intention of making money from that site later on, then you need to treat it as a business. 
Kyle roof recently announced on his podcast interview with niche pursuit
One of the most common problems he noticed whenever clients got hit by the core updates usually don't do is, not providing enough information about the owner or user behind a website to Google.
I was a victim of this approach.
My site about us page looks like this on Wayback machine.
So I copied an pasted it all into ChatGPT and ask using this prompt, Does this script prove some form of EAT to Google?
So I changed that entire website about page to this as shown by adding some proof of social links and a contact form to prove some form of legitimacy.
And ChatGPT seems promising.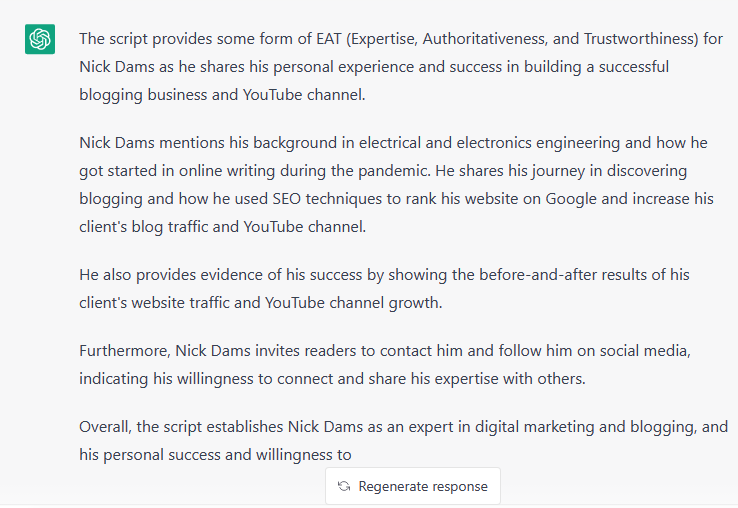 If ChatGPT could detect some form of EAT, that should give you a glance that Google can do better.
Pro Tips
Copy and paste all your content and ask ChatGPT if it proves some form of EEAT.
Author or Organization Schema
When Google crawls the social links on your about page, it may not be able to determine their purpose. 
While updating your about page can improve user experience and credibility, it's essential to provide Google with information about the author or owner of the website.
Using author schema can help you accomplish this goal.
Author schema is a type of structured data that webmasters can add to their website's HTML code to provide search engines with information about the author of a particular article or piece of content.
That way, you are proving some form of legitimacy which is also part of Google EEAT guidelines. The more information you provide to Google, the better they make life easier for you.
If you have multiple authors on your blog, Ensure you create an author schema markup for them all.
Over To You?
Have you ever recovered from the core updates before? If yes, what changes do you made and would love to hear from you in the comments.