Are you thinking of starting a transport and logistics business in Texas, but do not know the basic legal requirements?
Texas with its robust population of over 30 million people (which is projected to get to 54.4 million by 2050) is a viable environment for a transport and logistics business to thrive. In fact, with that population, you can see that transportation and logistics will remain essential to the economy of Texas.
So you should know, that it's not too late to get into the transportation industry. You can start your logistics business right now, and with consistency and great strategies, you'd be among the big players in years to come.
Starting a Transport and Logistics Business With One Van
So you're thinking the one van you can afford won't be enough to make you compete in the transport and logistics business?
What you don't know is that most global businesses today started small. Coca-Cola, for instance, sold just 25 bottles in its first year of operation.
One Van is enough to get you started in this business, all you need is to carefully follow the guidelines in this article, and you'd get it right from the beginning.
What is a Transport and Logistics Company?
A transport company is in charge of moving people and goods from one location to the other. While a logistics company manages the inward and outward movement of those goods. Logistics deals with the storage, handling, sorting, packing and transportation. That means transportation is just a fraction of logistics.
So if you're running a Transport and Logistics Company, you'd basically be involved with the management and transportation of goods from the manufacturers or retailers to the end users. 
Top 5 Transport and Logistics Companies in Texas
Before you embark on the journey of starting your own transport and logistics company, it is advisable you study the existing companies in that field and location. 
This will give you some transportation business ideas on how they operate and how you can structure your business to compete favorably among them. 
Because of that, we've selected the top 5 transport and logistics companies in Texas for you.
Your Logistics
Your Logistics is a 3PL partner that is dedicated to helping small business owners make their shipping and logistics need seamless. They offer warehousing and shipping services to their customers. 
With three accessible locations (Dallas, Las Vegas and Lewisville), they make it easy for their customers to drop and pick up goods within Texas.
FedEx
FedEx is another transport and logistics company that makes it easy for their customers to deliver goods directly to anybody within five working days. 
With offices in almost every city in Texas, users are left with multiple options, as they can literally walk into any FedEx office and have their goods shipped. 
Cowtown Express
Cowtown Express offers freight shipping services to its customers. With their fleet of trucks, they can deliver any quantity of goods. 
They operate locally within Texas and even cross-border services. From construction to agricultural equipment to lumber and medical equipment, they have the resources to handle any form of product delivery.
Move Logistics Inc.
Move Logistics is a transport and logistics company focused on making relocation processes easy and stress-free for its customers. For seamless moving experiences, they offer packing services to their customers too.  
Careful, detailed packing and shipping experience is what their customers have been testifying to. 
They also offer furniture installations. So, from packing to shipping and installations, Move Logistics has got a plan to relieve their customers of every form of stress that comes with moving properties. Their offices can be located in San Antonio and Boerne, Texas. 
UPS
Whether it is local shipping within Texas or International shipping to any country, UPS offers its customers a seamless transport and logistics service. 
They offer pickup and dropoff, and warehousing services to their users while covering different commodity types. 
Steps to Starting Your Transport and Logistics Business in Texas
Choose a Transport & Logistics Niche
The transport and logistics business industry is a very broad one. If you want to really run a successful business here, you might want to start with a particular niche. This will help you understand the industry better and also reduce your overhead costs.
It's always advisable to do detailed research on the transportation needs in your area. If there is a big marketing hub around there, you might decide to help businesses convey their goods from the warehouse to their shops. Or even help move the goods from the shops to the final consumers.
Manufacturing, construction, agriculture, tourism and the food industry are the dominant industries in Texas. There's a huge market for you to operate in any of the industries. Pick one and start from it. You can as well combine two or three industries that complement themselves.
Selecting a niche is the first thing you should decide on in this business. If you do your research well, you'd figure out the transportation niches that are already saturated and the ones that still have a huge gap you can help to fill. We did something similar for dropshippers where we outline the oversaturated dropshipping niches.
Create a Business Plan
As with every business, having a clear-cut business plan would help you understand the industry, business and the benefits and risks involved.
A well-prepared business plan will give you a clear guideline on how to run the business profitably. You will factor in the startup capital and make realistic plans for the expected revenues.
So, after choosing a niche, the next thing you should do is create a business plan. To write the industry analysis and business description sections, you must have done a thorough study of the industry and business. You'd understand what your competitors are doing and what they are failing to do. This will give you deep insight into how to penetrate the market.
Apply for Transport & Logistics Business Operation License in Texas
Texas as a very organized state cannot let you operate any kind of business without a license. To get a license, you must have registered your business. There are different kinds of licenses available, depending on the type of transport and logistics business you want to do.
To figure out the kind of license and permits to obtain, go to Texas Business Licenses & Permits 2022, and you'd get information about the different forms of license and permits available for every business. You can also obtain your tax permit from the Texas State Comptroller Office.
Obtaining these licenses and permits will help you operate safely and without fear in Texas, as you're covered by the law.
Source for Funds
Except if you have money set aside for the business, you'd need to source for funds. One of the major expenses you'd make in the business is the cost of purchasing a van.
There are different fundraising sources you can consider when seeking to finance your transport and logistics business. Apart from your personal savings, you can get funds from your family and friends. You may want to check out our previous article about the best alternatives to bank loans for business funding. Your credit card is also there, even though it comes with ridiculous interest rates.
With your well-prepared business plan and collateral, you can also source funds in the bank. Banks are always willing to provide funds for businesses. Provided you prove you understand the business very well, and they do their due diligence, they would always be willing to support you.
Banks like the Texas Capital Bank, with branches in almost all parts of Texas, are known for offering loans to industries that other banks shy away from.
The Texas government also has a scheme where they offer loans and grants to small businesses in Texas. You only need to be fully registered, have your licenses and also have a good credit score to qualify for these loans and grants.  
Get a Standard Van
Having secured funds for the business, the next thing is to purchase a Van. This would depend majorly on the kind of transport and logistics business you want to do.
If you want to be moving medical equipment, you won't be purchasing the kind of van a property logistics company would purchase. Choosing the right Van will be key to your success in the business.
Cargo Vans are perfect for logistics businesses, while passenger vans can only be used if your transportation business is focused on moving people from one destination to another.
How Much Does Cargo Vans Cost in Texas?
According to TrueCar, new cargo vans cost between $30,000 to $42,000. The top three rated cargo Vans in the United States of America are Ford Transit Connect, Ram ProMaster City and Mercedes-Benz Metris. You can also get fairly used Cargo Vans for as low as $13,000.
Promote Your Transport & Logistics Business in Texas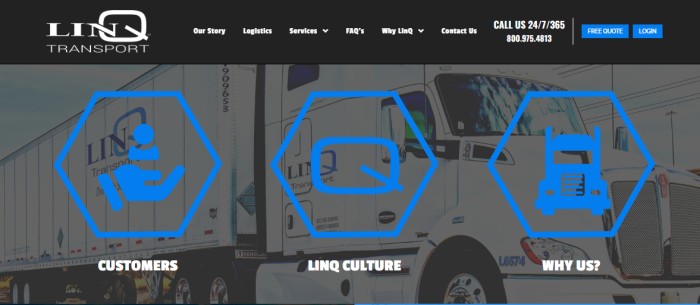 Now, this is the most important part of the entrepreneurship process. You can get every other thing right. Register your business and get the full license and operation permits. Get a standard Van (even the best in the State). If you don't know how to promote your business, all the good work you've done becomes a waste.
To make sure you start getting clients as soon as you're ready to operate, you have to put effort into billboard advertising, TV advertising, offline marketing, digital marketing and telemarketing to grow your transport and logistics business in Texas.
Here are some good marketing tips you might want to adopt in growing your transportation and logistics business in Texas:
Create a Good Website for Your Business
When it comes to marketing, owning a website plays a huge role in business success. This is where people would come to find out details about you and your business.
If they are to trust you to deliver their goods, they have to really know you well, and a website will have all the information for that. A website will also make it easy for them to book your services at any point in time.
Get on Social Media Platforms
In recent times, social media has proven to be a great marketing platform for businesses. Build a quality audience on your socials by creating valuable content around your niche.
Show yourself as an authority in the business, and it's just a matter of time before people would start seeing you as one.
Google My Business is a Goldmine
You need to establish your business on Google search and Maps. This is a super-amazing way to make Google your No. 1 salesperson. Google My Business shows your business to people in your location who are searching for your business or the ones related to it.
Customers who have used your services can also drop reviews on the platform. This will enable new prospects to easily make their decision when they need services you can offer.  It is completely free to create your business profile on Google.
Mistakes to Avoid When Starting a Transport and Logistics Business in Texas
To succeed in the transport and logistics business, you need to avoid these common mistakes:
Failing to Keep to Your Word
When you make delivery promises, no matter what happens, ensure you keep to them. Even if it means swimming in the oceans and losing sleep for 72 hours, ensure your customer's goods are promptly delivered as you promised. Your integrity and that of your business depend on this.
Being Careless with Goods
Try everything possible to ensure goods in your care are delivered whole. Damaged or lost goods complaints can only ruin your business. It will just be a matter of time before you start getting no patronage. On the other hand, when you handle goods with care and attention, you'll get lots of praise and referrals.
Being Inflexible
Your customers would make changes at the last minute. They'd want to change the delivery or pickup address. You have to be flexible enough to factor these things into your operation plan. When customers notice you're very flexible and always eager to help them sort their logistics problems, they'd trust you to the core. That is how brand loyalty comes about.
What Kinds of Transport and Logistics Business Opportunities Can You Start with One Van in Texas?
Here are the kinds of transport and logistics businesses you can start with one Van:
Transportation of E-commerce products

Transportation of Medical Equipment

Transportation of those moving to new residential locations

Transportation of passengers (you can start with one route)
Conclusion
Running a transport and logistics business with one Van in a big State like Texas won't be easy, but it surely has a lot of promises.
If you do your due diligence, in just a very short time, you'd double or even triple your Vans. In all you do, always ensure to abide by the laws, put your customers first and be very professional. The transportation business in the United States excels on principles. Once you know this, your only way in the business is upwards.