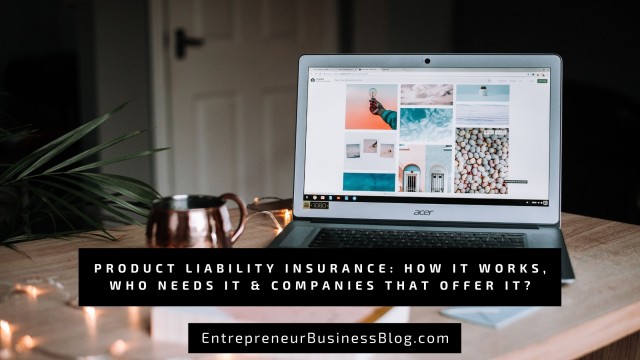 What is product liability insurance? How does it work? And how can you compare product liability insurance quotes online in the United States?
When a claim is made that a product a company manufactured or sold caused harm, product liability insurance can help protect the company. The buyer of the product, the user of the product, or a bystander can all file claims for personal harm or property damage.
What are the factors that could propel you to take out product liability coverage? The following factors may contribute to the product's physical harm or damage:
Flaws in the design
Defects in the product
Instructions, labels, and cautions are insufficient
Any product has the potential to hurt people or cause property damage. Food sold in a restaurant, for example, could make someone sick. A little item that isn't properly labeled could be a choking hazard. A computer bought over the internet may overheat and cause harm. A mower that has been repaired locally may malfunction and cause injury to the user.
What Kind of Company Requires Product Liability Insurance Policy in the U.S?
Although a product liability insurance policy is not needed by law, a company that engages in any of the following product-related activities should consider acquiring it:
Manufacture
Distribute
Wholesale
Import
Retail
Install
Repair/modify
This kind of settles the question of whether you need Shopify insurance when running a successful dropshipping business. E-commerce insurance is in high demand as online sales continue to increase.
ALSO READ:
What is the Average Cost of Product Liability Insurance?
This form of insurance has a wide range of prices. According to a survey of rate quotations by AdvisorSmith, a website that assesses small-business insurance and other products, the average yearly cost of product liability insurance plans is around $1,200 for small enterprises in the manufacturing, retail, and wholesale industries with revenue of less than $1 million. However, the amount you pay will be determined by the level of risk associated with your company.
The following are some of the elements that may influence your product liability rates:
The kind of merchandise: Food items, for example, have higher rates since they are more likely to cause harm to the consumer if they are defective.
Sales: The more your sales, the higher your insurance premiums will be.
Place in the supply chain: Distributors pay lower rates than manufacturers.
Limits on coverage: Higher premiums are associated with more coverage.
History of the claim: Rates will rise as a result of previous claims.
What Are the Expenses that Are Covered by Your Product Liability Insurance Quote?
The following costs connected with an injury or property damage claim are often covered by product liability insurance:
The costs of your legal representation.
The damaged party receives settlements and court-ordered judgements.
The wounded party's medical expenditures.
What Are the Costs that Aren't Covered by Your Product Liability Insurance Quote?
Product liability insurance would not cover the following:
Costs of recalls and inventory losses: Product recall insurance can be obtained to cover the costs associated with a recall.
Injuries to employees: Employees who are injured or become ill at work are usually covered by workers' compensation insurance.
On the premises of a business, a customer is injured. The medical bills of a non-employee harmed at your firm could be covered by general liability insurance.
Product liability insurance is available separately or as part of a general liability policy.
Small firms might also benefit from a business owner's policy, which generally includes product liability coverage. A Business Owner's Policy (BOP) often protects commercial property, general liability, and business income. Cyber liability, equipment breakdowns, hired automobiles, and other coverage choices may be available depending on the insurance. Bundling insurance policies into one package can save a small business owner money in the long run.
A professional commercial insurance agent can assist you in obtaining coverage for your company. You can shop, compare and get a quote online. You can also contact a business insurance company near you to speak with a representative.
The following companies had the biggest market share in commercial insurance by premiums issued in 2020, according to the Insurance Information Institute:
Travelers
Liberty Mutual
Chubb Ltd
This type of coverage is available from a variety of additional insurers in the United States. You'll want to receive estimates from a few different insurers to help you compare business insurance coverage and pricing.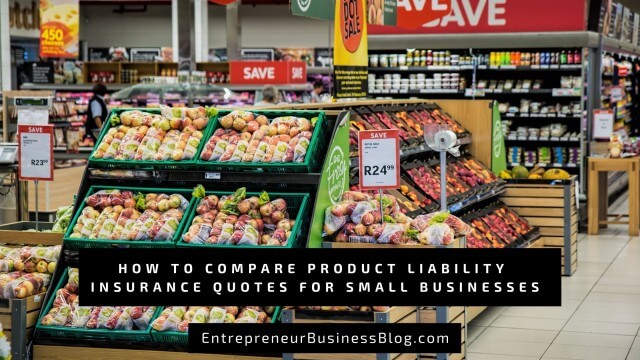 Exceptional Business Insurance Companies in the United States
Below are the lists of companies in the United States that offer some of the best product liability insurance quotes:
Chubb
Hiscox
Geico
Progressive Insurance
Axa
Liberty Mutual
Nationwide
State Farm
Hartford Insurance
ALSO READ:
How to Compare Product Liability Quotes for Small Businesses
Start your comparison by choosing a reputable insurance provider. Don't focus on the rate alone as this can be deceitful. Once you know what is covered or not covered by your product liability insurance policy, crosscheck to be sure they are what you need.
Does the policy limit they provide able to grow with your business? You need to be sure before signing the insurance contract. What deductible is allowed in your product liability insurance policy? If all these things are in place, the last thing to do is to compare quotes with your current insurance coverage.