How can you make email marketing work for your business in generating and converting more leads?
Email marketing was destined for the scrap heap not that long ago but it's back and it's making waves! What was once considered old-fashioned, not effective and boring has had a major reprisal.
93% of B2B marketers now use email campaigns to distribute their business or company's content. When you couple that with 72% of customers who actually prefer to receive an email from a business, you can see why 29% of marketers say that email marketing is their most effective channel for promoting their products and services.
Why does email marketing still work in generating leads?
A responsive website is good; social media is great, but email marketing is powerful. Think about how many people worldwide have an email account. Now think about how many of those people check their emails daily, several times a day, if not more. Just on that basis alone, you have a very captive audience. Let's back this up with a statistic – yes, another one, but it's worth it – 99% of consumers check their email every day, even when on holiday. No other form of communication, digital or otherwise, can match that. That goes to show that email marketing is not dead.
Now let's consider generating leads and converting them into sales; that's the main reason why businesses and companies engage in marketing strategies. So, if we told you that email campaigns generate three times greater revenue than social media, would you believe us? Well, you should believe us because it does.
In fact, those that receive emails promoting a business's products spend 138% more than people who don't get an email. If that's not a good enough reason to start building your email list, let's give you another reason.
That email list you spend hours of time building and nurturing is yours; you own it; you own those leads. In comparison, your social media accounts, your followers, are, in reality, owned by the social media company. If they decide to suspend or close your account, there is no way you can access those contacts.
ALSO READ:
Email marketing is a highly efficient, cost-effective way to build a relationship with your leads as well as past and existing customers. You can speak to them on a personal level, develop trust and a loyal following.
Oh and let's add two more reasons to include email marketing in your marketing strategy.
Firstly, it's easy to measure just how successful or not your email campaign has been in real-time, allowing you to make any necessary adjustments. Secondly, an email is easily readable on mobile devices (or should be!) and when more than half of the world's population has a smartphone that they use to check their email, just think about what you could be missing out on not considering email marketing.
How does email marketing work in capturing and converting leads?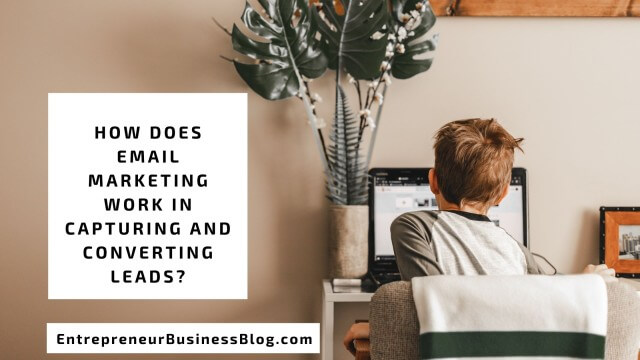 Email marketing is not a particularly complicated marketing strategy but that doesn't mean you can jump in with both feet. Signing up to an email marketing platform, uploading a list of emails, adding your content and pressing the send button isn't going to work well – unless you get very lucky! 
The process of launching and sending an email campaign comes down to four primary aspects:
Building your email list.
Planning the format and type of emails you are going to send.
The design of your email template and its content.
Sending the email; measuring and analyzing the results.
Let's look at exactly how email marketing works in more detail.
Building your email list
Of course, without an email list, it's a bit difficult to send an email campaign. Contacts and their email addresses can be gathered in a number of ways. It could be from a call-to-action in your blog or social media posts; it could be a sign-up form for downloadable content; it could be an entry into a competition.
One thing you have to remember is a double opt-in sign-up36 form that automatically sends a confirmation email to new subscribers when they submit an email address. This ensures you have met GDPR regulations and you have the subscriber's correct email address. 
Format and type of emails you want to send
This might be a bit strange to you; an email is just an email, isn't it? Well, no, not quite. For example, are you sending a monthly newsletter or an email promoting your next sale? You could be telling your subscribers about an event you're sponsoring, a new product launch or a holiday offer. Other types of emails include those that confirm a purchase or appointment, which are generally known as autoresponders, or you could be sending existing customers their monthly discount coupons.
Email design and content
You don't need to be proficient in design to create an appealing email. The majority of email marketing platforms have a variety of templates as well as drag-and-drop features that are easy to use. Your own brand colors and logos can be added, and you can build a design that is in line with your other marketing material.
Avoid making your email design too complicated or 'fussy' as that may distract the reader from your message and don't forget to add a call to action (CTA) that either tells them what they need to do for more information or use a discount code or links to a specific page on your website. You may need to check out our previous article for some powerful call-to-action headlines suitable for email marketing.
If you are sending an email campaign to a large group of people, it's hard to personalize it for everyone. Therefore, segment your email list into groups with similar ages, gender, locations or interests. You can then write an email message that is specifically targeted to that group.
Your subject line is the attention-grabber but avoid it being too promotional or 'salesy', or too long – remember, it needs to be easily read on a mobile device, i.e. a smaller screen. Although it needs to be eye-catching, it also needs to convey what the email topic is and encourage the receiver to continue reading. A/B testing is a great way to find out the impact of your subject line.
Measure and analyze
Once you've sent the email, you can't sit back and leave it to work its magic. A key part of successful email marketing campaigns is measuring and analyzing the results. The great advantage about emails is that you get a wealth of data back via your email marketing platform that you can use to measure the success, or failure, of your campaign.
The main metrics to focus on are how to increase your email open rate, the click-through rate, i.e. how many receivers continued to read through the email and clicked on the CTA, and the email conversion rate; that is how many people not only clicked the CTA but also went on to make a purchase. This data helps enormously in guiding you on what changes and improvements you need to make for future campaigns.
ALSO READ:
8 Amazing tips for running great email campaigns
Whether you work for a business or are a freelancer that's been tasked with running email campaigns for a company – INDY's freelancer platform will help you stay organized – here are some tips that will make email marketing work for your business and generate leads.
1. It's quality that counts
The aim is to make sure the content is high quality. Make sure the content you write is what your email subscribers want to read. It must add value, it must be informative and engaging, and it must be relevant to them. If you can say what you need to convey in five paragraphs, why write ten?
2. Email design that is mobile-friendly
With more than half of the world's population reading emails via mobile devices, your email design – that includes your subject line, CTA and content – must be easy to read, navigate and absorb.
3. Segmentation is a must
You will have subscribers that regularly engage with your business, others not so much and some not at all. By segmenting your email list into these three categories, you can target and cultivate loyal customers, drive conversions and increase sales. At the same time, you are building brand awareness and word-of-mouth marketing.
4. Make use of automation
If you are sending regular emails, such as newsletters or monthly discounts, it makes sense to send an automated email to a subscriber when they sign up with your company. Not only does it save time, but your new subscriber will also feel valued. Automated emails are also a great way to keep in touch with customers that perhaps haven't made a purchase, or it's been a while, and find out what they are interested in.
Aside from email automation, other key areas automation tools can be used to boost your business growth are in terms of sales prospecting, sales pipeline management and scheduling.
5. Make it visible to all
Accessibility is the word of the moment, and so it should be. Your email design and content should be easy to read by everyone, including the visually impaired and other people with disabilities.
So, keep the content easily readable and concise – use bullet points, short sentences and avoid jargon – so voice assistants and screen readers can pick it up clearly. Use fonts, colors and layouts that are readable and definitive. Add ALT tags on any images and be descriptive. Lastly, consider your CTA's anchor text – does it tell the reader where it will take them?
6. Personalization is key
A major trend in online communication is personalization and customers have started to expect it. They want to feel valued; they want to know that they are not just another statistic and they want a good experience with your business. Basics like including the receiver's name and recommending products they may be interested in will ensure better customer engagement.
Personalization is now one of the key roles artificial intelligence plays in email marketing. When you send automated campaigns optimized by AI, your subscribers will think you are reading their mind. This will endear them to your brand. 
7. When to send your email
To optimize your email campaign, do some A/B testing to discover when the best day and time is to send your email. For example, do your customers interact with your business during a workday, in the evenings or over the weekend? Are they morning, afternoon or evening people? This gives you the best opportunity to maximize open rates, click-through rates and conversions.
8. Keep your email list updated
Inevitably, you will have some subscribers you won't hear from for a while, or they've changed their email address. As well as deleting 'unsubscribe' requests, every so often you should clean up your email list by sending an email to inactive subscribers and asking if they wish to remain on your email list. Some will want to remain but others will either reply no or simply not reply at all and it's these subscribers you should delete to continue to get a clear picture of your email campaign success.
ALSO READ:
Conclusion
For any business, email marketing is a highly cost-effective, efficient way of promoting your business or company, its products and services, as well as building brand loyalty and awareness, developing customer relationships, generating leads and increasing sales. If you've not jumped on board the email marketing train, you'd better get going!
Nobody said freelancing is easy but doing something you love and earning a living from it is a huge achievement, and well worth the effort.