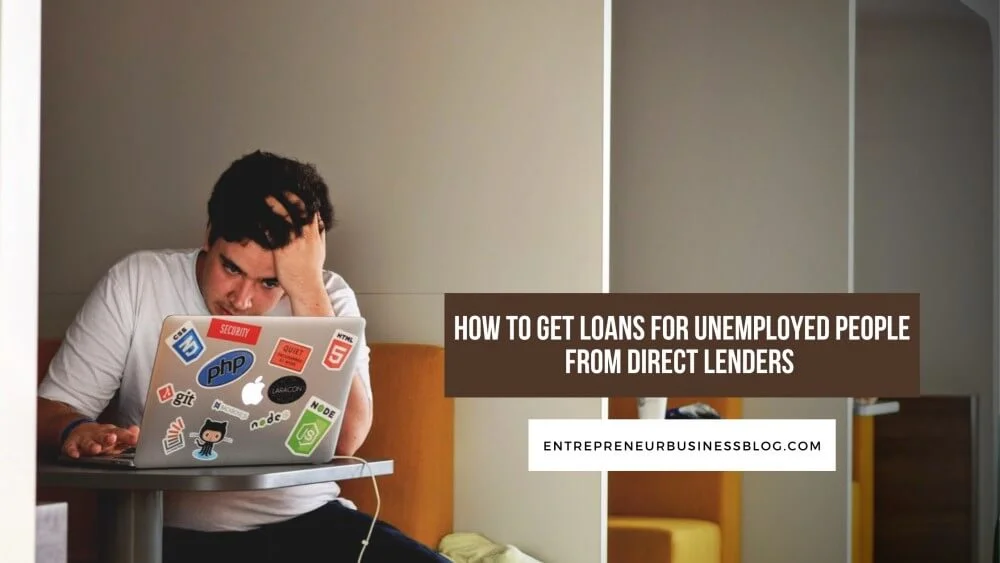 Can loans be given to unemployed people by direct lenders? The over 5 million people without employment in the United States are being sustained through various means which include receiving approved loans.
Getting a loan approved while you are out of a job may be difficult but it is very possible if you meet the lender's conditions. Direct Lenders in the United States issue different types of loans to both working and unemployed people. These lenders include banks, credit unions, private investors, insurance companies, family offices, pension funds, and other lending companies.
Governmental entities also partner with asset or fund managers to invest in direct lending. While these lenders disburse loans, they have careful systems that ensure they get repayment and profit as well.
Traditional banks, mortgages, and brokers have high loan accessibility and other difficulties. Hence, direct lenders come in handy for people to approach and get various loan instruments for business and personal use.
Direct lenders gain popularity with online lenders and loan aggregators, who provide flexible loan products. Their loans feature attractive plans with no intermediaries, and little or no paperwork, and they've short and long-term sizable amounts to give both SMEs and individuals. 
In this article, we will discuss how unemployed people get loans from direct lenders. Keep reading to get all the details.
Who Are Direct Lenders?
Direct lenders are investors, otherwise, businesses who for high profit facilitate loans for SMEs and individuals. Direct lending involves the professional management of available funds to provide debt products to suitable companies or individuals. They provide an alternative form of raising funds for business or personal projects instead of going through traditional banks and mortgages to access loans. These companies make money from interest, and other charges applied to money lent to borrowers.
Can I Qualify for a Loan from Direct Lenders without a Job?
The answer is Yes. Whether you are retired, left your job, or lost your job, you are eligible for a loan from direct lenders in any state you reside in the US.  Many direct lenders have online platforms where loans can easily be accessed by unemployed people. The major concern is, can lenders prove the borrower's capability of refunding their money?
ALSO READ:
What Loans Are Available for Unemployed People?
The loans available for unemployed people are based on individual needs and eligibility. It also varies with different vendors but the consistent loans are:
Can you get a personal loan without a credit check? The answer is YES! You can get a personal loan without a credit check through title loans.
How Direct Lenders Give Loans to Unemployed People
What is the disadvantage of getting a loan as an unemployed person? Getting a loan without a job attracts high interest and charges because such a personal loan involves high-risk management. And for unsecured loans, for instance, creditors may likely find it tough to get a repayment.
Here are the three factors that are considered before loans can be given to unemployed people:
1. Credit Score
A credit score is a three-digit number that shows how you manage credit. People with bad credit get a low score which makes direct lenders not approve their loan or provide other available credit options. You may want to hire a credit repair company near you to help you if you are struggling with a low credit score. Here's a guide on how to choose a credit repair company that truly knows its onion.
2. Alternative Income
An alternative Income is other income available for unemployed people aside from a usual paid employment or active business. Borrowers without a job must document any income they receive which could help them qualify for an unsecured loan. They wouldn't get a secured loan without a job unless they have assets that can be used as collateral.
Direct Lenders understand that to get a loan like an unsecured one, your income doesn't necessarily have to come from a job. Other alternative income direct lenders consider to be acceptable for unemployed people to qualify for loans are:
3. Debt to Income Ratio
Lenders do a credit check to look at your financial profile. They compare your credit cards, other debts, and income to assess how likely you can repay the money you receive. The higher your credit score, the lower the risk you pose to a lender.
What Are the Things I Can Do to Increase My Chances of Getting a Loan Approval as an Unemployed Person?
Are there things one could do to increase their chances of getting loan approval without a job? The answer is YES! Since loans can be approved for unemployed people with a decent credit score and alternative income, you must learn how to approach lenders. Below are ways borrowers should approach lenders to ensure they can get an approved loan:
Do the Necessary
Build a reputable credit history. Try not to defer credit card payments and other loans (make a minimum payment at least) and avoid applying for multiple loans within a short time. 
Explore Available Options to Choose a Lender that Suits You
It's advisable you carefully weigh the requirements before attempting a loan. When it is rejected, it is registered on your profile and may likely affect your credit offers with other vendors. 
ALSO READ:
Add a Cosigner or Co-applicant to Your Loan
Adding a cosigner or co-applicant can boost your chances of getting the loan. Your cosigner profile improves your eligibility especially when they have a steady income. Meanwhile, you must let them know what they are signatories to and the potential risk involved.