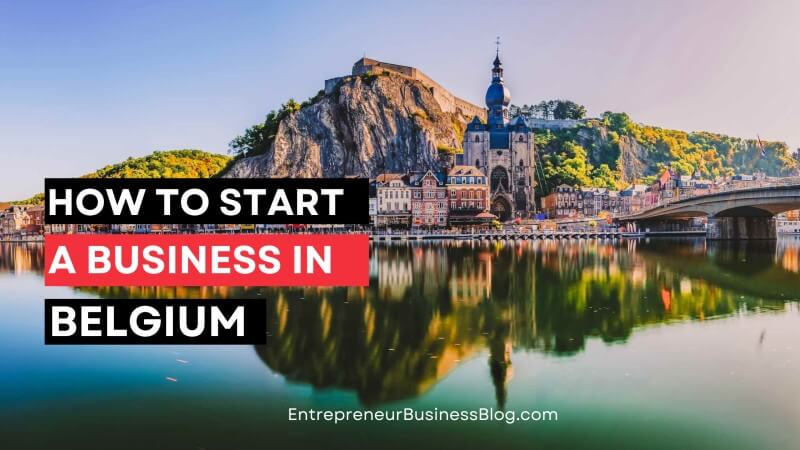 Are you on a shoestring budget but would like to start a business in Belgium? We've got you covered.
Belgium, located at the crossroads of Western Europe, is a thriving hub for business and entrepreneurship. With its stable economy, strategic location, and well-developed infrastructure, Belgium offers a promising environment for aspiring entrepreneurs. While starting a business in Belgium may seem daunting, it's entirely possible to do so on a budget with the right approach and planning.
In our previous article, we outlined some of the best business ideas in Belgium and the major challenges you will encounter. But today, we will provide a comprehensive guide on how to start a business in Belgium while keeping your costs under control. 
Beyond that, we'll cover essential steps, legal requirements, cost-saving strategies, and valuable tips to help you embark on your entrepreneurial journey in this European gem. If you've ever desired to learn how to start a business in Belgium, this guide is for you.
Below is the step-by-step guide on how to start a business in Belgium when you are on a tight budget.
1. Conduct a Thorough Market Research and Business Plan
The first step in starting a business in Belgium on a budget is thorough market research and crafting a well-thought-out business plan. This process doesn't require a significant financial investment but is crucial for your long-term success.
In conducting your market research, it's important that you identify your target market and competition. Assess market trends and consumer preferences to know the best industry that will give you the best ROI.
Determine the demand for your products or services and investigate the pricing strategies of competitors. When you carefully research the market, it will help you in coming up with a compelling business plan.
It's in your business plan that you define your business concept, goals, and mission. A well-written business plan will outline your products or services and marketing and sales strategies.
An investor should look at your business plan and see your financials, including startup costs, revenue, and expenses.
2. Choose the Right Business Structure in Belgium
Belgium offers several business structures, each with its own legal and financial implications. Selecting the right structure is essential for budget-conscious entrepreneurs.
What are some common business structures in Belgium? They are:
Sole Proprietorship (zelfstandige in bijberoep): Suitable for small-scale businesses with limited liability.
Limited Liability Company (NV/SA or BVBA/SPRL): Provides more protection for personal assets but may require more capital.
Partnership (VOF/SNC): A cost-effective option for partnerships.
Cooperative Company (CV/SC): Ideal for social enterprises or nonprofit organizations.
How do you know the appropriate business structure to choose for your company in Belgium? It's very simple. All you have to do is look at the licenses required, how much tax you are to pay, and your potential personal liability. There could be more but these ones are basic.
3. Register Your Company in Belgium
Starting a business in Belgium involves various legal requirements and registrations. Failure to register your business before operating will attract an administrative fee of EUR 200. These processes can be completed without breaking the bank, but they are essential for ensuring your business operates legally. With the Crossroad Bank, the average cost of registering a business in Belgium is €70.
The key legal steps in incorporating your company in Belgium include:
Business Registration: Register your business with the Crossroads Bank for Enterprises (CBE) and obtain a Business Number (BN).
Business Permits: Depending on your industry, you may need specific permits or licenses. Research and apply for these accordingly.
Value Added Tax (VAT): Determine whether you need to register for VAT and adhere to the applicable rates and regulations.
4. Decide How You Will Finance the Company
Bootstrapping is a common approach for budget-conscious entrepreneurs, but you may still need some initial funding to kickstart your business. Explore various funding options, such as:
Personal Savings: Use your savings as seed capital. You can offer services on freelancing platforms to raise your startup capital. Alternatively, you can sell off items you no longer need.
Friends and Family: Consider borrowing from friends or family members. Many friends and family will be willing to support your business with a cash gift or loan without expecting an interest in return.
Grants and Subsidies: Research government grants and subsidies available to startups in Belgium. Some great examples of small business grants and schemes dedicated to supporting startups are business interruption loan schemes, deferred VAT payments, deferred self-assessment payments, etc.
Crowdfunding: Utilize crowdfunding platforms to raise capital from the public. The best crowdfunding platforms in Belgium that are most suitable for raising capital from the public are Spreds, Raizers, BeeBonds, Maclear, Bolero Crowdfunding, etc.
Also Read:
5. Accounting and Financial Management
Effective financial management is essential for a budget-conscious business. Consider the following tips:
DIY Accounting: Handle your bookkeeping and accounting initially to save money. Tools like QuickBooks or Wave can help.
Expense Tracking: Monitor your expenses closely to identify cost-saving opportunities. You can use an expense tracking software to achieve this.
Tax Planning: Understand Belgium's tax system and take advantage of tax deductions and credits for businesses. You can hire a professional CPA to help you handle your tax issues if you can afford it.
Foreign bank accounts owned by businesses in Belgium must be duly reported to the government. Failure to disclose the existence of foreign bank accounts (and the income on them as well) may result in tax evasion charges and an administrative fine of up to €1,250 in Belgium.
6. Utilize Cost-Effective Marketing and Branding
Promoting your business on a budget is entirely achievable with some creative strategies:
Social Media: Leverage free social media platforms to build an online presence. Facebook, Instagram, and Twitter are all free. You can even develop effective TikTok marketing strategies to create viral content and save costs.
Content Marketing: Create valuable content on your website or blog to attract and engage customers. A blend of SEO and copywriting can help you gain more visibility on search engines while maintaining your persuasive skills.
Networking: Attend local business events and join industry-specific organizations to make valuable connections.
7. Secure Office Space and Infrastructure
Renting office space can be a significant expense for startups. To minimize costs when you want to start a new business in Belgium, choose any of these options:
Co-Working Spaces: Consider co-working spaces, which offer flexible terms and shared facilities. Here are the top coworking spaces in Brussels: Silversquare Louise, The LOFT, WeWork Botanic, etc. Here are the tips for finding the best co-working space.
Remote Work: Embrace remote work options to eliminate the need for a physical office.
Virtual Office: Use a virtual office service for a prestigious business address without the cost of physical space.
8. Hiring and Outsourcing
Hiring employees can be costly, especially for startups. Explore these options:
Freelancers and Contractors: Outsource tasks to freelancers or contractors as needed.
Interns: Offer internships to students or recent graduates for cost-effective help.
Part-Time Employees: Hire part-time or flexible workers to reduce labor costs.
9. Compliance and Regulatory Costs
Belgium has various regulations and compliance requirements that businesses must adhere to. To save on compliance costs:
Stay Informed: Keep up to date with changes in regulations to avoid potential fines.
Consult Experts: Seek legal and financial advice when necessary, but only pay for services you truly need.
As the world's leading processors of cobalt, radium, copper, zinc, and lead, there are loads of regulations to follow in Belgium in order to start a manufacturing company.
10. Networking and Support for Your New Startup
Building a support network is essential for any entrepreneur. Consider joining local business associations or incubators, which often offer valuable resources and guidance at minimal or no cost.
Numediart, MAD Brussels, Flanders DC, etc., are some great business associations you can join in Belgium. Through these platforms, you can drop inspiration from those who are miles ahead of you.
You can't make it alone if you want to start a business in Belgium without networking with industry experts and colleagues. It is from these people you draw your support and collaborate.
Also Read:
Conclusion
Starting a business in Belgium on a budget is achievable with careful planning, resourcefulness, and a commitment to keeping costs in check. By conducting thorough market research, choosing the appropriate business structure, and adhering to legal requirements, you can set a solid foundation for your entrepreneurial journey.
Additionally, efficient financial management, cost-effective marketing, and smart hiring decisions will help you run a successful and sustainable business in Belgium without breaking the bank. Remember that while cost-cutting is important, investing wisely in key areas can propel your business to greater heights. So, stay focused, stay budget-conscious, and stay dedicated to your entrepreneurial dreams in this thriving European business landscape.