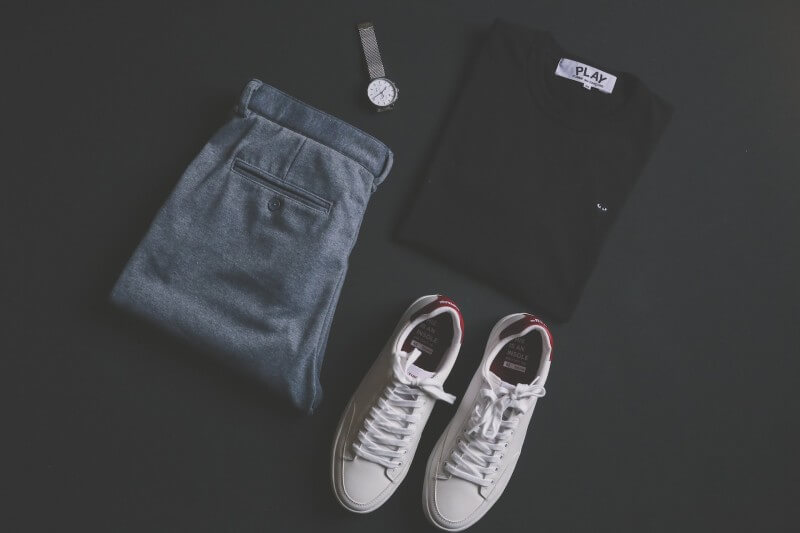 Are you thinking of turning your passion for fashion into a profitable business? Our research shows that more than 35,000 searches are conducted monthly regarding how to find fashion business ideas.
There is no doubt that the fashion industry offers a number of business ideas. From personal stylists and fashion consultants to smart salespeople who bring compelling ideas to life.
According to the changes that the fashion world is witnessing day after day, you cannot start your own business empire without first doing thorough research to know the most profitable ones. That's why we are here to provide you with the most accurate and up-to-date information about the fashion industry.
The value of the online clothing and apparel industry is expected to reach $1.2 trillion by 2025. This indicates that the demand for clothing, shoes and other accessories is increasing all over the world. The Pacific region recorded the highest level of growth at 4%. The United States of America, China and Japan are in descending order from the three largest clothing markets in the world.
If you desire to start your own fashion business, pay attention as we walk you through how to go about it. Starting a profitable fashion business can be exciting, but it's important to find a niche or concept that resonates with your interests and target market.
The 15 Most Profitable and Easy-to-Start Fashion Business Ideas
An online store is a digital shop where you sell clothes and other accessories through your website or mobile app.
Through your online clothing store, you can reach people from different parts of the world at any time of the day. This is unlike physical stores. Your online clothing store can be open 24/7 and you can hire virtual assistants from different time zones to manage it. Customers can explore your clothing lines right from the comfort of their homes. This will open up more business opportunities for significant sales growth. 
Many online stores offer free shipping, discounts, and other perks to make shopping more convenient and affordable.
2. Subscription Box Service
This is a recurring delivery of fashion-related products where customers subscribe to receive packages periodically, often monthly or yearly.
The box may contain a variety of items such as beauty products, clothing, snacks, and more, tailored to the individual's preferences. The subscription box service provider can tailor their service to different styles, sizes and fashion, providing a personalized fashion selection for each subscriber.
There are many subscription box services available out there. These people are offering a fun and convenient way to discover new products and brands. You can easily join them.
Also Read:
3. Launch Your Own Fashion Blog or YouTube Channel
On your blog or YouTube channel, you can share your insights, knowledge and passion for fashion through written articles (blog) or videos (YouTube). Topics can range from fashion trends, styling advice, fashion events, fashion product reviews, etc.
By creating engaging and high-quality content, you can attract followers and monetize your platform through advertising or partnership deals with fashion brands. That way, you can generate more income within a short period of time. And if you are struggling with getting organic views on your channels, check out these YouTube SEO strategies.
4. Clothing Boutique
A clothing boutique is a small shop or a retail store specializing in fashionable and unique clothing items. Boutiques typically offer a curated selection of high-quality, stylish pieces from various designers and brands. They often have a smaller, more intimate atmosphere than larger stores, providing a personalized shopping experience for customers.
Owning a boutique is like curating a fashion collection. This is because the items you sell are handpicked based on your unique style and the preferences of your customers. A clothing boutique is one of the best fashion business ideas to start in a wealthy neighborhood.
5. Custom Tailoring and Alterations
Custom tailoring and alterations simply refer to the process of creating or modifying clothing items to fit an individual's body measurements precisely. In custom tailoring, you design and create outfits that fit the customer's measurements.
Alterations on the other hand involve modifying existing clothing items for a better fit. Custom tailoring and alterations can be applied to various types of clothing, including suits, dresses, pants, and skirts.
6. Vintage or Thrift Store
A vintage or thrift store is a retail establishment that sells second-hand clothing, accessories, and home goods. These stores typically source their inventory from various channels, including donations, estate sales, and other consignment shops.
Vintage and thrift stores offer a unique and affordable way to find one-of-a-kind items. It's also a great way to reduce waste and extend the lifespan of unwanted clothing and household items. This type of store also specializes in clothing from different eras, offering unique, retro styles that are hard to find in mainstream retail.
Print-on-Demand Merchandise also known as (POD) is a production method where the items are manufactured and printed only when an order is received from a customer. This method eliminates inventory costs and minimizes waste, allowing for faster production times and more customization options.
POD is commonly used for t-shirts, books, mugs, and other promotional products. This is a popular choice for small businesses and individuals looking to create their own merchandise without a large upfront investment.  
8. Jewelry Design
Jewelry design is the art and technique of creating wearable objects of beauty and elegance, typically made from precious metals, gems, and other materials. This process involves combining creativity and skill to create unique and visually appealing pieces of jewelry. These pieces of jewelry can be worn on the body, on the hair, or as display pieces.
You can create unique, personalized pieces that embody your artistic vision. Jewelry design can range from simple, elegant pieces to more difficult ones. It can be made using a variety of techniques and materials such as resin. The process of designing jewelry can include casting, fabrication, and stone setting.  
9. Handbag Design and Manufacturing
Handbag design and manufacturing refers to the process of creating and producing handbags either at home or in a store. This covers both design and prototyping. It can be done in either mass production or low production. The process typically involves selecting working materials, such as leather or fabric, and incorporating features such as buckles, zippers, and handles.
Handbag design and manufacturing can be a complex process because it involves skilled artisans and advanced technologies. The end product can vary greatly in terms of style, quality, and price.  
10. Fashion Consultancy
Do you have knowledge about fashion? If yes, then you can become a fashion consultant by assisting individuals or companies in making informed fashion choices. You can give expert advice and guidance on fashion trends, style, and purchasing decisions.
Fashion consultants work with clients to identify their personal style and help them create a wardrobe that aligns with their preferences and budget. They may also offer advice on fashion-related topics such as personal shopping, styling, and wardrobe management. This service is often offered to celebrities and high-networth individuals. These are people who understand the importance of hiring a consultant.
11. Personal Shopping Services
If you have a passion for fashion clothes and accessories then this will be very easy to do. Personal shopping services are tailored shopping experiences provided usually by boutiques, department stores, or luxury brands. These services offer one-on-one consultations with a personal shopper who helps clients choose clothing, accessories, and beauty products that fit their style, budget, and lifestyle.
Personal shoppers often provide styling services, offer product recommendations, and make purchases on behalf of clients. This service is ideal for individuals with busy schedules or those who struggle to find the time or expertise to shop for themselves.  
12. Shoe Retail or Customization
This is one of the best fashion business ideas you can start with a low investment. Shoe retail or customization simply refers to the process of creating or purchasing shoes that are tailored to an individual's specific needs or preferences. This can involve selecting from a range of different materials, colors, and styles, or working with a designer to create a fully customized shoe for your customer's need.
Some retailers also offer the option to personalize or monogram shoes for a unique touch. Whether a person is looking for a stylish statement piece or a pair of comfortable everyday shoes, with shoe retail and customization the customer can get a perfect fit.  
13. Fashion Rental Service
A fashion rental service allows individuals to rent high-end clothing and accessories for special occasions, events, or everyday wear instead of buying them. It provides an alternative to purchasing luxury items at a fraction of the cost.
These services often offer a wide range of designer pieces from various brands, along with styling services to ensure a perfect fit and look. It's perfect for people who want to wear high-end garments for a special occasion or want to keep up with fast-changing fashion trends without the financial or environmental guilt of buying new clothes all the time.
Some great examples are bridal wedding gowns, luxury hair brands for photoshoots and customized bags.
14. Children's Clothing Line
A children's clothing line is a collection of clothing items designed specifically for kids. These lines typically cater to different age groups and sizes, offering a range of comfortable and stylish garments such as t-shirts, pants, dresses, and accessories for children. The key elements you must consider are comfort, durability, safety, and fun.
You can specialize in anything from everyday wear to special occasion outfits, pajamas, sportswear, or school uniforms. Many popular brands offer children's clothing lines to make it easier for parents to dress their little ones in a coordinated and fashionable manner.  
15. Uniform Design and Supply
This business involves designing and distributing uniforms for institutions such as schools, companies, or sports teams. Uniforms need to serve their functional purpose while embodying the identity and values of the organization for which they're designed. It offers a wide range of fabrics, styles, and embellishments to suit the specific needs of the clients.
Also Read:
Helpful Guidelines to Follow Before Starting Any of These Fashion Business Ideas
1. Market Research
Start by identifying a unique need or gap in the market that your fashion business can fill. Research current fashion trends, consumer behaviors, and market demands. Checking out other similar businesses and their offerings can also help you understand what's already available and where your business can create differentiation. Free and paid resources are available for market research
2. Identify Your Target Audience
Once you've found a niche, identify the specific group of people who would be most interested in your products. These could be individuals attracted by specific styles, sustainable fashion, or unique designs. Understanding their preferences, lifestyle, and shopping habits can help tailor your products to their needs, making them more likely to buy from you.
It's essential to have a detailed business plan outlining your vision, mission, financial forecasts, pricing strategy, marketing tactics, and expansion plans. Consider factors like the cost of manufacturing your items, overhead expenses, and the price points that your target audience is willing to pay.
4. Marketing Strategies
Your marketing strategy should start taking shape even before your business is officially launched. This could encompass social media campaigns, email marketing, collaborations with influencers, and search engine optimization for your online store. That way, you'll have a buzz created when you finally launch.
5. Set Realistic Goals
Starting a fashion business can be easy and also difficult. So, it's essential to set achievable goals and be patient. Learn from your experiences, and tweak your strategies if need be. But don't expect instant success. Perseverance is key in the fashion industry. 
Conclusion
Starting a fashion business is a distinct field to invest in. In order to achieve success, attention must be paid, and having good means of marketing is also crucial. We hope this article has helped you in finding some of the best and most profitable fashion business ideas to start. That said, feel free to return to this website anytime for more valuable content.