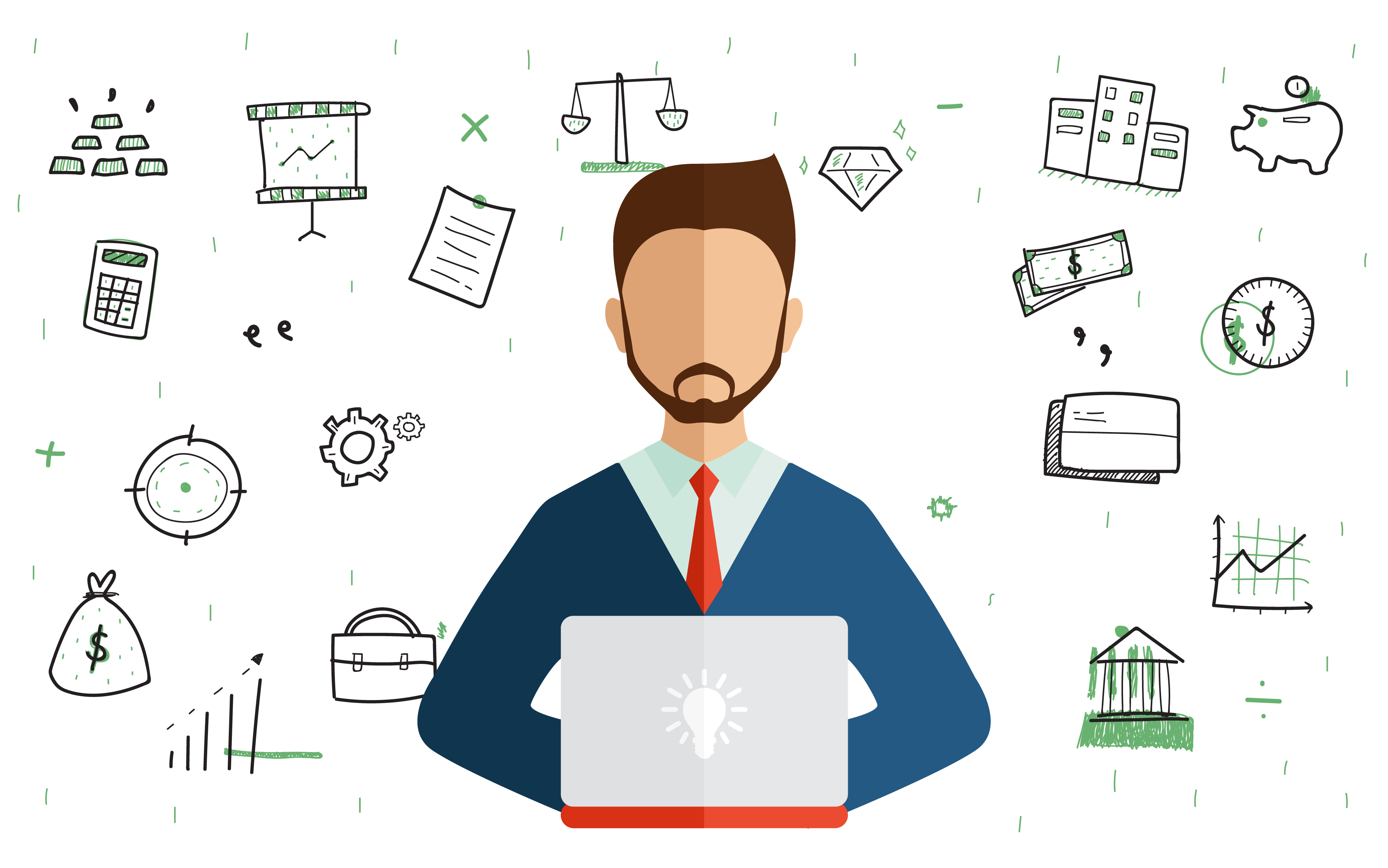 Being your own boss tops the list of why most people want to be entrepreneurs even though there are many other reasons like not being under the control of an employer/fellow employee or having an overbearing boss to being financially independent, and in total control of their time/activities to name a few.
Owning Your Business Is the Most Realistic Way to Be a Multi-millionaire
Though there are various musicians, sports people, and CEOs of some multinational companies who don't own or run their personal businesses yet they are wealthy. Here is the news, if you want to meet or surpass that 'millionaire' benchmark, you need to do more than own a business.
If you ask an average business person how Elon Musk, Bill Gate, Larry Page, and other billionaires made their wealth, you will probably get the usual cliché, "they achieved their fortune by sheer luck", or they were destined to be billionaires. Laughable right? You can't be a billionaire by luck; you can only achieve wealth by proper planning that prevents poor performance in business. We cannot also disapprove the fact that some folks are born with the traits that make them trailblazers. But you will not become a trailblazer until you act on the information you have.
Related: 7 Highly Successful Introverted Entrepreneurs and How They Made Their Wealth
Those that were not born with the so-called successful traits still stand a better chance of creating wealth only if they are consistent and possess the billionaire mindset. Someone with a poor mindset, cannot build a sustainable business worth billions. The right mindset is the core of all achievements.
In this article, we shall look at the giant steps taken by almost every successful entrepreneur to become wealthy. You can even call it the three core habits of highly successful entrepreneurs or three traits of entrepreneurial success.
3 Steps Taken by Most Successful Entrepreneurs in the World
1. Being Innovative
Everyone secretly or openly wishes to wake up to having a fat bank account, but how many people are willing to wake up to nursing an idea that can solve a significant problem in the world?
One of the reasons why entrepreneurship is not enough is that; it doesn't stop at buying and selling other people's products to make ends meet, you should focus at the bigger picture.
If you are tired of your present condition and want to move to the next position, you need to have a ground-breaking innovative idea that is capable of giving your competitors a run for their money and must have the capacity to stand the test of time.
Related: Jeff Bezos Shares His Best Advice For Budding Entrepreneurs Who Want to Become Billionaires in their Lifetime
Google, Facebook, Amazon, and so on are all groundbreaking ideas that have made the owners and other people around the world wealthy. The founders of these big-brand companies were not the first to explore the various industries they now play at.
Google wasn't the first search engine in the world. Archie, created in 1990 by Alan Emtage, a student at McGill University in Montreal was the first search engine in the world. Facebook wasn't the first social media site in the world. Six Degrees, created in 1997 was the first social networking site in the world. But what really changed? The founders of Google and Facebook innovated what was already in existence to build their billion-dollar companies.
Thinking outside the box is critical if you wish to have billions of bucks to your name someday. Being innovative is one of the most sought-after habits of highly enterprising people.
In a 2007 TED Talk, Richard Branson shared how being innovative helped him build tens of companies and in the process became a billionaire.
2. Be Highly Resourceful
Being highly resourceful is one of the core habits of highly successful entrepreneurs in the world. You are as wealthy as your library. You can't be richer than the information at your disposal. Reading is not the only way to being a highly resourceful person. Learning from people that have done great things is vital to gaining knowledge.
Jeff Bezos, founder of Amazon said he learned his billion-dollar secrets from the way his grandfather built his ranch and he developed an interest in building a business.
His grandfather wasn't a billionaire, but he learned from him. Most people that have built big companies did not start with big resources. They started with big dreams backed by a well-positioned positive mindset devoid of time-wasting behaviors such as procrastination, impatience, and the absence of a positive team-building spirit. 
You will notice this in the way he crafted Amazon's first job advertising which made it super easy for him to attract the right kind of employees who were as passionate as he was in building a billion-dollar company. Today, it paid off and many SaaS startups have learned to use the same template when hiring passionate people.
3. Perseverance
Rag to riches is possible if you are ready to endure now, grow through the difficulties and then enjoy the fruits of your hard labor later.
You have to settle it down in your heart that you can't be wealthy overnight. It takes a lot of processes to master how to move from zero to hero in any business startup. See every failure as a learning curve and a stepping stone to improving your business and life. Michael Jordan, the former basketballer said, "I failed many times; that is why I succeed."
Every multi-billion-dollar company you see today came as a result of years of hard work, sacrifice, and unrelenting endurance when no one believed in the dream of the founders. If you are wondering how perseverance leads to success take a look at people like Muhammad Ali, Mark Zuckerberg and the billionaire or multimillionaire in your neighbourhood.
One thing that you need to know as we wrap up this article is that perseverance has more to contribute to your journey to success than your innate potential will. Many people who thought that entrepreneurship alone was enough to make them successful always quit halfway into the journey when the heat comes on them. Don't be like them. Be different.
Related: How to Improve Your Focus as as a Small Business Owner
Conclusion
Entrepreneurship alone cannot make you wealthy. There are a bunch of giant steps taken by the world's most successful entrepreneurs to become wealthy. Innovation, resourcefulness, and perseverance are some of the vital keys to building a legitimate, and Long- lasting wealth. If you really want to be wealthy here's a quick formula to help you hit the road running: Find a problem millions of people are facing, learn possible means of solving it and monetize it as you make use of these methods we highlighted above.
Recommended