What were the most recent eCommerce success stories you heard? Did they inspire you?
Is it easy to open an online store? Yes, it is! Is it easy to become successful in running an eCommerce business? No, it isn't.
Success lies somewhere between genius ideas, the right moment, excellent and innovative marketing, and persistence. And sometimes, the new eCommerce businesses lack at least one of these points.
When this happens, people usually give up. That's why it's always a good thing to read about some eCommerce success stories from people who are just like everyone else; started their own online store years back, and thrived.
We handpicked five eCommerce success stories to keep you motivated and help you build your own thriving webshop.
There are thousands of successful dropshipping stories in every corner of the world, and eCommerce made it possible. You don't have to be physically present in some market to sell your products, and that's the key that opens the door to opportunities.
We'll take a look at only 5 of them, but we know that everyone knows at least one successful eCommerce business in their close environment.
Growing a Successful eCommerce Business From a Passion
Jennifer Greenlees, the founder and CEO of Sydney So Sweet, LLC, started her eCommerce journey when her daughter was born. She wanted unique and exciting clothing and accessories, but they were too expensive. So, she decided to open her own eCommerce shop. "There was nowhere to shop for the things I wanted, so I made them myself! And as the business grew, we expanded into purchasing wholesale instead", she said.
And yes, it wasn't easy all the time. She remembers the time when she had to juggle between motherhood, a full-time job, and her new eCommerce business.
"The biggest obstacle in the beginning was time. I am the mother of 5 kids, and at the time I started the site, I was a full-time high school chemistry teacher. We grew the business so much in the first 5 years that I was able to quit my teaching job, hire employees, and work full time on the business."
She developed the business by relying mostly on social media, as her main marketing strategy. "By far our best strategy is social media. New moms are great customers, and this is the demographic that spends time on social networks like Instagram, Facebook, and TikTok. Live selling on social media has been the single most successful strategy that we have employed in the last 2 years."
As a tip for all new eCommerce business owners, Jennifer advises not to look too much at what competitors do, but rather to think about how your own business can grow. "Time is best spent focusing on building your brand, not obsessing over your competition. Yes, there is definitely a place for analyzing other brands and sites, but in the end, the only way to grow is to focus on your own business."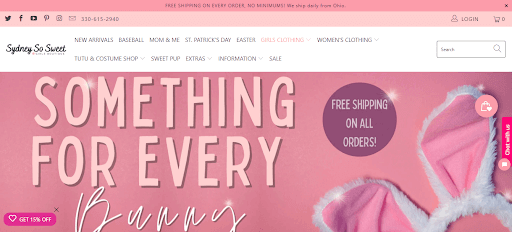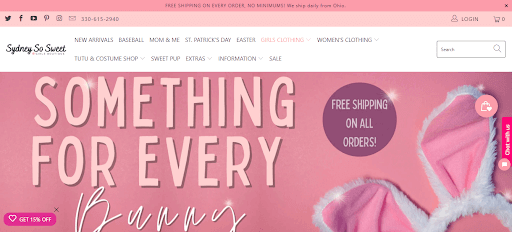 And she sees more personalization in the eCommerce industry in years to come. "I think eCommerce is becoming more and more about making personal connections. What first drew me into an internet-based business was its anonymity. But the farther we go, the more I understand how customers like to put a face with a name and even get to know us personally. As an introvert, this is hard for me. But being a little goofy and open on social media has really helped us make those connections with customers, bloggers, and other businesses, and that has really been the key to our growth. I think this is a trend that will continue into the next 5-10 years."
From Brick & Mortar to Online Business – However Bumpy the Road is, Don't Give Up!
Now, if you have thought that starting a business is all rosy and that you can reach eCommerce success overnight, you better read the story about Local Furniture Outlet. Its founder, Aaron Masterson admits that at the beginning of their journey they faced several challenges which were not so easy to overcome.
Despite more than 15 years of experience in the sales business, and the fact he spotted the gap in the market, Aaron still had to find a way to tweak the situation and continue with his idea. "My business idea germinated from a prior business that I had been in charge of back in 2007. My initial business was focused on selling different sizes and grades of mattresses to customers within my region or beyond through a warehouse I bought in Corpus Christi. Given the huge success that we enjoyed within the first two years of running the business, I decided to look into other similar opportunities that I could tap into, first within my locality.
It was through the search for new opportunities in this market that I discovered a gap in the furniture industry. Most consumers who need furniture around different localities have to travel miles to get their hands on the quality furniture they need for their homes and offices. Due to the scarcity of these products around different localities, the cost of purchasing furniture was so huge. We decided to take advantage of this opportunity to expand our operations to first be a supplier of furniture."
After expanding the existing business, they decided to rebrand the company, and it became the Local Furniture Outlet in 2012. They created a series of supply chains to source furniture, and after a while, they decided to go full-scale into sourcing raw material and manufacturing, in order to be able to cut down the final price of their products.
Now, this would probably be a smooth move if only they didn't find out that it wasn't so easy to find furniture manufacturers in America, and that the cost of production was extremely expensive. But they didn't give up. They started scouting factories outside the United States, and eventually found supply chains in China.
And when they thought everything was going well, raised capital for this investment opportunity and wanted to launch their business, they faced obstacles one more time. "At some point, issues of quality slippage, factory closure, inventory not matching the prototype – all contributed to me wishing I never decided to expand my business," remembers Aaron.
"Over time, we discovered we were nowhere ready to import our products back to America. We lacked experience on how to ship furniture despite promising a two-week delivery to customers, the costs associated, and most importantly, we needed another warehouse. Eventually, we were able to pull through due to the intervention of an investor who had expertise in product transport from China, and storage facilities. After the launch of Local Furniture Outlet, we sold out all the initial products within 8 weeks. Our products were mostly sold through word-of-mouth marketing from customers who did business with us."
In 2020, the company decided to rebrand again, widen the target market and take the business online, launching the company's website. It was also the moment when their marketing and sales strategy switched from word-of-mouth to digital marketing.
After two years, and more than 2,500 5-star reviews on Shopper Approved, Aaron is glad he didn't give up when they faced turbulence and their plans are getting even bigger. "In 2022, we intend to keep growing our business and customer base and possibly expand our business to the international market. We want to become the one-stop-shop for everything related to furniture while maintaining our company culture. Though these goals may seem a little scary, we've come a long way, and we believe we can achieve them."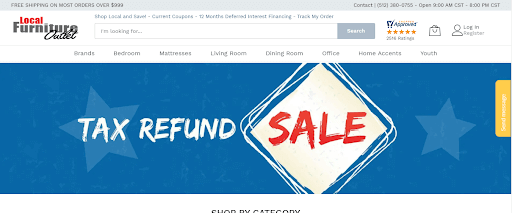 And when asked what would be the lessons that he learned from his entrepreneurial journey, Aaron replied, "Starting a business from the ground up is one of the most difficult journeys to embark on. At the onset, I felt I had everything under control with my well-curated business plan and a guide for execution. The truth, however, is that learning never stops in business. To date, I am still learning new things about how best to run a project, manage employees, and so on. There might be challenges along the way as well, but it is the most rewarding when you get over them.
It is important to put your all into a business, as no task is too small or too big. Raising capital for a business is also not a walk in the park, even if you have a compelling pitch and receptive investors. Having intuitive individuals and resourceful individuals to support your business is key to success. No one is an island of knowledge. Each employee or Co-founder contribution can make the difference between the success of a business and liquidation. Lastly, your business will always be more expensive than what your model predicts."
Shine Bright Like a Star!
Jess Munday, the co-founder and HR Lead of Custom Neon, started her business when she was trying to source an LED neon for her newborn son's nursery. She noticed that there are no affordable and accessible LED neon signs, and there she got an idea to launch Custom Neon.
For her, the biggest challenge was the pandemic. "Due to lockdowns and capacity limits, weddings and events were canceled indefinitely, and we saw our entire business wiped out overnight. Undeterred, we decided to change our focus and pivot to target a business-to-business audience, selling corporate and business signage to companies in our area, and it's been the best decision we've ever made." 
And that situation was exactly the point wherefrom she had the biggest lesson. "The biggest lesson I've learned on my eCommerce journey is that running a business isn't linear, and you have to expect bumps in the road. The pandemic taught us that nothing is guaranteed and that to survive and thrive, you need to think adaptively and roll with the punches."
When asked about marketing strategies implemented in growing their business, Jess pointed out that their focus was on organic SEO. "One of the biggest marketing strategies we've implemented to grow our business and expand our brand is investing in organic SEO. Things like Google My Business and building our site to optimize our online rankings have been best to develop our business."
Based on her experience so far, Jess expects the unexpected when it comes to the future of eCommerce. "Honestly, with the ever-changing world of eCommerce, I don't have any expectations for how the industry will unfold in the next five to ten years. I hope that sites will adopt a more customized user experience to enhance their purchasing journey and more of a focus on the customer and their needs throughout the entire process, from the moment they enter your website to after their product has arrived."
From a Hobby to a Full-time Job
"We've successfully turned our leather-making hobby into a full-time job and now we're one of the most well-known, handmade leather goods brands online. My late sister, Zeynep, started the business on Etsy, and after a series of events, we eventually started our own store/website selling our goods, and the business took off, going from strength to strength," begins his story Yusuf Perens, the owner and leather craftsman at Galen Leather.
"In 2012, my late sister (Zeynep) was diagnosed with a rare type of throat cancer, which left her incapable of speech for a whole year. Consequently, she could no longer work in her job in sales. She came up with the idea of selling locally produced leather goods and vintage kilims online; products Turkey is very well known for. This enabled her to pursue work that didn't involve her having to verbally speak with anyone as all the communication could be done via email. It didn't take long and she made a name for herself selling through Etsy and eBay stores. Fortunately, after a year, her speech returned but there was no looking back at this time since the business was growing! It was then that I had graduated and was seeking employment. Having an eye for photography, I saw the opportunity for taking beautiful product shots and helping out Zeynep. That's how I came onto the scene."
Since the circumstances change constantly, Yusuf realized that in order to keep the business going, you need to adapt quickly. "When PayPal stopped its services in Turkey in 2016, we were forced to search for alternative sales channels. We moved our store on to Shopify, which gave us more control over our online store and ended up being one of the best decisions we made. It's enabled us to grow our store in ways we probably wouldn't have been able to on other platforms."
From that experience, he gained the most valuable lesson, and that is to be ready to pivot. "eCommerce is forever changing and when changes happen, they can happen fast (as was the case for use with Paypal). So you need to be flexible and have diverse sales channels to help manage cash flow during these times. Another important lesson is having the proper business processes in place before you experience significant growth. This will help prevent things like disappointing customers, having insufficient stock, and shipping delays."
As a recommended marketing strategy for eCommerce success stories, Yusuf suggests influencer marketing, since they had great results with that type of marketing. "We've had great success with influencer marketing. Due to the nature of our products photographing beautifully, they tend to be something customers and fans love to share on social media, so we get a lot of traction from that. And we are very involved in these communities ourselves (being collectors of antique stationery and fountain pens ourselves). We've also invested in digital marketing strategists to help with our SEO, PR, and marketing efforts."
He thinks the eCommerce industry will stick around and thrive for many years to come, but it will need to change and respond to the challenges we all experienced over the past two years.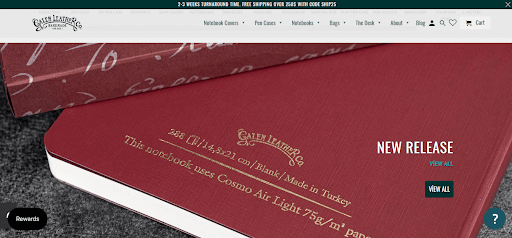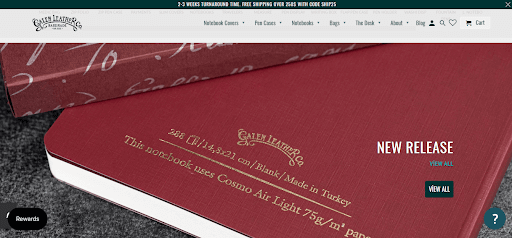 "If the last couple of years has proven anything to us, it's highlighted how resilient or fragile some supply chains are. These disruptions, as we've seen, have actually forced some customers to shop closer to home. I expect to see many eCommerce businesses in the years to come really focus on strengthening their supply chains and mitigating the potential for things like shipping and manufacturing delays. Operating online brings with it a whole host of unique challenges. For example, even slight social media algorithm changes can be devastating for sales. But I don't see eCommerce going anywhere. The environment may change around us, but the businesses that stick around will be the ones that can adapt and pivot as needed, rather than being rigid in old school thinking."
The Artist in the eCommerce Business Shares Their Success Stories
This is one of the eCommerce success stories that started at the onset of the pandemic. Laura, the founder and artist of Stellar Villa, heard of a local animal shelter that was in need of funds since donations had dried up.
Laura put everything on hold and decided to run a fundraiser in which she illustrated peoples' pets in order to raise money. Over the course of three weeks, she worked morning to night creating over 1,000 pet portraits. At the conclusion of the event, she had raised nearly $12,000 all of which went to helping animals in need of food, shelter, medical treatment, and other basic care. Even after the fundraiser ended, Laura's e-mail inbox continued to be flooded with requests for her pet art. The fundraiser put a spotlight on her work and once it went into public view, people couldn't resist the cute art of dogs, cats, and other pets. That's when they launched the website to continue offering custom pet portraits and other unique artwork.
One of the biggest challenges for any artist that is turning their passion into a business is pricing their work.
When pricing custom art, it's important to take into account the time it takes to create a piece. One of the problems is no two pieces are the same, and the time spent creating can vary. You also have to factor in the time it takes to correspond with clients.
Some clients like to leave things up to the artist, others sometimes have their own vision of what they want to be created. Sometimes correspondence can be as few as two or three emails, other times it can be dozens of emails and back and forth. All of these things need to be taken into account in order to price the artwork in a way that allows the artist to make a living.
"A second challenge we faced was keeping up with demand. Since we launched, as a single artist, Laura has had more orders than she can keep up with. We've had to start limiting the number of orders we accept for custom art each month, and once that limit is hit the products will be marked sold out until the following month. While our options for solving this challenge are limited since we can make a clone of our Laura, we have brought an additional artist onto the team so we can continue offering custom art during the times when Laura is overbooked," says Patrick Connelly, Co-Founder of Stellar Villa.
The main driver of expansion for their business has been promoting the artwork on Instagram. Being a very visual platform, Instagram has been the perfect platform for growing an audience that loves Laura's art. Besides sharing her artwork, Laura focuses on building real relationships with her followers and this has helped us connect on a deeper level.
One of the main lessons that Patrick learned during the eCommerce journey was that learning never stops. "Competition in the e-commerce space is fierce and only going to continue to grow. The most important lesson I've learned is that you have to always make time to continue learning new things. Education and self-improvement are more important than ever if you want to succeed and outshine the competition."
When asked about how he sees the eCommerce future, Patrick replied, "With the COVID pandemic, we've seen e-commerce jump ahead a few years. The reliance on e-commerce and services like Amazon Prime has grown drastically as people opt to shop online whether for convenience or by necessity. It's only going to continue to grow and e-com companies who have solidified their place in the market will be in a good position going forward. With the birth of and development of the metaverse, I am particularly interested to see how the metaverse is integrated with eCommerce and what impacts it will have on the way we shop. The future looks very exciting indeed"
Final Word on Some of the Best eCommerce Success Stories
As you can see, sometimes destiny must push us a bit to open some doors, and if we are opened to new opportunities at that moment, we can jump into the adventure.
But the road to success is bumpy and full of various challenges, starting with unexpected changes in circumstances, business environment, or managing supply chains and shipping.
When your business starts growing, you will find out that without integration and automation of your business in the 21st century, you won't be able to scale, and that's when you need the automation tool, such as SyncSpider. To make your eCommerce journey as smooth as possible and take you up the ladder, carefully read these eCommerce success stories. And if you are still unsure about the future of eCommerce, check out what experts have to say on that topic.