Hundreds of thousands of people seeking genuine ways to make money online are still wondering what is the difference between dropshipping and affiliate marketing. Hence the search term, "Dropshipping vs affiliate marketing: which one is more profitable?"
They ask this question because they want to know if affiliate marketing is more profitable compared to dropshipping. Or is it dropshipping that is more profitable than affiliate marketing.
No doubt, the terms affiliate marketing and dropshipping can be quite confusing. This is due to some of the peculiarities they share. Nevertheless, affiliate marketing and dropshipping are two different things and this article will provide answers to what the difference is.
If you have searched for how to make money online, I am sure you must have come across affiliate marketing or dropshipping. This makes people ask the following questions on Google, Bing, Baidu, Yandex, DuckDuckGo and Yahoo Search:
Which is better? Affiliate marketing or dropshipping
Why affiliate marketing is better than dropshipping
What is the difference between dropshipping and affiliate marketing?
In the past, we have extensively written on the A-Z guide to running a profitable dropshipping business and how to make money online selling other people's products – which is exactly what affiliate marketing is all about.
We even took it a step further by answering the question of whether it is profitable to earn money through Shopify dropshipping.
One similarity dropshipping and affiliate marketing share is that they are highly profitable ways to make money online without any direct action from your end in terms of creating the product nor keeping inventory.
Both affiliate marketing and dropshipping allows you to make passive income. It is very important to note that they are both profitable and if you are looking to add a stream of income, our guide on affiliate marketing and dropshipping will give you an edge.
Before explaining the differences between dropshipping and affiliate marketing, I would like to show you some of the similarities they share.
Similarities Between Affiliate Marketing and Dropshipping
1. Sell Products Without Keeping Goods in Stock
You do not have to keep goods in stock before you can sell them. They both allow you to start your business without taking inventory and sell them even without setting your eyes on them.
2. High-earning Potentials
Both dropshipping and affiliate marketing top the list of profitable businesses to start online in just six weeks or less. With the current rise in online shopping and the restriction to in-store shopping due to the outbreak of COVID-19, affiliate marketing and dropshipping have high-earning potentials.
3. Low Start-up Cost
With dropshipping or affiliate marketing you do not need to worry about capital because you can start making money even with a tiny budget.
It doesn't matter if you are in debt right now, you can still start any of these two online businesses because they don't require huge startup capital. You can check out these 10 startup tips for launching a business when in debt.
4. Similar Skill Set
Marketing skills such as the ability to persuade people to make purchases, create winning Facebook, Google and Instagram ads, drive traffic to a landing page and market via emails will suffice to run a successful dropshipping or affiliate marketing business.
5. Low-risk Business Models
Both affiliate marketing and dropshipping are low-risk business models because you don't need to keep inventory or spend years creating and perfecting a product you have no idea if it will fly or not.
Your job as a dropshipper or affiliate marketer is to pick a winning product and promote it like crazy. If for whatever reason you aren't seeing any conversion you can switch to another highly profitable product.
To explain the differences between affiliate marketing and dropshipping, let's discuss them as separate entities first.
Related: Ultimate Guide to Spotting Weakness in Your Small Business Model
What is Affiliate Marketing?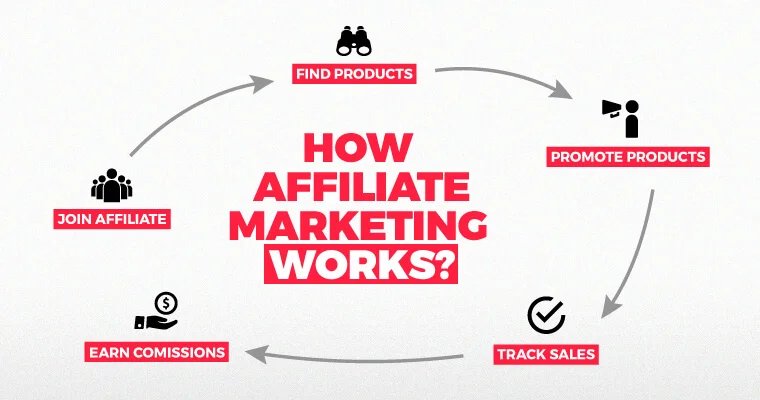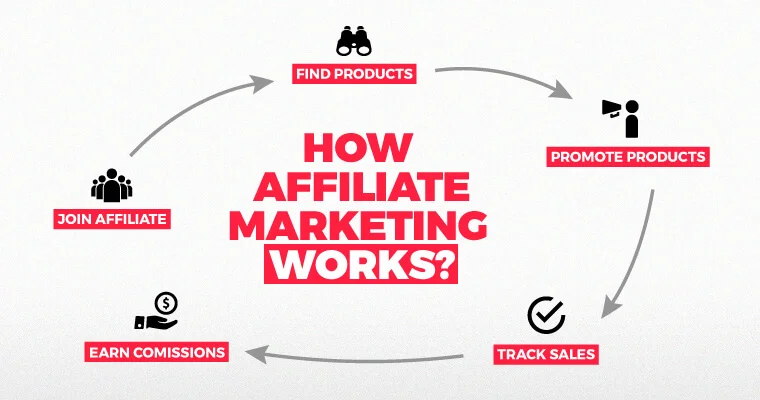 Affiliate marketing is a kind of marketing where you promote a product and earn a commission for the customer you referred to the company. When the person buys the product through your referral link, the actual owner of the product pays you a commission.
Why affiliate marketing is better than dropshipping is because your duty as an affiliate marketer is just to share your referral link and get people to buy the product using it. For everyone who completes a purchase, the owner of the product pays you a commission which is often calculated as a percentage.
For example, a product owner can decide to pay you a 50% commission on every purchase made using your referral link. If the product costs $100, and any purchase is made through your referral link, you get 50% of $100 which is $50. So for every unit of the product you sell, you earn a $50 affiliate commission.
A practical example that quickly comes to the mind is this… When you buy your web hosting service from Bluehost or Siteground using my affiliate link, I get paid. When you purchase your blog theme from Themeforest or domain name from Namecheap, I get paid.
Related: How To Make Money Online Selling Other People's Products
What is Dropshipping?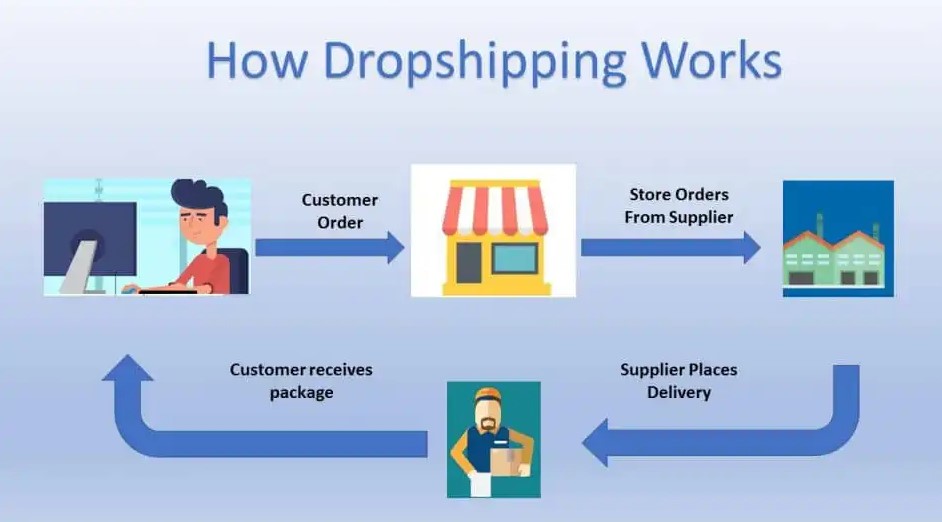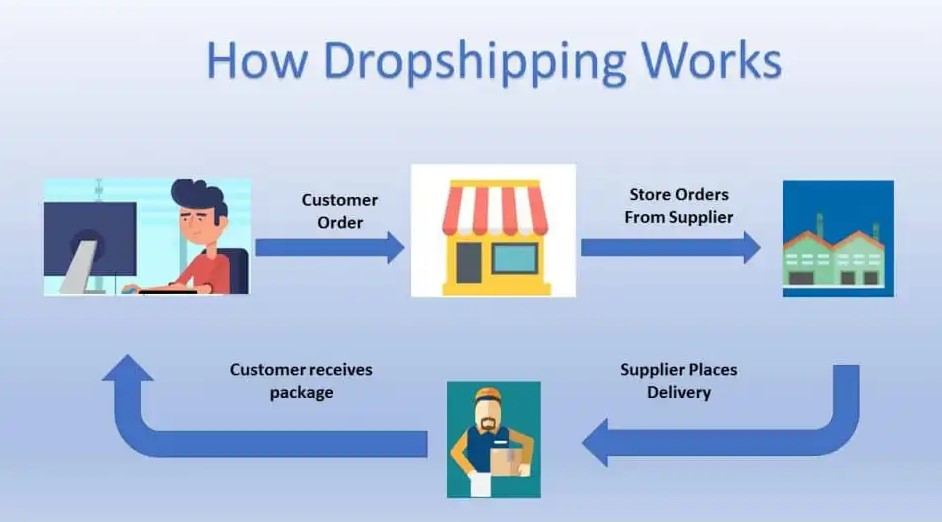 In dropshipping, you find the manufacturer of a product or someone who sells it at a very discounted rate and promote the product even without having them in your possession.
When anyone makes an order, you simply place their order and the owner of the product ships it to the buyer themselves.
Just like in affiliate marketing, you do not create an inventory of the products or keep stock with you. All you do is work with your supplier who sends the product directly to the buyer.
Whilst you are paid a commission for every sale in affiliate marketing, your earnings in dropshipping comes from the difference between your selling price for the product and the original selling price.
The actual concept of dropshipping is that you are reselling a product and getting income from the profit margin you placed on the product.
Related: 10 Best Dropshipping Products to Sell in 2020
Let's say a product's original cost is $7,500. While promoting it, you placed the price at $8,500. If you sell such a product your income from it is the difference between your selling price and the original selling price. And for the product under review that would be $8500 – $7500 which is $1000.
You are at liberty to sell a product at any price and earn as much money as you can in dropshipping. When choosing the right product to dropship, ensure you don't get into any of the worst dropshipping niches.
The following are some of the major differences that distinguish affiliate marketing from dropshipping.
Differences Between Affiliate Marketing and Dropshipping
Here are the top 7 differences between dropshipping and affiliate marketing.
Affiliate marketing does not allow you to exert any form of control over the products and its pricing, you earn whatever the product owner gives you while in dropshipping, you have full control over the product pricing and can earn a higher profit from it.

There is a bit of ambiguity in affiliate marketing. The terms and conditions of marketing a product may restrict you from giving prospective buyers an in-depth analysis of what they are buying. Dropshipping on the other hand, offers you the liberty to give your buyers enough details about the product they are about to buy.
Related: Highly Profitable Dropshipping Products You Can Sell in 2020
With dropshipping, you are actually building your e-commerce brand and not just promoting a product. It can also be integrated using any of the product configuration tools as part of the offers from your e-commerce store but in affiliate marketing, you are promoting a brand and getting paid based on the terms of the brand whose product you are trying to sell.

Users can bypass your affiliate referral link and make the product purchase directly from the brand themselves. This is because they clearly see who it is you are promoting and not just a product only but in dropshipping, you are not promoting any other brand and since people don't get to meet with the actual suppliers they must go through you to make any purchase.

If you can not handle customer support, then dropshipping is not a business model for you. With dropshipping, you are faced with the task of handling customer support on your own. Affiliate marketing relieves you from the ordeal of dealing with customer support.

Dropshipping gives you control of your customer data. You can keep records of the persons who buy from you and re-target them through your email campaigns or Facebook advertising when you have a new product to sell. In affiliate marketing, you rely solely on the commission you earn when someone buys a product using your referral link.
Related: How to Start an Online Business without Any Product
There is so much competition you will face as an affiliate marketer. You will need to have a command of marketing to be able to go past your competition but with dropshipping, you just need to find hot-selling products, a hungry market and you are earning profits.
You will need to learn how to write a compelling sales copy that will make people choose your product over that of your competitor.
Amazon FBA vs Dropshipping vs Affiliate Marketing
If you have been looking for easy ways to make money online then you must come across these three – Amazon FBA, dropshipping and affiliate marketing.
Before we talk about the difference between Amazon FBA, dropshipping and affiliate marketing, let first and foremost understand what Amazon FBA means.
What is Amazon FBA?
FBA simply means, "Fulfillment by Amazon." An FBA seller is an e-commerce business that sells in Amazon's store and outsources inventory management to Amazon through the FBA program.
What is the Difference Between Amazon FBA and Dropshipping?
The difference between dropshipping and Amazon FBA lies in the sourcing of goods. With FBA, you actually need to find suppliers for the goods that you are interested in having shipped from Amazon's fulfillment centers. Let's say you sell mobile phones and have found a supplier in China. What happens then is that you purchase the goods from China and ship them down to Amazon.
Unlike dropshipping where you only need a small startup capital to launch your business, in FBA you will have to purchase all the products by yourself and ship them to the nearest Amazon warehouse. With FBA, on the other hand, it's you who is responsible for stocking up the goods that you sell. The only responsibility Amazon owes you is to warehouse, package, ship and provide customer support for your goods.
Affiliate Marketing vs Dropshipping: Which is More Profitable?
They are both profitable as we have seen from the facts discussed above. Each has its peculiar challenges and your choice of profitability will actually depend on what fits you and your business.
If you own an e-commerce store, dropshipping will be more beneficial to you than enrolling in an affiliate marketing program. Once you have the best e-commerce monitoring tools for retailers or the best website performance monitoring tool for affiliates, then there will be no limit to how much you can achieve as it will be very easy to keep an eye on your competitors.
If you own a blog that generates a large volume of traffic in a specific niche, you have a good knowledge of search engine optimization (SEO), and you can create quality, compelling articles, then you can cast your nets on the sea of affiliate marketing.
Looking at the differences between affiliate marketing and dropshipping, you should be informed of which will be best for you. Just look for what fits you and your business. Remember, affiliate marketing and dropshipping are highly profitable.
To run a profitable dropshipping business, you will need to learn how to create a successful e-commerce funnel. In subsequent articles, we shall discuss, Amazon FBA vs dropshipping vs affiliate marketing. In that article, we shall look at whether it's better to dropship on Amazon or Shopify and what their differences are.
If you would like to spy on your dropshipping competitors by using the most powerful niche research bot that helps you identify winning products so that you can add them to your store, we highly recommend that you use, NicheScraper. Another amazing thing about this research tool is that you can use it to find winning products in virtually all e-commerce niches.