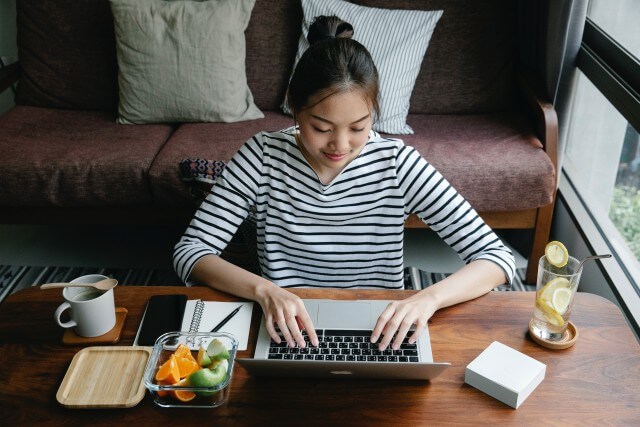 Without a doubt, link building has been known to be the most rewarding SEO strategy a newbie website can use to get good domain authority. 
Getting your beautifully crafted post the visibility it deserves would be extremely difficult if you don't employ good link-building strategies. Your post would struggle to rank on search engines, and as such Google would struggle to place it in the view of those seeking information on its platform.
For good website visibility, it is important you draft out a good SEO strategy. This SEO strategy should contain powerful link-building strategies that would link your content to other websites.
Google views your site as being authoritative if other trustworthy websites are linking their contents to your website. This will get Google to think you really provide quality contents that should be made visible to the public. And yes, you really need to update quality content before trustworthy sites can link your content to their posts.
So it doesn't matter if your site is new, provided you provide quality content and your link-building strategy is top-notch, Google would make your content available to more people once you start raking in quality backlinks (links).
What is Link Building?
I know at this stage you must be wondering what this link building is all about and how you can use it to give your website the visibility it deserves.
A link, or backlink (as it is called in SEO), is a relationship between two pages on the internet. Through a link, one can refer web visitors to content on your website. The visitors simply need to click a link, and they would find themselves on your website reading content of yours.
Definition of link building. Link building is the act of getting links from other websites to your site. Acquiring links from authority websites (high-quality websites) will directly pass authority to your website.
Backlink building is seen as one of the most effective ways of getting your website to rank high on search engines. It works very powerfully if done right, even if your website is new.
How to Know the Quality of a Link
As much as it is important to get your website linked to a lot of websites, it is much more important to get those links from high-quality websites.
Getting links from spammy websites with questionable reputations can harm your site in ways you don't even imagine. Google has strong penalties for those who generate backlinks from link farms (spammy link websites).
The Google penalties could go as far as removing your content from search engines and could go further to completely negating your entire site's SEO efforts. That means, instead of your SEO inputs yielding more organic views for you, you'd be getting fewer and fewer organic views until your contents are no longer visible on search engines.
Because of how harmful these links from spammy websites can be to a website, most competing websites now use them as strategies to reduce their competitors' domain authority. So it is very important you know what quality backlinks are as against the toxic ones and also know how to remove dangerous backlinks from your website or blog.
So here are a few ways you can tell a quality backlink from a toxic or dangerous one:
Domain Authority
The quality of a link can be attributed to the domain authority (DA) of the website it is coming from. Domain authority is a ranking score used to determine the relevance of a website on a specific niche. This ranking ranges from 1 to 100, and the closer a site is to 100 the more authority it has in that niche.
If your backlinks are coming from a website with a DA above 70, just know it's a quality link.
Relevance
You can't be blogging about music and be getting backlinks from an engineering website. That is a good indication that the links are not good links.
A link is a quality when it comes from a website that shares similar or at least closely related content with you.
When you start getting backlinks from websites that are not in the same industry or niche as you, just know there's something wrong somewhere, and you need to fix it up as soon as possible.  
Trusted Domain
It is important to assess the quality of the link you're getting from a website by assessing the trustworthiness of the website. To know the trustworthiness of a website, it is important to look at its lifespan, monthly traffic reach, and its social media activities. It is also important to know if the website has a secure socket layer (SSL).
These are good metrics to know if a website should be trusted. If it has a good monthly traffic reach, it's been in existence for a long period of time, and it has a secure socket layer, then the links coming from it are most likely quality links.
Anchor Texts
What is an anchor text? Anchor text is the visible characters and words that hyperlinks display when linking to another document or location on the web.
This is the text where the link to a page is embedded. It is often underlined and colored blue. Clicking on it takes you directly to the web page or content to where the link is pointing to. It's been a known fact in SEO that Google determines the relevance of a link through its anchor text.
Excessive use of anchor texts on a link to your website could be violating Google guidelines, so it's best you understand the best anchor text strategies to use on your website.
ALSO READ:
Types of Backlinks
As we've agreed, having a strong link-building strategy is a key aspect of SEO you shouldn't neglect. However, in doing this, it is important to know there are different types of links available one can use, and understanding them helps you utilize them effectively. Here are a few important link types you should strive to know:
DoFollow and NoFollow Links
DoFollow links are powerful links in SEO that helps pass the authority of an origin website to that of a destination site. These links point back to a site and direct search engines like Google, Yahoo and Bing to crawl (index) that site or blog. The authority passed from these links is known as link juice.
On the other hand, NoFollow links are used when a website linking out to another site does not want to pass authority or link juice to the destination site. All links are naturally DoFollow, but to make a link a NoFollow, the attribute rel="nofollow" should be added to the link's code.
Even though NoFollow links do not pass authority, they still provide useful brand recognition and traffic to the destination site. And it's in fact advisable that a site has a higher amount of NoFollow links when compared to DoFollow, because the opposite could negatively affect the site's positioning on the Google PageRank.
User-Generated Links
These are links generated by the owners of the destination sites. They can be in the form of comments, infographics and widgets, guest posts or posts on forums.
This was introduced by Google to help webmasters mark out links that were not specifically endorsed by them. User-generated links do not transfer authority, and as such was designed to help Google know what not to count for PageRank. This is to help curb sites that relied heavily on using spammy backlinks to transfer PageRank or DA.
So it is advisable you spend more time on backlinks that have the capacity to help you gain the visibility and ranking you want.
Organic Links from Other Sites
An organic link is seen as the safest link-building strategy one can use. The reason is that the links here come naturally from authority websites and blogs. It is also seen as one of the most difficult, if not the most difficult, ways of generating backlinks.
Since organic links come naturally, you have to really earn them. And you can only earn them by having quality content on your site or blog that these authority websites would find useful for their users.  
Since this is arguably the best link-building strategy available to SEOs, it is best we dig a little deeper into understanding the different versions of it. Here are a few of them:
Editorial Backlinks
These are the most difficult backlinks to acquire. They are difficult because you don't necessarily need to do anything aside from producing quality, valuable content on your site to acquire them.
An authority website will naturally link out to your website if they find valuable content on them that they need their audience to see.
Getting editorial links from major publications like Forbes, U.S. News, World Report, and the Guardian would simply push your website up the ranking ladder. And like we stated earlier, you don't pay for these links, nor do you ask for them. They come as a result of powerful, unique content the publishers find on your website.
Relationship-based Backlinks
This is very much similar to the Editorial backlinks. But in this case, a relationship is built first, which in turn leads to the creation of the backlinks.
For instance, if a content creator of an authority website happens to meet or know the owner or the content creator of an upcoming site, he can decide to provide some authority backlinks to the upcoming blog or site. But this has to be on the condition that the contents in the destination blog are high quality and relevant to the users of the authority blog.
How to Build Links Like a Professional Digital Marketer
Guest Blogging
What is guest blogging? Guest Blogging is a content marketing and SEO technique where someone writes and publishes a blog post on a third-party website or blog to promote their personal/corporate brand.
These days bloggers engage in guest blogging for the sole purpose of building links to their sites or blog, but that is wrong. The original purpose of guest blogging is to provide valuable content to a wider audience. Link building happens to be a side-product of the process.
So yes, guest blogging is another powerful organic backlink-building strategy every blogger should adopt to gain more traffic to their site and eventually rank higher in SERPs.
ALSO READ:
Ask for Links
As much as it is best to gain organic links from authority websites, you'd need to get really intentional if you want your content linked to specific authority websites.
First, you have to find out that that is exactly where your prospective audience goes and that a link from the site would boost your website's rank or authority. This is because the link would be useless if it's coming from a website in a completely different niche than you and with a completely different audience.
The next thing is to reach out to the owners of the site or at least those in charge of making the decisions and specifically ask them for backlinks.
This would take quite some effort, as you'll be ignored more than you're accepted. So, it's best you make a list of authority websites in your niche and reach out to them one after the other. At least one or two of them will give you an audience.
Create Relevant Content
Creating relevant, useful content helps you rank higher naturally on SERPs. Now, this is because, instead of asking for links, you'd earn them naturally by your quality content.
Remember, editorial links are earned, and they are the best form of links you can have on your page.
And the sweetest part of this is that these editorial links are not coming because they want to help you, they are coming because the authority websites find your content very useful for their audience. So linking to your website is a win-win situation for you both.
If you know what happens when you are featured on authority websites, you will go to any length to create valuable content that will attract journalists and top bloggers.
Insert Links Manually
You can manually insert links by commenting on blog posts from authority websites you want to get traffic from or writing a guest post on another website. Take a quick look at our Write for Us page to see the requirements for writing a quality guest post.
While this form of link building is completely under your control, it is advisable you don't abuse it. This is because, already, google sees user-generated links as manipulative. Even though they are not outrightly banned or prohibited, it is advisable you do not use them to spam other websites.
This form of link building helps generate referral traffic but does not pass domain authority to the destination blog or website.
Build Relationships First
This is one of the best ways to build quality organic backlinks. Go out there (be it on social media, or industry-related gatherings) and build quality relationships with authority figures in your niche. Establish yourself as an expert in your niche and share valuable content with your audience (which of course, comprises the authority figures in your niche).
When they start seeing your relevance in the industry, they'd start reaching out to share some of your valuable content with their audience.
Link Building Tools to Use in 2022
SEMrush Link Building Tool
This tool helps you discover and secure high-quality backlinks in your niche. It also helps you set up customizable email templates and to also track the status of your backlinks once you've earned them. Click here to sign up on SEMRUSH today
Hunter.io
This is a powerful tool that helps you find the email address of the owner or decision-maker on an authority website that you want to reach out to.
All you have to do is enter the domain name on the search bar, and it will bring out a list of email addresses for people on the website. It will also present to you alongside those emails the sources wherein they were extracted from. These sources would help you make a more calculated guess for the accurate email you need for your outreach.
GroupHigh
This is a content marketing tool that helps you easily find the information of any blogger or influencer you want. It has a database of bloggers, social media influencers or any top decision maker that could help you build a more strategic positioning for your website or blog.
Moz Link Explorer
Simply putting your competitor's domain into Moz Link Explorer reveals all the backlinks to your competitor's website. It also gives you the link metrics like the domain authority and other important information.
With this, you can restrategize and give your competitors a run for their money.
Linkody
This is another resourceful backlink tracker.  It helps you find the pages of your competitor's sites that have the most links.
This would help you study what is working for your competitors and know how to incorporate it into your link-building strategies.
ALSO READ:
Conclusion
Link building is a powerful way to rank up organically on search engines, and only those who get their strategies right will be able to keep reaping the numerous benefits it presents.
One important fact to not forget is that quality content creation is the basics for a successful link-building campaign. Once your contents are of high quality, a few backlinks would lead to numerous more trooping in and at a time you wouldn't need to solicit for backlinks as they would come naturally to your site.