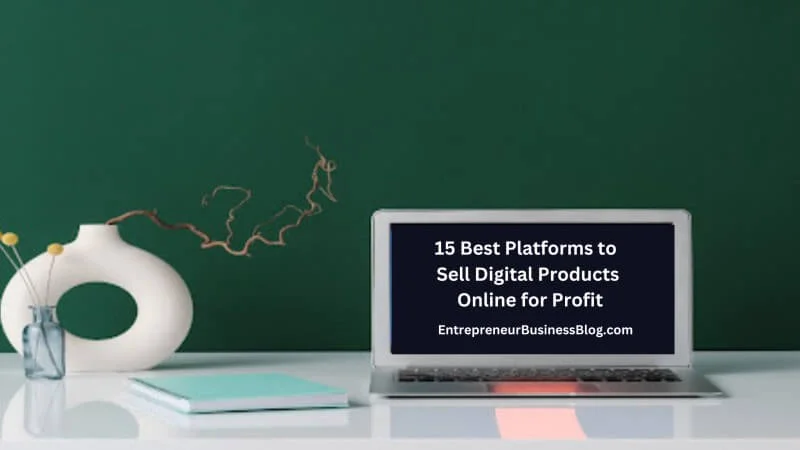 Are you looking for the most profitable platforms where you can sell digital products from anywhere in the world? We've curated the best 15 websites just for you.
Selling digital products generates profits that have attracted many to invest in them. Digital products have many features that make dealing with them easier and less expensive compared to physical products.
The process of selling digital products goes through many steps, starting from the planning stage and defining the problem that the digital product will solve to the stage of designing the digital product in the best possible way, followed by the marketing and selling stage through various platforms.
Choosing the platform where the digital products will be sold is extremely as important as designing an excellent quality product. Failure to sell this digital product can be very frustrating. In this article, we will talk about digital products, their advantages, and the best platforms for selling them.
What are Digital Products?
Digital products are products that do not have a tangible physical texture, dimensions, or weight. These products provide solutions to users' problems, and there is no need to reproduce them for each sale. Therefore, the cost of producing them does not increase over time, unlike physical products.
Digital products are very diverse. Digital products can come in different types such as mobile applications, computer programs, videos, and media of all kinds, subscription services like music listening services, etc.
The process of creating a digital product takes place according to many steps. This article provides an expanded explanation of these steps, and the following is a summary of them:
Find an idea for a digital product
Implementation study
Study the market need
Price study
Digital product industry
Display the product for sale
Features of Digital Products
Digital products have many features that make investing in them a source of profit when marketed well. These features can be summarized in the following points:
When selling digital products, you don't need to source or manage inventory or handle shipping and logistics.
Obtaining, storing, and shipping physical products costs money, while digital products save this overhead.
Digital products are infinitely scalable.
High-profit margins without the need to purchase and manage physical inventory.
It's relatively easy to automate the delivery of digital products, allowing you to focus on other aspects of your business.
New products can be created or the way digital products are sold can be changed at any time, as it is highly flexible.
The digital products market is constantly growing. For example, the value of the e-learning industry is expected to reach $374 billion by 2026.
Also Read:
Categories of the Most Popular Digital Products
Most types of digital products fall into the following categories:
1. Licenses to use your digital assets
From stock images to video footage, from music to sound effects, there is a global ecosystem of types of licensable digital products uploaded by creators for use in their work.
By selling licenses to companies and individuals, you can charge fees for the use of music, videos, software, photos, and other digital products, within online marketplaces, your store, and stock image platforms. Some online marketplaces can take a 50% commission on each sale. On the other hand, you can create your own destination for selling digital products.
When creating your digital products, work based on the needs of your target audience. Think of the digital products they would need them. That way, your business will be in high demand and easy to sell even before you create it.
Always protect your digital products with watermarks and various security methods (especially images).
2. Educational products
Online courses are the most suitable type of digital product in terms of in-depth content. It requires some effort upfront, from creating a presentation to recording a video. When creating courses, start with the learner outcomes: What do you want the learner to know or be able to do at the end of the course?
You can include quizzes, knowledge checks, and interactive activities within your courses to help break up the learning content and make your online course more engaging.
If you are an expert within a specific field, digital products will be an excellent way to organize the information you have and offer it for sale to those trying to learn about the same topic.
If there is an abundance of free blog posts or YouTube tutorials about what you want to teach, you can compete by offering digital product types that promise your audience not just education, but transformation and personal support. In other words, don't sell the product, sell the customer's potential after they buy your product.
You can leverage your existing reputation as an expert to attract attention to your downloadable products to sell online. If you're starting from scratch you can create free content to attract interest and leads for your paid digital products. Utilize different lead generation strategies to get people on your list.
3. Membership sites
Instead of focusing on how to sell digital products individually, you can bundle them together, making them exclusive to a paid subscription to generate recurring revenue.
This method of selling digital products is excellent if you want to build an ever-growing library of unique content and nurture a group of interested members.
To grow a wildly successful membership website, you would need a growth hacking framework. You can start by organizing a webinar to attract people to your platform and then make them an offer.
The primary reason your membership website isn't growing and new people aren't joining is because you are not solving a real problem. You need to do thorough research on your target audience to be sure you understand what they need and how they need it.
Some great examples of membership website builders and tools are Uscreen; MemberPress, Wix, SureMembers, MemberSpace, Wild Apricot, YourMembership, Morweb, Weebly, etc.
How much can you make from your membership website? Barry Magliarditi of The Game Changers, Kaelin Tuell Poulin of the Lady Boss Weight Loss, Jon Morrow of Smart Blogger and Anthony Metivier of The Magnetic Memory Method are great examples of people making over $100,000 monthly from their membership websites.,
4. Music or art
If you're a musician or artist, you've probably discovered ways you can monetize your talents or the audience you're building.
Musicians can sell ringtones of their best songs along with their merchandise. An artist can turn their art into custom printed products or mobile wallpapers. A director can sell his films online. Since you don't have to save any digital file inventory online, you can test multiple formats to see what your audience wants without too much adventure.
Airbit, AudioJungle, PremiumBeats, BeatStars, and Mayvibe are platforms where you can sell your beats on the internet for profit.
How much can you make selling beats online? Our findings from successful merchants show that you can make as much as $10,000 monthly selling beats online without necessarily being a famous music icon.
5. Templates and digital tools
Digital products can also come in the form of tools that enable professionals to undertake tasks that are outside the scope of their skills, or that take a lot of time. You can sell digital solutions to common problems and needs of a specific audience.
Some examples of digital templates are:
Digital marketing strategy templates for entrepreneurs.
CV templates for job seekers.
Mobile applications for businesses.
Graphic design templates for flyers, brochures, posters and more.
Adobe Photoshop filters and plugins for media editors.
WordPress templates for bloggers and web developers
Fonts and icons for web designers.
If you already have a freelancing business, it might be worth thinking about how you can turn your skills and services into suitable digital product types that will guarantee you passive income streams.
6. Services as a bonus to a digital product
Customers often receive digital products as part of their purchase of services, and based on this, you can package certain services with valuable digital products.
For example, you can provide a consultation for a fee, add an Excel spreadsheet or a custom report to the consultation, and you can also offer a free downloadable file to add potential customers to your email marketing list, as many companies use this method for online marketing today.
If there are common tasks you complete as part of your service business that are easy for you but valuable to your customer, you might consider turning them into revenue-friendly digital product types that require little time and effort to maintain.
Also Read:
15 Best Platforms to Sell Digital Products Online
Choosing the most appropriate or suitable platform is an important step when selling digital products on the Internet. This is because there are many options to choose from. Below are the best online platforms where you can sell digital products and make a ton of profit:
1. Etsy
Etsy is a renowned platform especially known for handcrafted and vintage items. In addition, it offers options to sell digital products such as digital prints, patterns, templates, and more. The payment process is user-friendly, making it highly appealing to creative entrepreneurs.
2. Amazon
A global online marketplace where consumers can shop for practically anything. Its Kindle Direct Publishing service allows authors to self-publish eBooks and paperbacks for free. You can earn up to 70% royalty for each sale to customers in many countries.
3. eBay
eBay is one of the oldest online selling platforms but remains very popular today. It hosts a multitude of categories and subcategories, providing a vast platform for selling digital products like software, eBooks, and digital art. eBay attracts millions of users daily, benefiting sellers.
4. Gumroad
Gumroad is a digital selling platform with an extremely user-friendly interface for creators. It allows for the sale of all kinds of creative work including music, films, artworks, eBooks, and software, directly to consumers.
5. Sellfy
Sellfy is designed to aid creators who intend to sell digital products like video files, music, photos, and eBooks. It can be integrated with websites and social media platforms, offering a user-friendly interface and marketing features to grow your digital sales.
6. Shopify
Shopify is a popular and comprehensive e-commerce platform that features robust options for selling digital products along with physical ones. It offers various marketing tools, SEO, and the use of analytics to manage and grow your online store. You can make a decent income annually through Shopify dropshipping.
7. Teachable
Teachable allows educators to create and sell online courses. The platform is focused on enabling the sharing of knowledge while also making money. It offers customizable course creation tools, interactive discussion forums, and flexible pricing options.
8. Udemy
An online learning platform that encourages professionals and experts to create and sell courses on a myriad of topics. It offers a global reach, with supportive tools to aid in course creation and sales driving.
9. Podia
Podia is an all-in-one platform that enables the selling of an array of digital products including online courses, memberships, webinars, etc. It provides email marketing, messaging, and site design features to facilitate and manage digital sales.
10. E-junkie
E-junkie is a digital marketplace designed to ease the sale of digital products ranging from eBooks to music. It features a user-friendly interface providing shopping cart and buy-now options for a streamlined checkout process.
11. Kajabi
Kajabi is an advanced platform for selling digital products such as online courses, coaching services, and even full-fledged marketing campaigns. It offers tools for website building, email marketing, and detailed analytics.
12. MemberPress
A WordPress plugin that allows you to sell digital download products. It is highly useful for website owners wanting to add membership functionality and monetize their content via selling courses, video content, and more.
13. Easy Digital Downloads
A specialized plugin for WordPress sites to sell digital products seamlessly. It is dedicated to digital sales providing features like shopping carts, customer management, and detailed data reporting.
14. SendOwl
A platform that works with your website to sell your digital products online. It provides selling features such as "buy now" buttons, a shopping cart, and a quick checkout process and helps you sell directly to your audience with minimal hassle.
15. WooCommerce
An open-source WordPress plugin that provides a thorough solution for selling digital products on your website. It is easily customizable, allowing you to tailor your online store to your specific needs. Its diverse features are built to help you sell anything, anytime, anywhere.  
Also Read:
Conclusion
Selling digital products is a great business idea to start, but to achieve success and profits, attention must not only be paid to designing the digital product but also to marketing it and choosing the appropriate platform for it. There are many platforms to choose from, and differentiation is made between them based on the nature of the product and the suitability of the platform's tools. Of course, in addition to pricing.
I hope this article helped you to find the best platforms for selling downloadable digital products. Additionally, feel free to come to this website anytime for more valuable content.