Want to create custom business logos for your brand without breaking the bank?
Are you working on a wonderful logo for a creative or personal project? Then our collection of logo makers will help you create custom logos more beautifully without having to spend much money.
Of course, using premium logo templates can help make your design look more professional. But, if you are working on a small project on your own, there are many great free resources you can use to create a stylish logo on your own while saving money.
It doesn't matter whether your audiences are in the United States, South Africa, the United Kingdom or Switzerland, these design tools can help you save cost.
In this article, we are going to share with you some of the best online logo makers that you can use to create custom logos easily without using Photoshop or Illustrator and awesome tricks you can apply to make your logo design stand out.
These web-based logo makers work completely on your browser and allow you to use your creativity to create custom business logos for all kinds of projects for free!
Here are the top 6 best free tools for creating custom business logos:
1. Turbologo
Turbologo is a logo design service that contains over 3 million icons and a variety of fonts so that you can quickly and easily create a high-level product. Using this business logo maker, you can quickly generate your own design online.
Business logo designs and brand kits designed on Turbologo are far better than what your personal graphic designer can do for you. As a reliable source for professional business logos, you are guaranteed high-resolution files in all image formats.
Even if you have never created a logo before or have no idea what you should use, you have nothing to worry about. With Turbologo logo ideas, you will have access to business logo ideas for over 100 industries to choose from.
Would you like to start creating stunning business logos and brand kits today? Visit Turbologo and sign up to get started.
Watch the video below to learn how to create your own business logo using Turbologo in minutes.
2. DesignEvo
DesignEvo is one of the most innovative and beginner-friendly logo makers available today. It offers a huge collection of modern and professional logo templates that you can edit and customize using its built-in editor. In this tool, you will find 10,000 logo designs to match all types of industries.
It has millions of icons, shapes, and other art resources to customize the logo maximum. With the powerful editing tools in DesignEvo, you can also be quite creative in DesignEvo if you are an experienced designer. Before hiring a freelance designer, you might want to know the logo maker he or she is using.
3. Hatchful
Hatchful, made by Shopify, walks you through the entire process of designing your logo, from choosing a theme to editing and customizing the design.
It will also generate some logo design ideas for you to choose from. Hatchful is also useful for experienced designers to find inspiration for their projects.
ALSO READ: 7 Things Experts Consider When Creating a Business Logo
4. Looka
Looka is another web-based logo design tool with more options and features for power users to make more creative and elegant logo designs.
It features a drag and drop interface to easily customize designs and add text, symbols, and shapes from an extensive graphics library. Once the logo design is complete, you can download a low-resolution version of the logo for free.
5. LogoMakr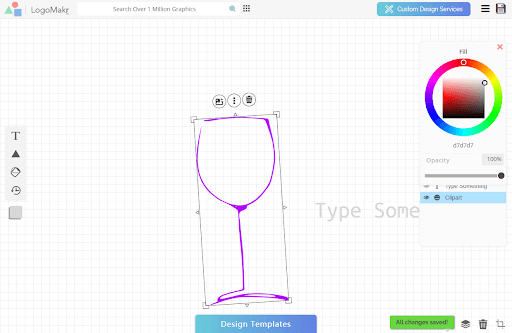 LogoMakr is an advanced logo design tool that offers many options for creating unique logo designs using a user-friendly interface. The tool offers a collection of over 1 million graphics, which enables you to design your logos easily. It also offers a series of video tutorials even for beginners.
ALSO READ: Offline Marketing Strategies: 5 Creative Ways to Promote Your Startup
6. Canva
Canva is another online graphic design tool from Australia used primarily for social media graphic design. However, the tool has evolved with more useful options for designing everything from book covers to infographics, posters, and moreover, the years.
The Canva logo design tool is also quite easy to use. It allows you to choose between free and premium logo templates and customize them right on the app to change text, colors, and shapes.
Now You Can Create Custom Business Logos for Free
The logo is a very important piece within the image of any brand and business. We do hope that these digital tools will help you create custom logos quickly and easily. Try them out and pick your favorite one to start your own logo designs today.
You can even offer creating business logos as a paid service on freelancing platforms like Upwork, Fiverr, Freelancer, etc., and increase your chances of earning in dollars.