Are you looking for the best DreamHost alternatives to start using for your web hosting needs in 2023?
The internet has provided many business owners the opportunity of taking their businesses online. With a website, your business can now have an online presence. For this to happen, you need to have a website hosting plan. DreamHost is one of the most popular website hosting service providers.
The web hosting plan allows your business website to be available on the internet. The web hosting company has to provide your website with a server through which the webpage and content of your site will be displayed. This happens once the URL is entered on a web browser.
Before we go over the best DreamHost alternatives and competitors, let's talk about some background information about this amazing U.S. web hosting company.
Background Information About DreamHost
DreamHost is one of the few website hosting companies that provide affordable and highly secured web hosting plans to bloggers, website designers, and businesses looking to take their brands online.
This California-based web hosting service provider that was founded in 1996 is widely known for its generously unusual money-back guarantee of 97 days, unlike most DreamHost alternatives that offer only 30 days or at most 60 days refund policy. 
Please, understand this 97-day money-back guarantee by DreamHost is only available to credit card payments for shared hosting packages.
ALSO READ:
You can enjoy a 97-day money-back guarantee from DreamHost starting from today by clicking on the button below to purchase your web hosting plan.
High-Quality DreamHost Alternatives
DreamHost has done an excellent job in the last two decades; providing quality, secure and affordable website hosting plans to small and medium-scale businesses. 
Most digital marketers we surveyed, they are listed DreamHost as one of the top 3 most recommended web hosting service providers in the United States in 2023.
As a website designer, web developer, or business owner looking for reliable web hosting, there are many other options to consider.
These are some of the leading website hosting companies worth considering as the best DreamHost alternatives and competitors: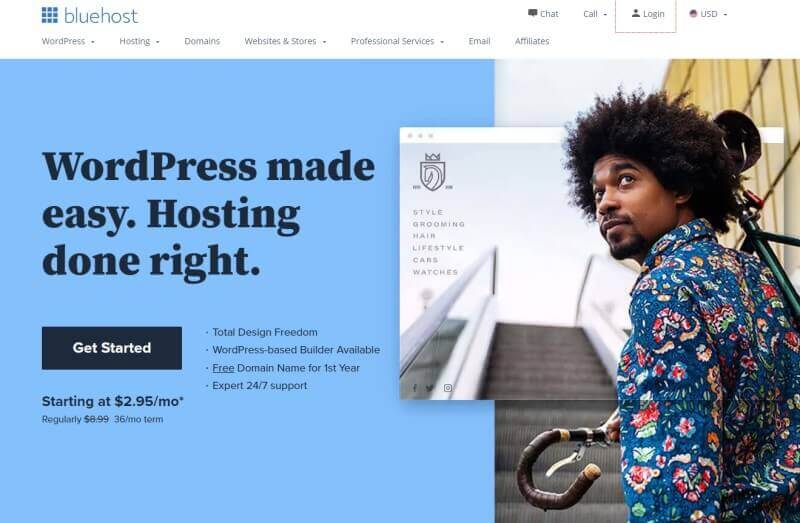 Bluehost is dedicated to making your next WordPress site development easier. As a WordPress-centric web hosting service provider, Bluehost ensures that your new WordPress site is up and running in a few hours with their one-click WordPress install.
Benefits of Choosing Bluehost as an Alternative to DreamHost:
Several web hosting options, including Shared Hosting, Managed WordPress, and WooCommerce Hosting.
24/7 Support
You will get a free domain name for the first year.
Bluehost charges $2.95 per month for a 36 months plan.
Here's a comprehensive Bluehost review where we discussed why you should use Bluehost for hosting your business websites.
Click on the button below to get a 63% discount from the best web hosting company.
Siteground is a leading website hosting company with data centers in 3 continents and headquarters in Bulgaria that is "crafted for easy website management" and ultra-fast speed. The company's servers power some of the popular brands' websites.
Siteground has also built a reputation as one of the most reliable website hosting companies that offer a wide selection of services in that regard. Among these are seamless website migration, full-suite website design, and cloud storage.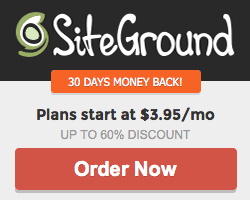 Benefits of Hosting Your Website with Siteground:
Siteground offers a wide range of website hosting plans, such as Reseller Hosting, Shared Hosting, WooCommerce Hosting, WordPress Hosting, and Cloud Hosting.
Distributed storage running on SSD disks.
Advanced web security measures, including the addition of about 300 custom rules to the Web Application Firewall.
We updated this Siteground vs Bluehost comparison with some beginner-friendly materials to help small businesses make the right choice when it comes to showing a reliable and affordable web hosting service provider.
Please note that Siteground has discontinued its services to new users in most developing countries like Nigeria, Kenya, Ghana, Tanzania, and some parts of Europe due to some unbearable government policies.
ALSO READ:
However, if you are in Bulgaria, the United States, Canada, Switzerland, Australia, or the United Kingdom, you can click on the button below to access the Siteground web hosting plan at a discounted price. You can also check if their services are still available in your country.
HostGator has built a reputation as one of the most affordable website hosting service providers. You can start hosting your website for as low as $2.75 per month. The company also offers a plethora of unlimited services so you can add as many components as possible to your website.
Benefits of Hosting Your Website with HostGator:
One-click WordPress installation
Unmetered bandwidth
Free cPanel and website migration
Free SSL certificate
Free domain name registration
Up to 99% uptime
Several web hosting plans, including VPS Hosting, Cloud Hosting, Windows Hosting, and Dedicated Hosting.
This is one of the best DreamHost alternatives that offer a 45-day money-back guarantee.
Now you can access HostGator and start enjoying cheap web hosting services today. Click on the button below to get an instant discount.
Some of the best DreamHost alternatives are not targeted at small-business owners, specifically. This is the gap being filled by InMotion Hosting. This company is targeted at small business owners, to help these startups have value for their money.
Benefits of Hosting Your Website with InMotion Hosting
Unlimited bandwidth
Charges $2.49 per month for their hosting service
Up to 6x performance
Free website builder with the WordPress CMS
Professional/custom email addresses
Free domain name registration
Enjoy cheap website hosting from a leading web hosting provider like InMotion Hosting for only $2.49 per month.
Liquid Web is not like the conventional website hosting service providers that focus on the provision of Shared hosting and Cloud hosting options.
This hosting service provider focuses on the provision of Managed VPS Hosting, high-performance hosting that distributes web traffic across servers to minimize latency, Magento Cloud, etc. Through this, business owners can have access to a fully managed website hosting package.
Benefits of Using Liquid Web's Managed VPS Hosting:
Enjoy the flexibility of cloud hosting and the power of a dedicated server.
Access to multi-level DDoS protection.
100% uptime
Proactive monitoring by default
Offers system-level control that includes application deployment and automated updates.
Enjoy up to 150 GB SSD storage.
The only downside to Liquid Web is that its services are expensive, starting from $15 per month and up to $1,498 per month but it's actually worth it when you consider all the amazing features that come with the strong security and almost zero downtime.
ALSO READ:
Click on the button below to start enjoying cloud hosting from Liquid Web at an affordable price.
Ethernet Servers is a London-based web hosting company serving as one of the best DreamHost alternatives in 2023. From Shared Hosting to Fully Managed VPS, this UK-based company offers it all.
Ethernet Servers also provide up to 99.9% exceptional uptime – thanks to compliance with the Service Level Agreement.
With customers from over 114 countries, Ethernet Servers offers you a 60% discount and a 60-day money-back guarantee for their services today. However, they don't allow content that violates the United States federal, state or city laws. Most SEO service companies in the UK recommend using Ethernet Servers.
Benefits of Hosting Your Website with Ethernet Servers:
The company uses entry-grade hardware to facilitate website speed. The hardware is sourced from established brands, such as Intel, SuperMicro, and LSI.
Up to 5 Terabyte bandwidth
One-click website app deployment
Free and unlimited website migrations.
Nexcess offers fully-managed cloud hosting services tailored for business owners looking to start selling their services online. 
It's okay to say that Nexcess is a Liquid Web brand specifically designed for hosting e-commerce websites.
The best web hosting company for hosting e-commerce stores and membership sites is Nexcess. Beyond having all the needed features that can help to grow your e-commerce store and membership site seamlessly, it is also super affordable.
The company guarantees scalability and up to 99% uptime for your websites. With single-click auto-scaling and PHP7 support, you can be confident that your website will be online 24/7.
Benefits of Choosing Nexcess as Your Website Hosting Company:
Distributed website data storage across 10 global data centers.
Fully managed WordPress hosting
Fully managed WooCommerce hosting
Fully managed Magneto hosting
Access to bundled website themes and plugins when you subscribe to a premium web hosting plan.
How to Choose a Reliable Website Hosting Company
Here are some of the factors to consider when choosing the best DreamHost alternatives that can host your business website:
1. Uptime
Your website needs to be online all the time. Choose a website hosting provider that guarantees the uptime of your website.
Aim to work with a web hosting provider that guarantees up to 99% uptime.
2. Customer Support
How fast does the customer service department of the website hosting provider attend to your concerns?
Also, find out the availability of several communication channels, including emails, live chat, and telephone. Web hosting companies with a successful virtual call center will always win.
3. Monthly Traffic
This is very important and many business owners tend to overlook this. The fact is that most website hosting plan providers tend to place a cap or limit on the number of visitors (traffic) that can access your site.
Find out the average monthly web traffic and see if it is below what you expect. If it is, consider upgrading to a more advanced web hosting plan or pitch your tent with another website hosting provider that offers more monthly web traffic.
ALSO READ:
Final Words: Best DreamHost Alternatives & Favorable Competitors
DreamHost does not have a monopoly on the website hosting market, because several hosting providers are already pulling some strings.
The alternatives on this list have been used by many business owners and have been confirmed to be worth their onion.
Ensure that the DreamHost alternative you want to choose is affordable, can guarantee the uptime of your site, and can offer excellent customer support.
Which website hosting company do you plan to use when hosting your website in 2023 and why did you choose the company?