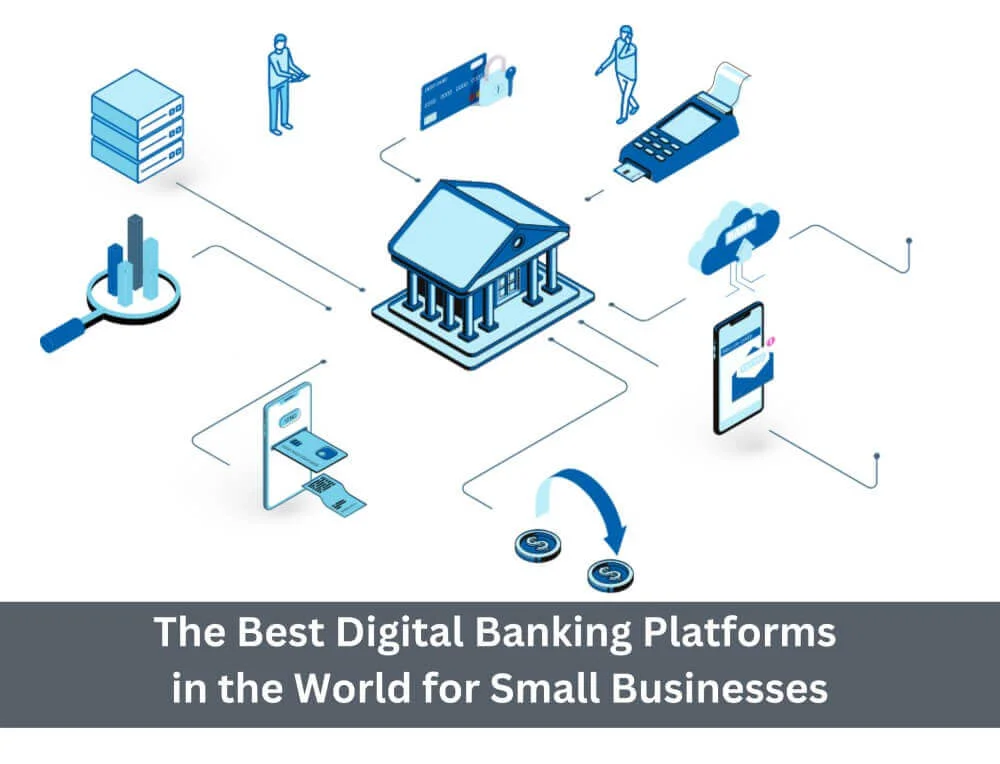 Digital banking platforms or online payment solutions are now the go-to for small businesses. The ease of transaction, the relative affordability and the cross-border transaction opportunities are some of the benefits.
As a small business owner, you will benefit so much from using the services offered by the top digital banking platform providers. In this article, we review the services of the best 5 of these platforms and the reasons to consider using their services.
Note: We will continue to update this list of the best digital banking platforms as we get more positive reviews of other online payment solution providers.
What is Digital Banking?
It is a broad term covering the different means of making payments online. From electronic payments to Point-of-Sale (POS) terminals and Internet banking; the options are many. Examples of digital banking platforms also include mobile wallets and mobile banking.
The Top Digital Banking Platforms
There are several platforms that offer digital banking solutions to smaller businesses. Here is a list and a summary of what these top platforms tend to offer to your business, finance-wise.
1. Revolut
If you are looking to grow and scale your small business; one step towards achieving those goals is to prioritize the finance. Revolut is one of the digital banking platform service providers you can start using.
Here are some of the perks of the payment solutions that Revolut as a company offers:
Payment Gateways
From integrating the payment gateways on your website to customizing the custom-made payment solutions; Revolut allows you to do them all from one platform.
With the use of the Revolut widgets and plugins, you can integrate the payment gateways to the following:
Magneto 2

WooCommerce

BigCommerce

PrestaShop and;

OpenCart
Revolut Pay
This is a one-click, streamlined and low-fee checkout payment platform. It allows you to get up to 93% authorization rates in multiple currencies. You can also use it with a wide range of payment options, such as:
Google Pay

Credit cards

Apple Pay and;

Debit cards
Spend Management
Control your business' expenses with the following solutions:
Issuance of physical and virtual debit cards to your employees

Expenses' tracking

Setting of card rules to determine the days, weeks, months and the types of expenses to make with these debit cards.
ALSO READ:
2. Card One Money
Card One Money describes itself as "the banking alternative that leaves no one behind." It is a dedicated online banking platform that provides a variety of laser-targeted solutions to small businesses.
Some of the solutions Card One Money would offer you include:
The provision of prepaid business cards that come with the convenience of debit cards. These cards are helpful in helping the holders spend only a maximum of what has been loaded into it.

Offering up to 4 additional cards for business use.

Management of standing orders and direct debits.

24/7 accessibility via the mobile and online account.

Management and settlement of different kinds of finances, such as wages, bills and invoices.
3. Mettle
Mettle is the independent arm of NatWest. Several types of businesses are supported, so you may want to check your business' eligibility.
Here are some of the supported businesses and the criteria for qualification to use Mettle:
Limited Companies
Mettle requires limited companies to meet the following criteria:
Have at least one Director.

Be registered with

Companies House

.

The

PSCs

must be individuals and they must not be more than 2.

Only the owner will have access to the account.

It is a must for either the PSC or Director to open a business account with Mettle.
Sole Traders
Self-employed individuals are also welcomed to check-out some of the payment solutions that Mettle offers. Among the qualifications are:
Being a sole trader or solo-owner of the business. Partnerships of whatever sorts are not supported.

Sole traders with the Mettle business account are also required to use a self-assessment tax return to pay taxes on their business profits.
Invoicing Solutions
Mettle is one of the best digital banking platforms with an invoice feature that allows your small business to keep track of the income, and debts.
The following are some of the attributes of the invoicing solutions:
Customizable Templates:

these templates allow you to add the most important features to your invoices. From invoice numbers to VAT rates, brand identity and bespoke notes; you can make the invoices "truly yours."

Payment Tracking:

keep a track of the incoming payments and keep a track of the current status at any point.

Payment Categories:

place your incoming payments into the respective categories, such as

Interest Received, Tax Refund

and

Sales

.
4. Cashplus Bank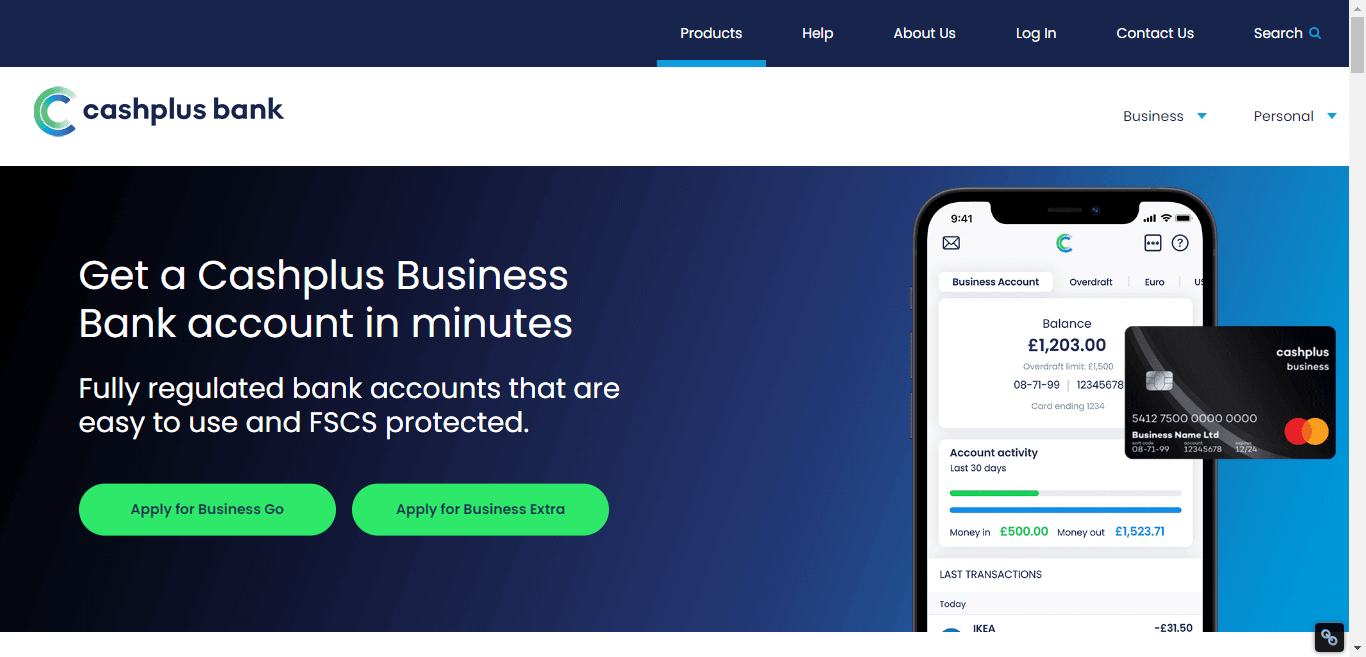 Cashplus Bank is one of the best online banks for small business owners who want to run easy-to-use, fully-regulated bank accounts. With diversified business bank accounts, you can choose the one that applies to your line of business the most.
For example, the Business Go solution covers the zero monthly fee, up to £9.95 card fee and up to 3 free payments. For the Business Extra package, you get to use the free business creditbuilder, up to 0.5% cashback, 10 free monthly payments and up to £250k of account spending limit.
The following are some of the advantages of choosing Cashplus Bank for your small business' transactions:
Business Cash Advance:

your small business could receive up to £15,000 cash advance for advancements.

Business MasterCard:

you will be provided with a

contactless business MasterCard

within 5 business days.

Centralized Account Management System:

Cashplus Bank puts you in control of the finance. With the centralized finance feature, you get to add and block cards, manage both employee and business expenses, as well as restrict transactions.
5. NorthOne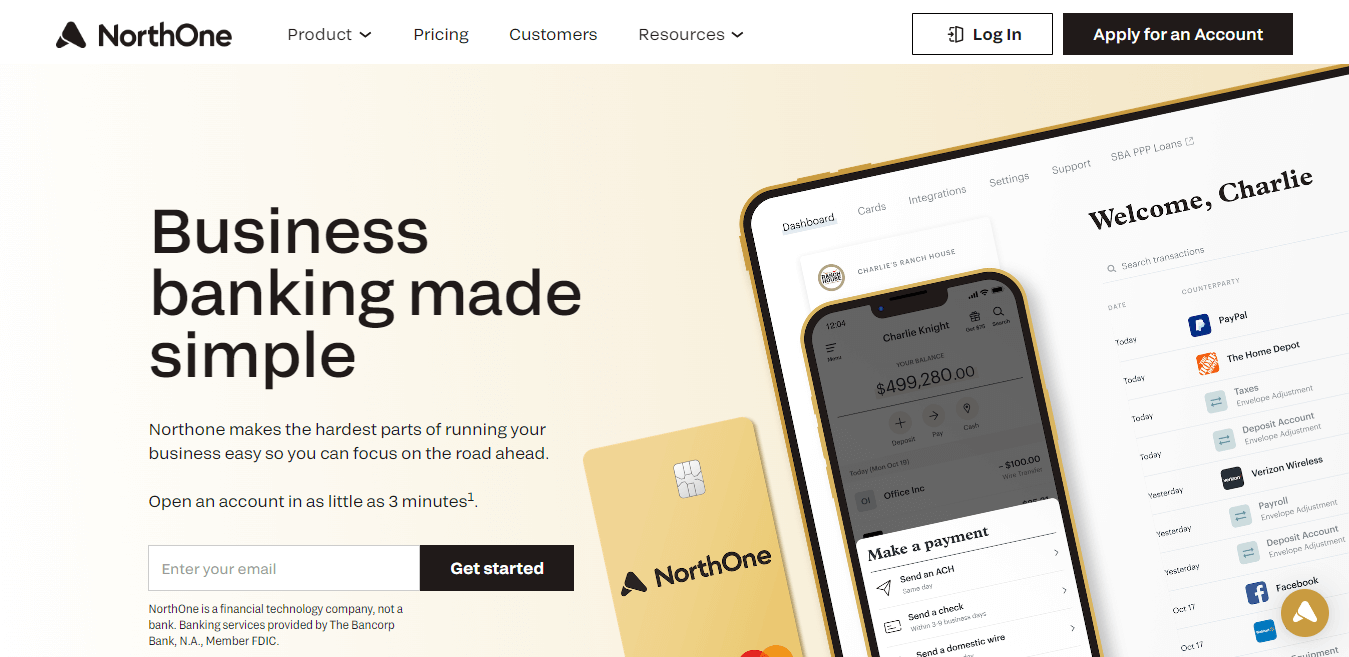 NorthOne makes "business banking simpler" via the wide range of payment solutions it offers. These payment solutions offered by NorthOne range from:
Seamless Deposits:

the options include depositing checks in the NorthOne app with the snap of a photo; and transferring and receiving real-time payments via wire transfers and ACH.

Flexible Payments:

the flexibility of the payments includes sending a check from the NorthOne app and receiving it via email and using ACH for standard, faster, and same-day flexible payments.
ALSO READ:
Final Word about Digital Banking Platforms Suitable for Businesses
The list of top digital banking platform providers for small businesses also covers Airwallex, SumUp, Monzo, ANNA, Starling Bank and Old National.
The choice of the right digital banking platform should be based on factors like the financial needs of your small business, the payment solutions the platform offers and compatibility with your business, in terms of the turnover and number of employees covered.