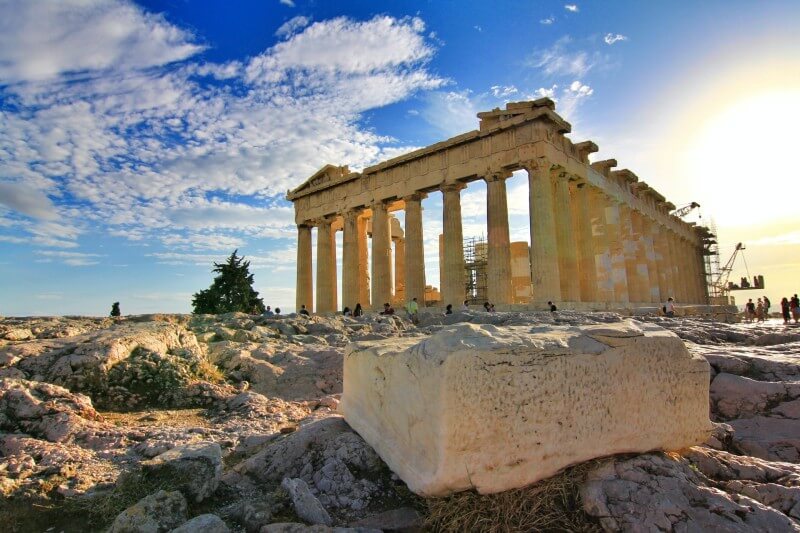 Only Cambridge, Tallinn and Warsaw scored higher than the capital of Greece among the list of the best cities to start a business in Europe.
Greece is a southeastern European country and part of the European Union. It is widely known for tourism because of the country's rich historical and cultural heritage. But aside from tourism, Greece is also a major player in the shipping, agriculture, and real estate industries. The country has the largest passenger port in Europe in the City of Piraeus which serves over 20 million passengers annually. It is one of the major producers of Olive oils and many Citrus fruits.
Is Greece a good destination for starting a business? Yes, Greece has a population of over 10.36 million as of January 2023, with a GDP per capita of $20167.56 as of December 2022. Annually, over 30 million people visit Greece. 
These are the 6 best cities in Greece to start a successful business.
1. Athens
Athens is the capital and the largest city in the country, with a population of over 3.1 million. This city is very vibrant, with Monasteryaki Square considered the epicenter of Athens and the oldest neighborhood. The Acropolis of Athens is one of the most visited places in Athens and Greece and is very significant in European history. 
The city in 2022 recorded a significant 153% increase in revenue compared to 2019, totaling 917.6 million euros, and is expected to reach 1 billion euros in 2023. Tourism, real estate, and food business are some of the most profitable businesses in Greece you can start in Athens.
2. Thessaloniki
With a population of 815,000, Thessaloniki is the second largest city in Greece and an ancient city founded in 315 BC and is situated in northern Greece. The city is the country's second major industrial, economic, and political center and also a transportation center for southeastern Europe. The city is renowned for its cultural and historical richness.
Annually, the city hosts several festivals and events, with notable ones like The Thessaloniki International Film Festival and the Thessaloniki International Trade Fair. The city has four public academic institutions and many private colleges and hosts over 150,000 students yearly.
You can easily become a real estate agent in Greece if you have the certification, passion and marketing skills.
3. Rhodes
Aside from tourism, Rhodes is an agricultural city, and a large part of its revenue comes from the production of oranges, grains, figs, and red wines. The city has a population of over 115,000, and Athens and Crete border it.
The city of Rhodes has many beautiful places that are historically and culturally significant and big tourist sites like the Acropolis of Lindos, Palace of the Grand Master of the Knights, Prasonisi Beach, and others.
Rhodes is a major producer of Olive oil, Edible Olives (Zupa Olives, Green crushed Rhodian olives), Vegetables (Tomato, Melon, Watermelon), and Citrus (Orange, Lemon, Tangerine). Rhodes is one of the best cities in Greece for starting a business.
Also Read:
4. Corfu
Corfu is a city of over 110,000 people, but like Rhodes, Corfu is a large producer of Olive oil; it is also known to produce unique products such as Kumquat (jams, Greek spoon sweets, liqueurs, and marmalades), Ginger beer, and cold cuts (Salado and Noumboulo), Citrus fruits: Lemons, Oranges, and grapefruits.
The city is equipped with 2 ports, which help in the transportation of goods in and out of the city and also provide access to countries such as Albania. With a good transportation system and cheap cost of living, Corfu is an excellent city to start your business.
5. Patras
Patras is a commercial city with a population of 176,311 and a busy port that is a major center for trade with Western European countries like Italy. It is also known as Greece's "Gate to the West."
The city is endowed with many beaches, a rich cultural heritage, and history. It also has a vibrant nightlife, which keeps the city active every hour.
Aside the agriculture, history, and lifestyle, Patras also has several universities and research institutions. These infrastructures make Patras one of the best cities for starting a successful business in Greece.
6. Piraeus
Over 163,688 people call Piraeus home. Piraeus is one of the unique cities in Greece with its variety of seafood. Piraeus port is the country's largest port and one of the largest in Europe. The port serves about 20 million passengers annually. It is also considered one of the largest ports in the world for passenger transportation.
The monthly cost of living for a single person without rent is estimated to be $821.9, making the city 46.4% cheaper than New York.
Piraeus is also an agricultural city that produces Olives, Juicy tomatoes, sweet figs, and fragrant herbs. It also has an electric railway and superhighway that links the city to Athens.
Also Read:
Conclusion
Greece is one of the major centers of European history and a culturally rich country. If you are looking for a low-cost tourist destination in Europe, consider going to Greece. The country has one of the largest passenger ports in Europe, which serves 20 million passengers annually. It is one of the major producers of Olive oil and different Citrus fruits.
The country attracts at least an average of 30 million people annually, making it a good destination for starting a successful business.