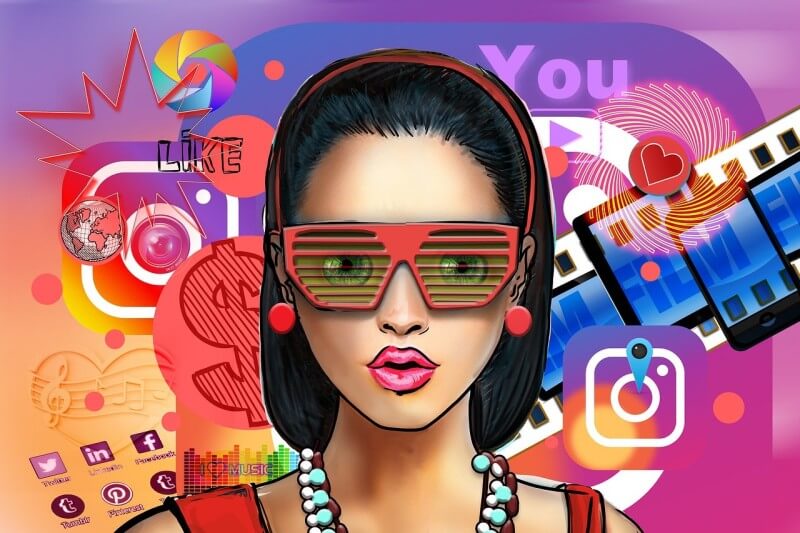 Are you aware you will be making much more money if you leverage your following as an Instagram influencer? We've put together 15 best business ideas for Instagram influencers that you can explore. Instagram, has 70% of its users below 35 years old which makes it a lucrative end for business growth and strategy.
According to the Business of Apps usage statistics 2023 report, the popular photo and video sharing app is making influencers more successful with its platform for shopping and other marketing tools. This is an opportunity for Instagram influencers to diversify their revenue streams by leveraging their influence on any of these best business ideas.
Who is an Instagram Influencer?
An Instagram influencer is a popular user on Instagram, one who has built a significant following due to their expertise, career, charisma, or engaging content. He or she possesses the power to shape the attitudes and actions of their followers, making them highly sought-after by brands and businesses. Brands are constantly seeking their endorsement.
Examples of Instagram influencers are top public figures with millions of followers like Cristiano Ronaldo, Rihanna, Grant Cardone, etc. But these people aren't the only Instagram influencers. Anyone with good reach and engaging content has a chance to become an Instagram influencer.
An Instagram user with a following of 1,000 – 5,000 is considered a nano-influencer. If you have 5,001 – 100,000 followers you are called a micro-influencer. And anything from 100,000 and above is called a macro influencer. But if an influencer has 1 million+ followers, they are considered, a mega-influencer.
Now you know where you belong, let's look at why it's important to monetize your online presence as an influencer.
The Importance of Monetizing Your Online Presence as an Instagram Influencer
Monetizing your online presence as an Instagram influencer is of great importance. It offers you several benefits such as reducing your reliance on a single revenue source. You have the opportunity to:
Transform your passion into a lucrative income source.
Approach your career with a business mindset, helping you foster professional growth
Invest in personal brand development, content improvement, audience engagement, and enhanced online presence.
Promote entrepreneurship and knowledge sharing within your community.
You also have a more engaging and loyal audience.
Most significantly, sustaining your influencer career is assured through monetization, regardless of shifting trends or evolving platforms. What are the various business ideas and opportunities available to Instagram influencers? Let's delve in.
Also Read:
15 Best Business Ideas for Instagram Influencers
Instagram influencers have a wide range of business opportunities to explore. Here are 15 best business ideas to start leveraging your influence
1. Become a Niche Consultant or Coach
If you've mastered a particular niche, why not share your knowledge and expertise by offering consulting or coaching services? Your followers might be eager to learn from the best, and you can monetize your knowledge. Consider offering one-on-one coaching sessions, online group classes, or developing your niche-specific course. This course can provide in-depth guidance and expertise to your followers
2. Open an E-commerce Store
Take your influence to the e-commerce world. Sell products that resonate with your brand and followers. With the right strategy, you can turn your passion into a thriving online store.
Research your target audience's preferences and purchase behavior to curate products that align with your brand. Platforms like Shopify or Etsy can be used to set up your online store in minutes. Alternatively, you can reach out to our team to help you build an online store – [email protected]
As an Instagram influencer, leverage your expertise to create valuable content like e-books, courses, presets, or printables that your followers will love and pay for. Digital products can also include templates, worksheets, and online tools that cater to your niche and add value to your followers' lives. Check out the best 15 platforms where you can sell your digital products profitably.
Promote products or services relevant to your niche through affiliate marketing. Earn a share of each sale made through your exclusive affiliate links. This is a smart way to create a mutually beneficial arrangement for both you and your followers.
Always be upfront about your affiliate relationships to nurture trust with your audience. At all times, prioritize products or services that align authentically with your brand.
5. Host Exclusive Events and Workshops
Your followers might jump at the chance to attend exclusive events or workshops hosted by you. Share your knowledge or passions in a more personal setting, and charge for access. Choose a location, format, and duration that suits your audience.
Promote these events through your Instagram account and other channels to maximize attendance. Depending on where you live, you can search for the best place to host a business event or hang out in your city.
6. Start a Content Creation Agency
Leverage your creative skills and experience to help other businesses with their social media content. Provide services like photography, video production, and content strategy. Craft a compelling portfolio that highlights your finest work, drawing the attention of potential clients. Diversify your agency's income streams by incorporating advertisements, affiliate marketing, and sponsored content into your strategy.
7. Become a Social Media Manager
Do you know as an Instagram influencer, you can manage the profiles of other businesses? Your influencer experience can be a valuable asset for clients looking to grow their online presence.
To be effective, invest in tools and software that help streamline social media management tasks. Keep up with industry trends to offer the latest content marketing strategies and techniques to your clients.
8. Start Your Branded Merchandise Company
Create and sell branded merchandise that represents your unique style and personality. Your followers can wear your brand proudly, and you can generate revenue in the process. This type of business requires quality, so ensure that your merchandise represents your style and values. You might want to learn how to start a T-shirt printing business in order to fully maximize this.
9. Sponsored Posts and Brand Placement
Sponsored posts and brand placement can be a lucrative source of income for Instagram influencers. For instance, mega-influencers can charge $5,000 to $25,000 or even more.
If you know your worth, and you have an audience with a high purchasing power, collaborate with brands that align with your values and style. You can negotiate fair compensation for your promotional efforts.
The best form of respect you can give your followers is to ensure that the brand's messaging aligns with you.
Also Read:
10. Start a YouTube Channel
Video content is incredibly popular. You can expand your content creation to YouTube to tap into other monetization opportunities. Some of the best YouTube monetization opportunities are ad revenue, sponsorships, and merchandise sales.
To grow your YouTube channel, invest in quality video and audio equipment to produce professional content. Consistency and engagement with your audience are key to growing your YouTube channel. Check these YouTube SEO strategies that can help you generate organic views.
11. Start a Niche Blog as an Instagram Influencer
If you love writing, start a blog. Share your insights, experiences, and knowledge with a wider audience. Maximize your earnings by implementing a mix of monetization methods. Some blog monetization methods you can explore are advertising, affiliate marketing of relevant products and services, and sponsored content collaborations.
Enhance your blog's reach and growth by teaming up with fellow bloggers and influencers for mutual promotion. You can enroll in the Blogging Business Masterclass to learn how to start and grow a successful blogging business.
12. Website Flipping
Website Flipping is a lucrative business you can invest in to leverage your Instagram influence. It involves purchasing and improving websites or domains and then selling them at a profit. You need to conduct thorough due diligence before purchasing websites. 
The key factors you must evaluate before flipping a website are traffic, revenue, and domain authority. Be prepared for potential maintenance and improvement costs. Domain flipping is one of the most profitable business ideas for Instagram influencers because they have the reach.
13. Online Tutoring
Expertise in a subject or skill can be monetized through online tutoring. Your Instagram influence can be used to draw students willing to attend your one-on-one or group lessons. Charge a reasonable price for your valuable guidance and consider using online tutoring platforms and apps to connect with students.
14. Print-on-Demand Services
Design custom merchandise and have it printed on demand. You don't need to hold inventory, making it a low-risk way to sell branded products. Focus on design quality and do thorough market research before starting the business.
You can utilize platforms like Printful and Printify to get started with minimal upfront costs. There are many other printing business ideas Instagram influencers can explore to monetize their influence.
15. Content/Book Writing
If you have a talent for storytelling, consider writing books or creating content for others. You can self-publish, ghostwrite, or collaborate with authors to bring their ideas to life. Self-publishing your book can be empowering, but it requires marketing efforts to reach a broader audience. Utilize Amazon Kindle Direct Publishing (KDP) for e-books.
Also Read:
Conclusion
Instagram influencers across various niches can leverage their unique expertise and following into any of these business ideas. While it can be another means of earning profitably, it also provides influencers with a sustainable Instagram following, industry recognition, and more opportunities within their community. This goes a long way to touching every aspect of personal and professional growth.