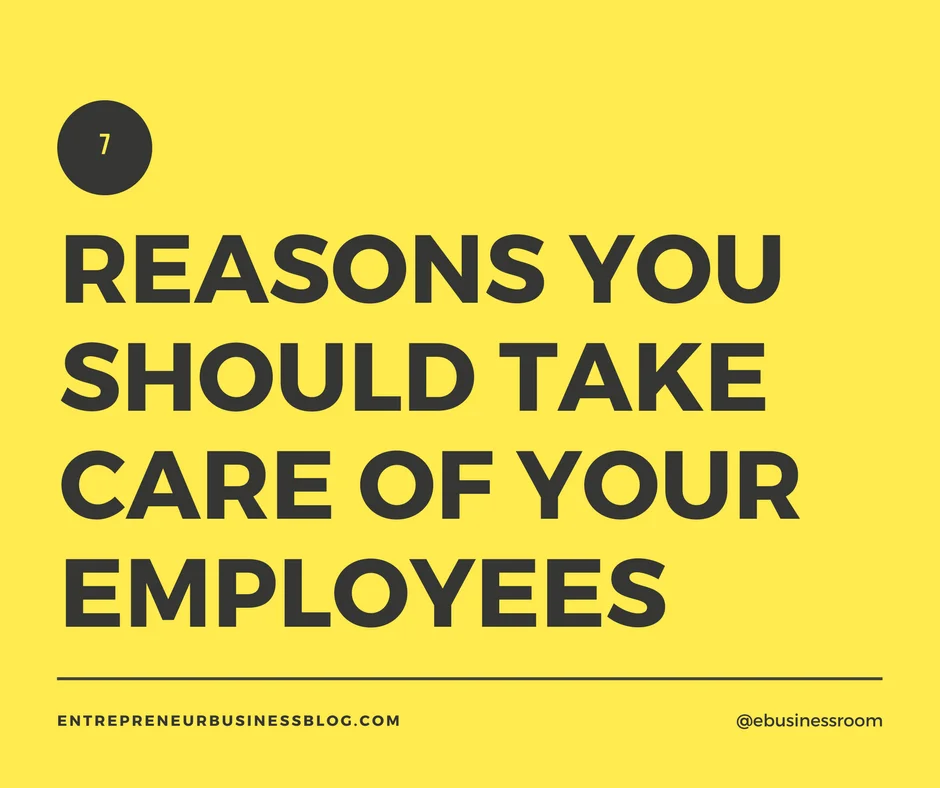 Are there very important reasons why business owners must take care of their employees?
The answer is YES!
The most effective way to motivate employees and make them happy enough to take care of your customers exactly as you would want is to take care of your employees first.
The importance of taking care of your employees cannot be overemphasized, especially now that giant tech companies like Google, Facebook, Apple, Amazon, etc are scouting for the best talents and can do anything to buy them over, including paying them double.
Happy employees will always provide better service to your customers. Most successful businesses have a proven guide for developing a human-centred strategy.
A smart way to put customers first is by putting the people (employees) they will have the first interaction with about your product, first.
Some businessmen spend millions of dollars on gadgets, platforms, and advisors that are supposed to help them get the most out of their team. In reality, however, all of this can be achieved much easier if employers begin to give their employees a good treat.
You see, every human being likes to be appreciated, well-paid, and in a position from which they can learn and grow.
Providing your team with such opportunities is bound to make them work much harder. To a large extent, this helps in increasing engagement about your products and services.
Anytime employees are disengaged from their activities, it results in a loss in productivity and revenue too.
To you, as a business owner when your employees work harder, this means growth and prosperity, but for your employees, it could mean even more. With this in mind and without further ado, here are seven reasons why you should take care of your employees.
1. Greater Productivity
The first thing you need to keep in mind is that a happy worker tends to be 12 percent more productive. This is enough reason why is it important to take care of your employees.
The reason behind this is quite simple. Your positive actions towards your employees, as well as your demonstration of support and appreciation for their work, will create positive reinforcement in their minds.
If you take care of your staff, they will take care of your business.
ALSO READ: 5 REASONS YOU ARE NOT MAKING MONEY FROM YOUR TALENT
According to basic psychology, this will make them feel pleasure doing their job and thus gain intrinsic motivation to work even harder.
All in all, instead of having to push them in order to give their 100 percent, they will gladly do it on their own and feel happy about it.
2. Retaining Talent
In today's career world, it has become easier to attract top talents to your startup than it used to be in the past but the major challenge most business owners face is how to retain these top talents.
One of the problems most startups and small companies have is the issues around retaining talent.
You see, sometimes, your competitors will be able to offer a better salary or a better position in an attempt to poach your employees. This will make some people in your team see you as nothing more but a stepping stone in their career or a minor stop on their path to something better.
If you want them to turn down these (objectively) better conditions in your favor, you need to make sure they develop some degree of brand loyalty.
Unfortunately, this takes a lot of time and is not always up to you alone (their colleagues and the nature of their job is also a big part of it).
On the other hand, making them develop a degree of personal loyalty towards you is much easier. After all, people tend to love managers far more than they do companies.
3. Attracting New Employees
The next great benefit of taking good care of your employees lies in the fact that it will get you some serious word-of-mouth recommendations that might make your company more appealing to new employees.
An act as simple as giving your employees' visa gift card for their birthdays or work anniversaries, can benefit you more than an elaborate hiring campaign. While you may think that this is just an exaggeration, most guides suggest contacting someone in the company before applying for the job and asking for an insider's input.
ALSO READ: HOW DO EXPERTS BUILD STRONG BUSINESS RELATIONSHIPS
Well, when your next potential star employee decides to make this move, you need to make sure that the first thing they hear is something positive.
4. Better Communication
In time, creating an atmosphere of fear in a bid to command respect could seriously backfire because they will be too afraid to speak up about the issue that could potentially harm your company. Because of this, you need to create an impression that any member of your staff can (and should) talk to you about any topic, at any time.
In this way, you will not only facilitate communication within the office but also gather the essential feedback necessary for future strategic planning.
5. Easier Scaling
While your company is still in its infancy you may feel the need to micro-manage everything. Once it starts growing, however, you may no longer be able to do so. When this moment finally arrives, you will have to either hire managers or promote some of your own people to these managerial positions.
The latter option is usually better, seeing how your own employees won't need an adjustment period. Still, this is something you really need to think about in advance and recognize and groom potential leaders long before you actually need them.
6. Encouraging Risk-Taking
Autocracy is the death of creativity. The same kind of office oppression we've talked about in the previous section can also discourage your employees from taking any risks.
Unfortunately, this could do some serious harm to your company's creativity. You see, there is no way of knowing when one of your employees will get a million-dollar idea. Nonetheless, if they are too timid to speak their mind in fear of you dismissing it, they might never actually speak up.
7. Helping them grow
Finally, taking care of your employees also means helping them grow professionally.
One of the main reasons why young talent may be attracted to you is the fact that they desperately want to learn.
All the politeness in the world won't save you or make you better in their eyes if they think that you have nothing to teach them, or that they won't gain anything from sticking around.
In other words, you need to show them that staying in your company will eventually be worth their while.
Furthermore, by helping them grow, you will mold them from prospective young employees into some of the best niche experts on your retainer at virtually no cost.
Conclusion
While these seven reasons are reason enough to take care of your employees, they are but the tip of the iceberg. Some other reasons are the fact that happy employees provide much better customer service, take fewer sick days (due to lower stress levels) and show a greater inclination towards teamwork.
All in all, you have nothing to lose if you treat your employees right and everything to lose if you fail to do so. The choice is yours. Now tell us. How do the best companies you know take care of their employees? And if you are a business owner, how are you taking care of your staff?
"Clients do not come first. Employees come first. If you take care of your employees, they will take care of the clients." – Richard Branson
This is a guest post from Alex Williams. Alex Williams is business blogger and a regular contributor at Bizzmark Blog. You can connect with on her on Twitter, @alextmwilliams1
RECOMMENDED