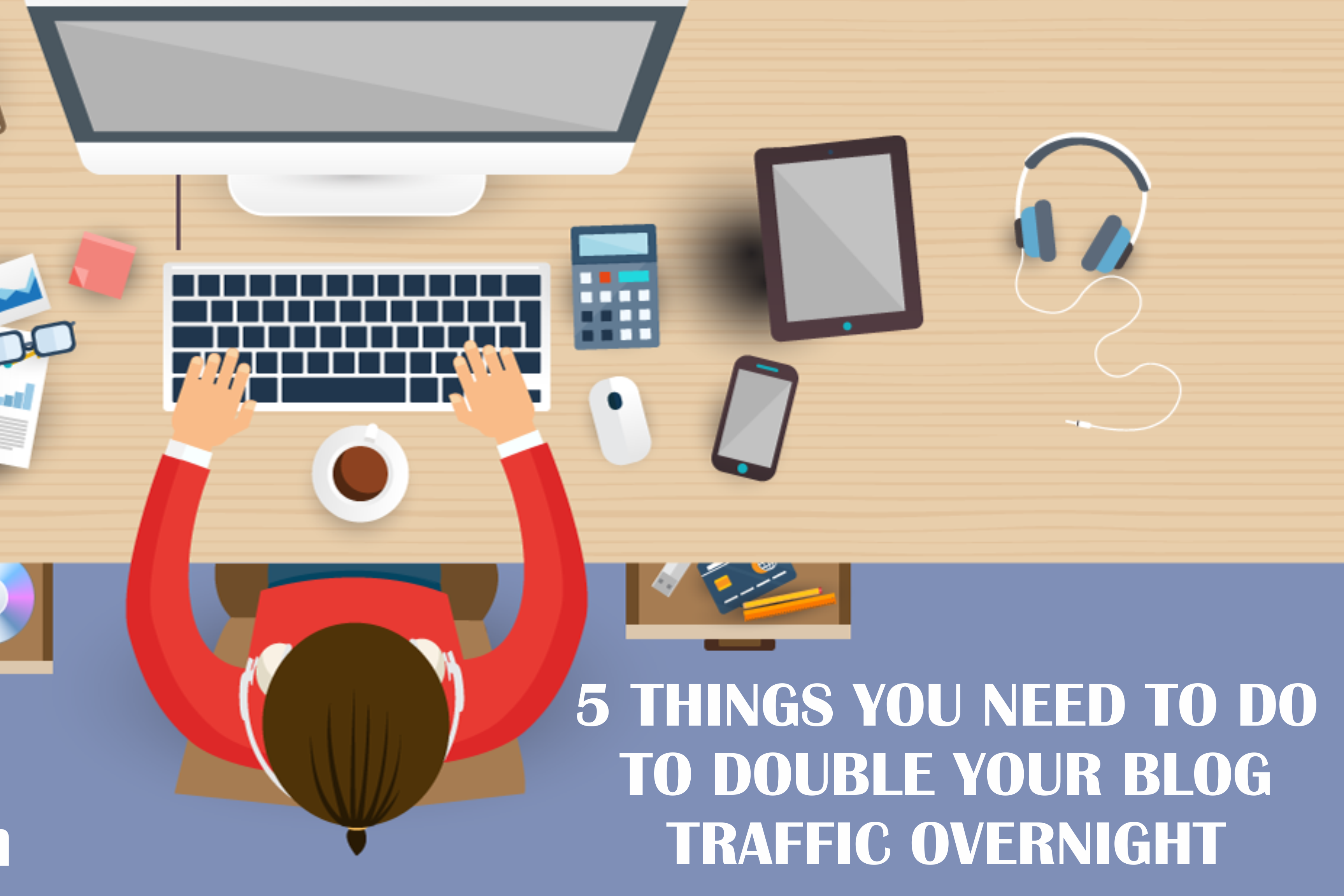 Increasing blog traffic is something every serious blogger desires so much. However, unfortunately, most blogs still struggle to get at least 100 page views daily.
While some experienced online entrepreneurs are stealing the whole traffic, many bloggers who don't understand these strategies I am about to share with here are left with nothing. If this continues, it's a sign that a blogger will not succeed.
In this blog post, I'm going to show you practical ways you can start doubling your site traffic from today henceforth. These strategies are what internet gurus are using to kill competition within the digital space.
Are you ready?
5 Things to Do to Double Your Blog Traffic
#1: Increase Blog Traffic by Writing Captivating Blog Post titles
The title of your blog post as well as the meta description will to a large extent determine if search engines will display your content when a search related to you is made. But even afterward, what determines if people will click on your post or not is a function of how captivating and compelling it is.
Blogs of famous bloggers like Neil Patel, Brian Dean, Harsh Agrawal and the rest of them are successful today not just because they invest so much in advertising but also because of the captivating nature of their blog post titles and headlines.
Any blogger who desires to see unimaginable growth in their blog traffic must start giving special attention to what they label their blog titles and headlines.
Your titles should not only be breathtaking, but they should also have the keyword you intend to rank on search engines with. Meaning if you want to rank for "Double blog traffic," ensure you put it in your headline. Using the "slug," you can eliminate "Your" since search engines will regard it as a "stop word". I discussed in detail how to write blog post titles that can make your readers resonate with you. There you can also find some templates you can copy and implement as soon as possible in your next post.
#2: Write Rich Contents to Increase Blog Traffic
Content, they said is king. While some webmasters who are using the blackhat SEO strategy may not agree wholeheartedly with this, I still maintain that without rich content, your blog will go nowhere in terms of traffic. If it ever does, that will be for a short while.
Do you know, why?
You will have Google Panda to battle with. In fact, Google will punish your site until you are so frustrated for choosing this path called, blogging.
In 2011, Google rolled out a new algorithm whose mandate was to punish blogs with poor content. Ever since then, they have continued to improve on that policy. The motive behind this algorithm is to make webmasters understand that whatever content they publish online should be targeted at users and not robots.
The interesting thing about writing rich content on your blog is that it not only reduces the bounce rate (that's the rate at which people leave your site), but it also enhances trust, thereby leading to regular visits and consequently, more sales.
In order to consistently write rich content, ensure that every single blog post you publish is targeted at solving a unique problem. That way, you will grow a loyal audience that will derive pleasure from identifying with you and also talk about your brand.
Still stuck? Follow Marsha Kelly's guide on the 12 easy ways to get blog post ideas that are search engine friendly.
#3: Avoid Writing Long Paragraphs If You Want to Double Your Blog Traffic
It's important that whenever you want to write a new article you try to put yourself in the shoes of your readers. Imagine yourself as the reader…
Now, let me ask you: When last did you read through a lengthy paragraph – as in, non-stop? I'm sure you are guessing that, right?
You see if you want to create content that will make your audience keep coming back regularly, then you must stop writing long paragraphs. Make every single paragraph short enough so that it will be easier for your readers to grab the message you are trying to pass across within a short time.
Like our English Language teacher taught us in Primary School, each paragraph must be reserved for one striking point that will leave your readers fulfilled. Internet surfers are too busy to waste their time on one blog trying to figure things out when other blogs are out there seeking their attention.
Imagine if half of the people who ever visited your site returned… What will your site traffic be like now?
#4: Build Quality Backlinks to Double Blog Traffic
When it comes to backlink building, there are two kinds: nofollow backlinks and dofollow backlinks. While they both have their respective roles to play in the realm of SEO, the initial simply points to a site without any credence to it, and the latter points to a full backup of trust.
In a nutshell, when a blog links to a site using "nofollow backlink," it's simply saying to the search engine, "It's true I'm linked to this site, but in the real sense of it, I don't trust it" while "dofollow backlink," says to search engine, "I'm linked to this site because I trust it."
All links generated as a result of leaving comments on other blogs (which I recommend that you do on authority blogs) are nofollow backlinks. When you want to use it in anchor text, the html configuration appears in this manner, <a href=http://www.yourblog.com/rel="nofollow">Display Text</a> while the dofollow backlink appears like, <a href="http://www.yourblog.com/">Display Text</a>, so "Display Text" is the anchor text people will see, but when they click on it, it will redirect to http://www.yourblog.com.
While nofollow backlinks might seem to have no relevance in determining how a blog is ranked, the referral traffic it can generate is still unequal. Let's assume 3 persons from a sample of 10 blogs you left comments on visit your site every day. What will that give you? Think!
To double your blog traffic and ranking overnight, get quality (that's dofollow) backlinks from authority blogs. When I say, "authority blogs," I'm referring to blogs with high page and domain authority and are ranked very high on Alexa. See here to know the page and domain authorities of your blog, the number of nofollow backlinks you have and the last time someone linked back to your site.
In order to start getting quality backlinks to your blog which will in turn skyrocket your blog traffic and ranking in almost a blink of an eyelid (that's after WebCrawler is done with your site), you either follow the natural route of publishing quality content on your blog, hoping that someone somehow will find it useful to link back to someday, or you intentionally use guest posting strategy to do that. Before then, you must be sure your blog is void of broken and malicious links.
When it comes to building backlinks, Brian Dean's tutorials have been very helpful. Recently, I decided to put together the marketing strategies I learned from Backlinko.
#5: Build Relationships with Other Bloggers
Building relationships with other bloggers is one blog-building strategy many bloggers haven't really tapped into. Many are still seeing each other as competitors even when they are completely in parallel niches.
Most of the top bloggers we desire to grow our blogs to meet their standards have one thing in common. And that is, they promote (link back to) each other as though they were paid for that. Beyond that, here are the other 5 things they have in common.
I've seen cases where John Chow sent an email containing Jon Morrow's articles and a link to one of his ebooks to hundreds of thousands of people in his own list. At one point, I asked myself, how many younger bloggers can do the same for each other? I know there are people who do help to that extent here, but the question is, how many are we?
When you build a relationship with other bloggers, it helps to strengthen the unity in the industry and also gives one the opportunity to tap into another's audience. Think about the buzz it will create if every blogger who reads this article shares it or possibly supports each other to earn more.
To show you how real this strategy is, check out this post to see how bringing bloggers together in a post can trigger rapid sharing.
Conclusion
Getting thousands or even hundreds of thousands of organic visitors to your blog on a daily basis will take time. It's not something you do today and tomorrow, bam, the traffic pumps so high. You must be patient, consistent and creative in your attempt to double your blog traffic overnight. This is no exaggeration – if you do what I just explained in this blog post, you will experience massive growth in your blog traffic and, of course, your earnings.
If this post was helpful to you please share it on social media.
Want to Set Up Your Own Blog?
You can use these web companies we recommend for their security and affordability:

Domain Name - Namecheap

Web Hosting - Siteground

Blog Theme - Themeforest

Autoresponder - GetResponse