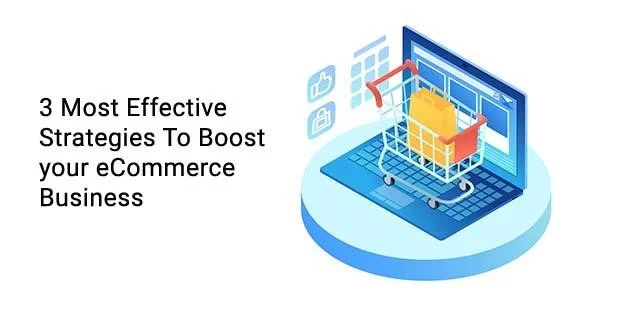 The e-commerce industry has been a very profitable niche since inception.
Most businesses and individuals have recorded a huge amount of success just by moving their retail stores online.
Just in 2017, the retail e-commerce sale worldwide amounted to 2.3 trillion dollars and is projected to grow to 4.88 trillion dollars by 2021.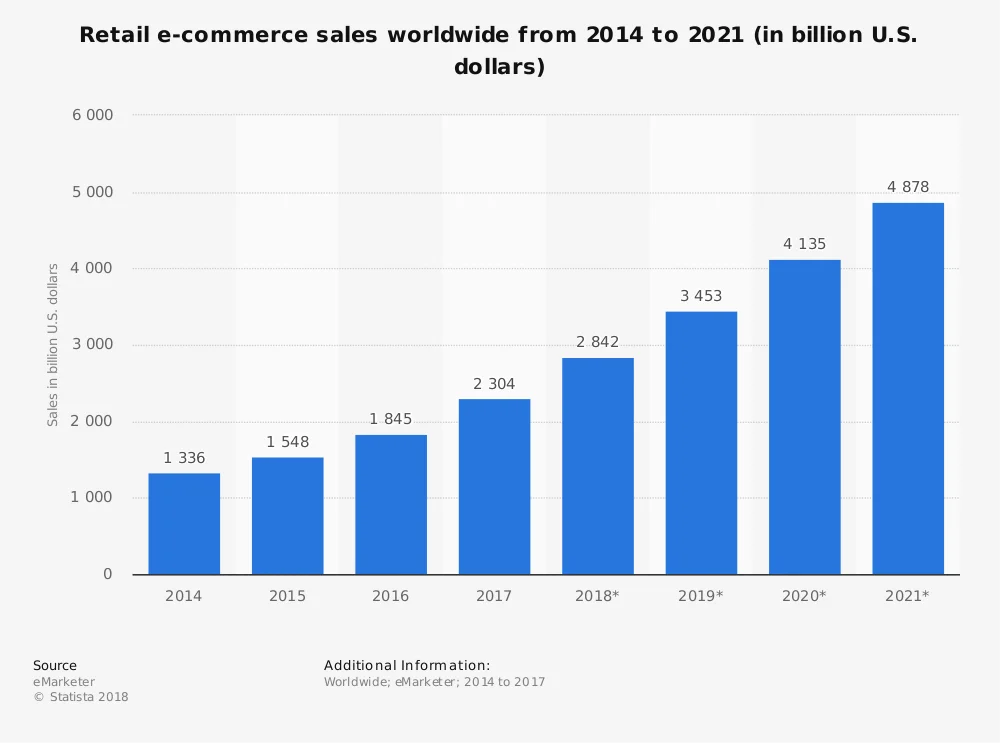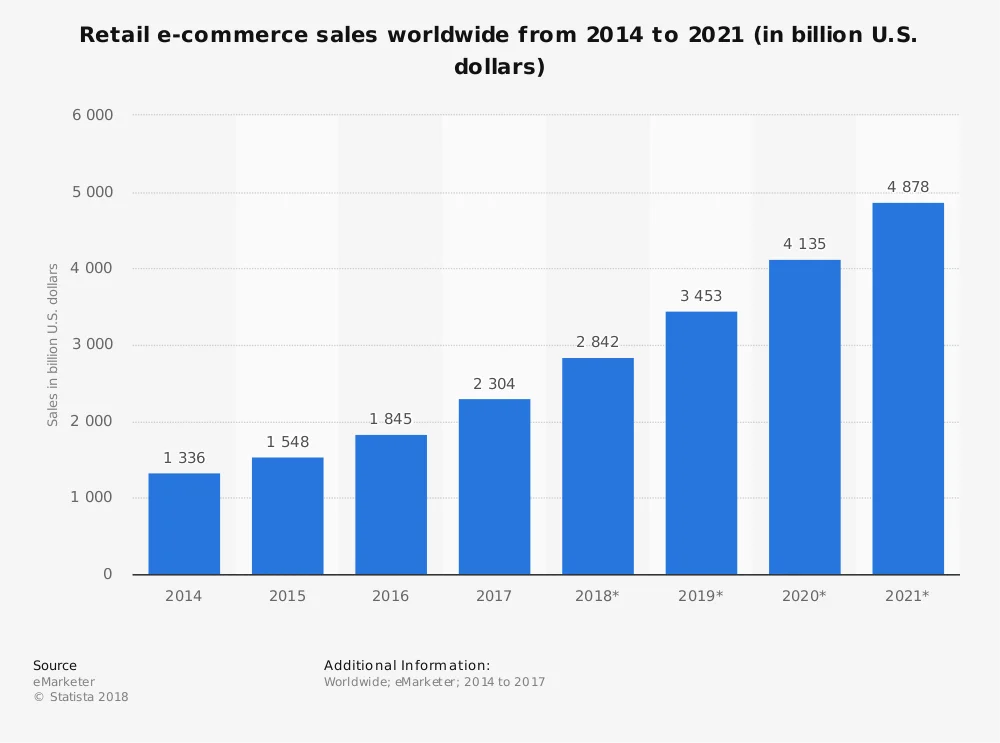 But the thing is, as more consumers tend to shop online, more businesses have moved their retail stores online and this has created a more competitive environment where only the best can survive.
Just as big brands like amazon.com, jd.com, and apple.com amounted to almost 100 billion US dollars of online store revenue in 2017.
It is getting more competitive and becoming increasingly difficult for smaller brands to compete.
So you might be asking, the market has already been dominated by the big boys, No… that's the wrong question to ask.
What you should be asking is how can I take part in this hugely profitable niche and become successful.
So if you ideally want to take part in this exponential growth, increase your brand awareness and cut your own piece of cake
Sit tight, because in this post I have a systemic approach that will help you stand out from the crowd and boost your e-commerce business.
Are you ready?
Let's dive in
1. Source the Right Products
Just as you might know, the products you sell have a huge impact on your sales.
If you have been in the e-commerce business for a while now you might have as well noticed that the products you sell are a major determinant factor on the number you were able to sell.
This is no coincidence as people will only buy what they want and not what you want them to buy.
So it is very important to know how to source the right product to sell.
But how do you know which products to source in the first place?
Well I know you might have heard this a dozen times but the truth remains that, if you want to sell a ton load of products, you need products that are high in demand, low in competition and sale at a profitable margin.
If you are thinking of how to pull this off, don't bother as I will show you a proven strategy that has work and continues to work for smart businesses.
In the past, what most people do in order to find a product with a high probability of selling fast is to engage in a manual estimation of product sales data.
This is a great approach but prone to human error and consumes a lot of time and resources to pull through.
However, there is a solution to this problem and that is the utilization of Product Market Research BI Platforms.
Product Market Research BI Platforms like algopix enable e-commerce sellers to make data-driven decisions that decrease risk and optimize sales.
They provide data such as product specific profit analysis, demand levels, sales performance, number of competitive offerings, average seller ratings, keyword insights, and product ratings.
This data helps sellers save time on manual research, increase sales volume and reduce risks of buying low-demand or low margin inventory.
The success of your e-commerce business starts with sourcing the right products, they are a determinant factor in your business and should be selected with careful considerations.
Utilizing BI platforms like algopix will significantly improve your ability to source high in demand products with less competition, giving you the opportunity to stay above the competition.
2. Generate High-Quality Traffic
Traffic is the lifeblood of every online business.
Any online business that fails to generate traffic will likely fail and die.
However, an increase in traffic is not just enough. You need quality traffic that is relevant to the offered product.
So how can you get quality traffic to your online store?
The best form of traffic is organic traffic from search engines like Google, Bing, and Yahoo.
This is the traffic you get for free when a customer is searching for a product you sell using the search engines.
The search might be about comparing product prices or something else, but there is a high tendency that the searcher is in need of the product.
The problem with this is that it takes lots of time and resources for a website to rank in SERPs.
And this requires having an in-depth knowledge of SEO or contracting an SEO agency or professional to help you rank your website in SERPs.
Since SEO takes time and requires a ton of budget, let's focus on other marketing channels that will help to generate instant high-quality traffic to your e-commerce business.
Google Ads
There are other search engine ads that are worth mentioning here like Yahoo and Bing Ads, but since Google is the leading search engine worldwide and owns over 80% of the market share will be focusing on Google in this post.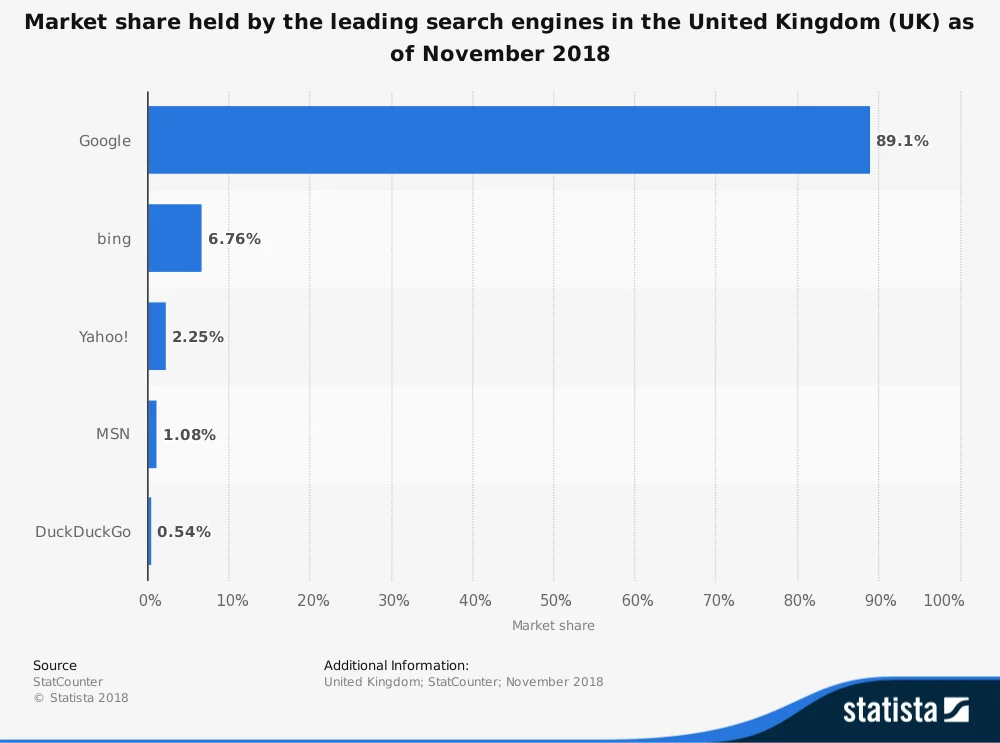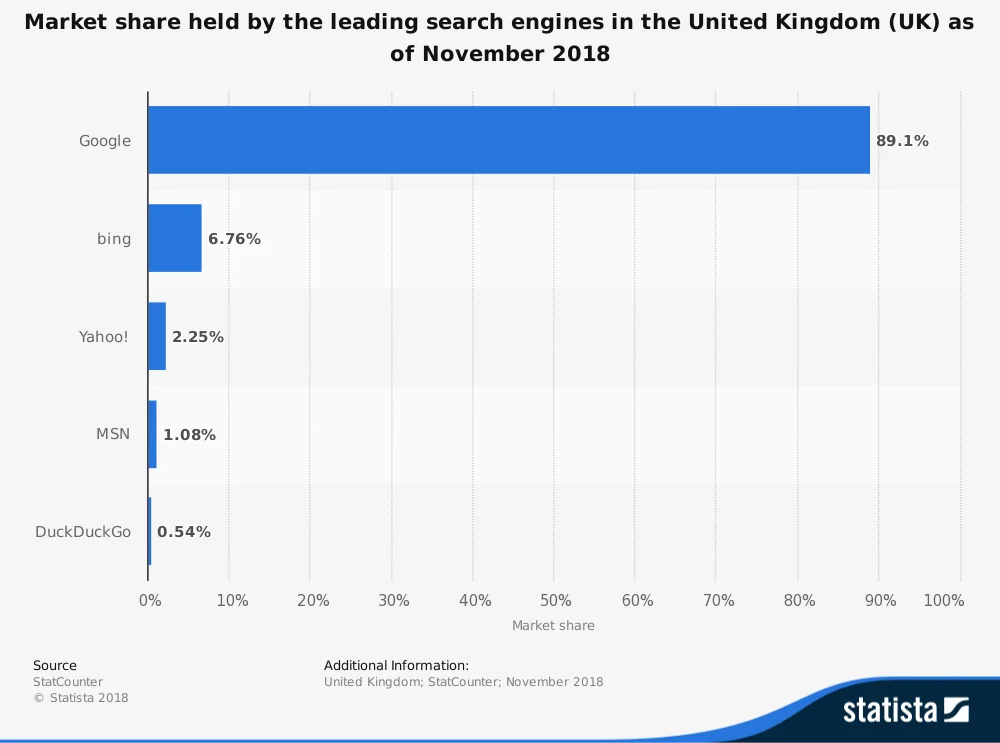 When you visit Google what was your utmost goal for being there?
To find answers to a question or to check and compare prices of a product you want to buy, right? Yes.

This is absolutely what most (if not all) people use Google for.
Since nobody visits Google to chat with a robot but to get answers to an urgent need of theirs. That makes it a great platform for you to utilize to boost your business.
Just as SEO can help your products to appear in SERPs.
Running Google ads will also help your products to appear in front of potential customers when they are actively searching for that kind of product.
Related: Why You Should Hire a PPC Professional for Advertising

Whether to buy or just to check out the prices, you stand a good chance of converting site visitors into buyers.
Google ads are so great as your website will appear above other websites that are depending on the free traffic from Google when a user searches with a keyword you are targeting.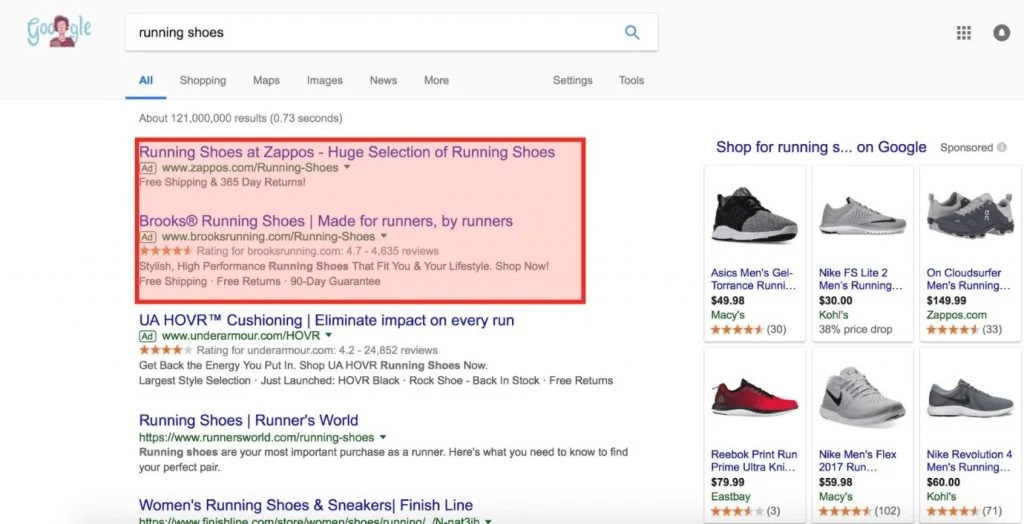 When you're spending money advertising your products, you need to get the most juice out of it.
And you can do that by having a remarketing strategy plan ahead like installing pixels code in your website.
To continue targeting those people that visited your product page but left without buying.
This is to convince them to come and buy the product they visited either by giving them a discount code or by utilizing any other strategy you believe could work to get people to buy from you.
Social Media Advertising
It is so unbelieving on how most people are still not utilizing this simple approach to grow their e-commerce business.
For example, Instagram which is a mobile phone sharing network has over 1 billion monthly users on its platform.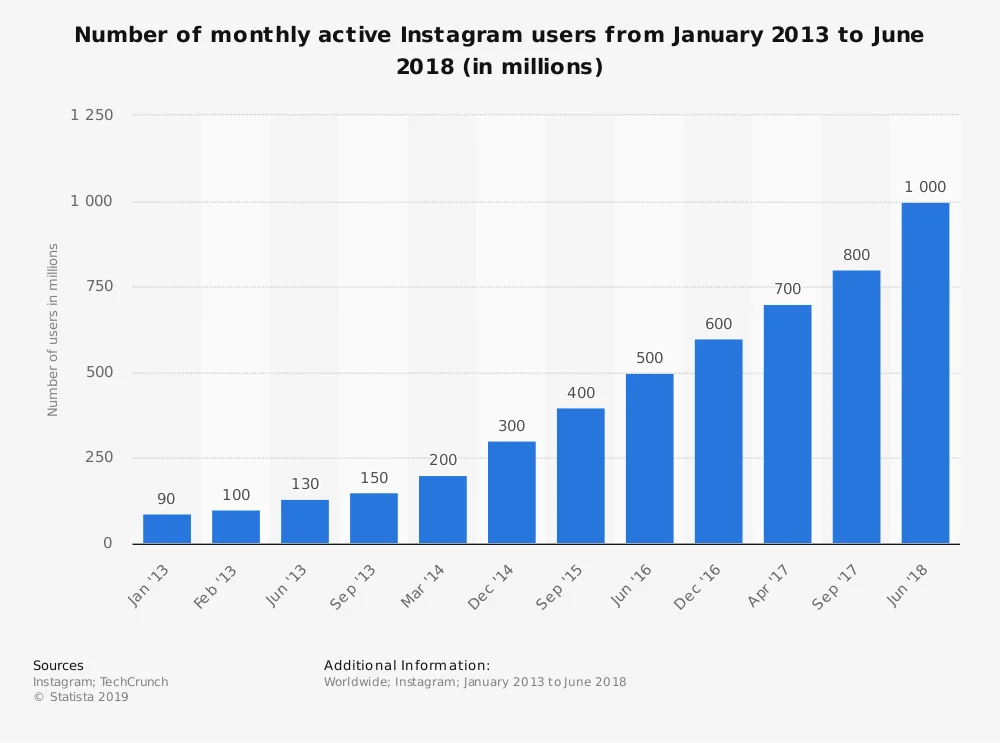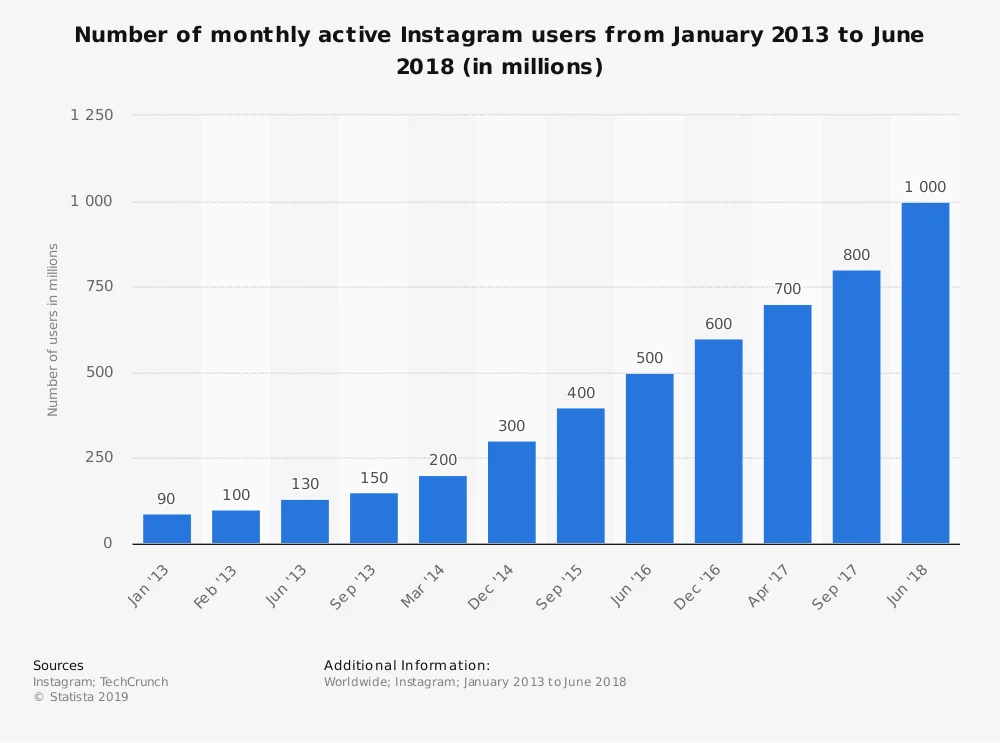 This is a great platform for e-commerce businesses to use the power of a visually appealing image to get customers to buy from them and grow their business.
Another great platform is Facebook.
Facebook ads are a great and cost-effective way to grow your e-commerce business
With its laser-focused form of targeting, you can target people based on specific interests that speak directly to your desired audience.
This will thereby drive highly targeted customers that will engage on the website (i.e make a purchase, sign up for your newsletter and so on).
Facebook ads can help get that immediate traction to your business.
Other great platforms where you can generate high-quality traffic includes :
Pinterest, Yahoo Gemini, Outbrain, Taboola, and Reddit
For example, Sam Oh an Internet Marketing Expert at ahrefs claims that Pinterest ads have performed more for his clothing line than facebook ads, google ads, and bing ads combined.
But note that most of Pinterest users are in the US and his results might not be typical to yours.
By harnessing these channels coupled with the power of remarketing, online store owners can target specific audiences and draw them to their website.
3. Implement a Content Marketing Strategy
If you're looking to building a long term sustainable business in the e-commerce niche, you need a strong content marketing strategy.
Not only will it help you to rank higher in the SERPs, but will also help you to build yourself as an authority in your niche and better engage with your customers.
To start your content marketing journey, there are a few things you need to know to get the most out of your content marketing strategy.
The first one is…
Keyword research
You need to create content that is targeted to the right audience and relevant to them.
And for you to be able to do that, you need to think from the buyer's perspective, what keywords would they be using to search for the products you are selling.
Or what information would they be seeking to know about the product you are selling.
Being able to generate keywords around the products you are selling can help you create a "human and search engine friendly content" for better engagements from your audience and ranking from the search engines.
Related: How to Compete for Keyword Rankings in the Highly Competitive Travel Industry
To take your keyword research process to a more productive level, there are some tools that can help you achieve that.
Google Keywords Planner
This is a free tool by Google devoted to keyword research only. It shows you a keyword search volume on a monthly basis and also helps you in finding relevant keywords you might not have thought of.
Ubersuggest
Ubersuggest is a free keyword suggestion tool by Neil Patel that now supports domain level metrics.
What makes this tool to stand out is
the ability to see the volume, competition, and even seasonal trends for each keyword.
They generate a list of keywords for you based on what is working for your competitors and based on what people are typing into Google.
Amazon Suggest

As the number 1 most visited online shopping store with 571,262,540 organic visitors per month.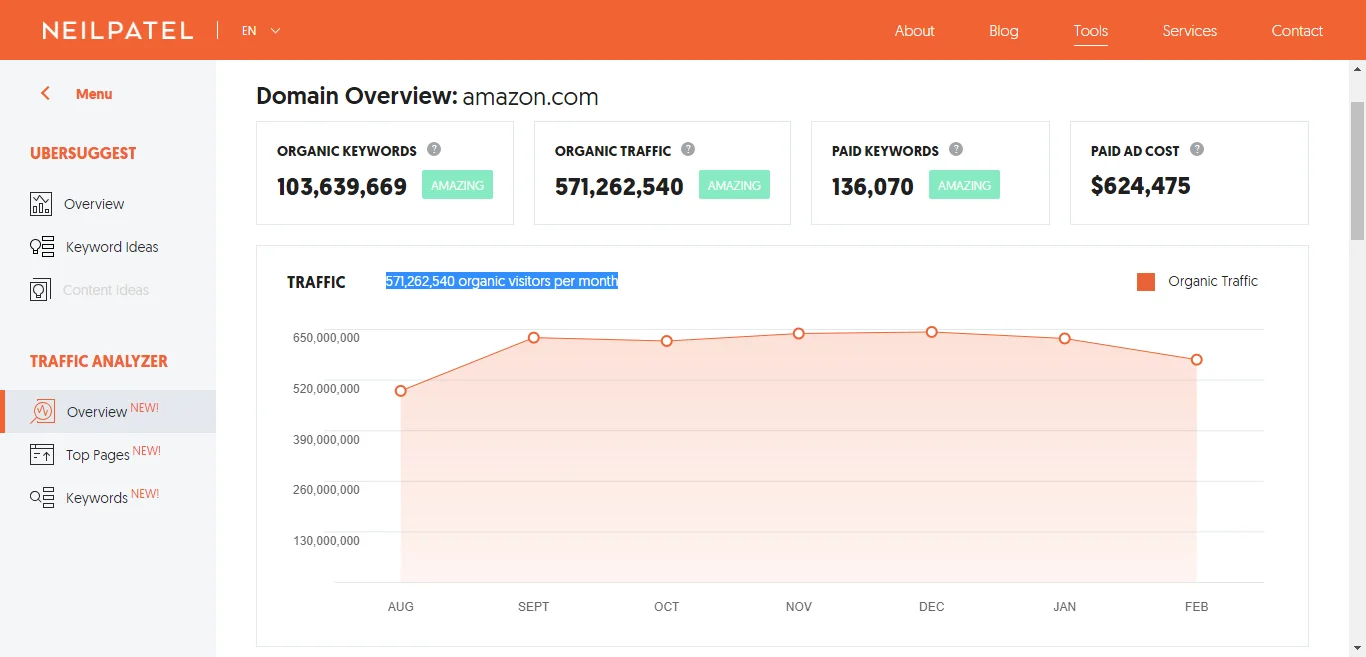 Amazon is a great place to seek for keyword ideas for e-commerce businesses.
Type keywords that describe your products and Amazon suggest will immediately give you an overview of stuff people are searching for.
Quality Content

With your keyword research strategy sorted out
It's time to create the content that will keep your audience engaged and hopefully convert them into paying customers.
Because what's the essence of writing a content if it doesn't engage and converts visitors for your business.
The best content to create in an e-commerce niche is to create content that solves a problem a customer is likely to be facing and offer your products as a solution.
But be careful when using this strategy as customers can sense when you are in the game to rip them off their cash or to help them.
You have to concentrate more on helping people with your contents than trying to push them to your products page.
No Hard Selling Please…
Since customers will be switching from one website to another.
Offering great help through your content can help customers choose you over the competition.
This also helps you to build trust with your customer's and they will be more likely to see you as an expert in the field.
Worried you don't have the time or skill set to create your own content?
You can seek out writers at Upwork or Fiverr to create your content for you for a small fee, contract an agency to take care of your content marketing or you can offer opportunities for guest bloggers to blog on your site.
Which one you choose, make sure you are producing high-quality content that is helpful to your readers.
That way you can easily turn them to a customer.
Update Existing Content
This is simply what it is.
You need to update your older contents so as to be more relevant to the present period.
For example, a post like "best lip gloss in 2017" is totally outdated both in terms of date and product recommendation
This might be as a result of a new better product being launched in the market or simply the date range in your headline.
Anybody that sees that post in 2019 will likely never read it, as they believe it is outdated and won't have what they are looking for.
So you constantly need to be revisiting and updating your older contents to make them look fresh and readable.
Repurpose Your Content to Different Media Types
If you're going to spend time or money creating valuable content, then why not get the most mileage out of it.
When you repurpose your content you are directly doubling your website reach and traffic, which will cause more people to visit your website and hopefully buy from you.
You can repurpose your content to your social media handles and encourage your followers to share it, thereby allowing people who haven't heard of your brand to check you out.
Conclusion
The e-commerce niche is a very profitable and highly competitive niche.
You need to stay ahead of the trend and always learn what is currently working for your business to be profitable.
Now there are a lot more ways to boost your e-commerce business than what I shared with you here but by combining these few strategies alone, you could easily scale past most of your competitors and create a very profitable business for yourself.
Also, if you find this content helpful make sure to share it with your followers and if you think there are things I miss which I should have added, let me know in the comment section.