"How to sell digital products online" is one of the top trending keywords recently, especially post-covid pandemic where everyone is looking for profitable ideas.
Irrespective of your expertise or areas of interest, if you are willing to walk the extra mile to generate some additional income, opportunities will always await you. eCommerce allows you to sell not only tangible but also digital products to earn some extra cash.
It would be best to sell digital products online to get a piece of the profitable pie. Are you looking to try out one of the fastest-growing sectors? If yes, then prepare to discover the top profitable digital products to sell this year.
What Is a Digital Product?
A digital product, by nature, doesn't have substance or is not in physical form. You cannot smell an eBook or hold a website template. However, you can still convert digital products into physical items, such as eBooks, for instance—you can print them on your computer.
A handful of digital entrepreneurs strive to take shortcuts by creating low-quality digital products and hope they will make a fortune. But they often fail because customer retention is critical when it comes to online business for all companies.
Your mission as a business person selling digital products online is to develop more products and encourage current and potential customers to purchase them. That is how you can generate substantial income online.
So, without further ado, here are the best and most profitable digital products to sell online.
1. eBooks
Most people think of an eBook when they think of digital products. As you likely know, an ebook is an electronic copy of a printed book that can easily be accessed and viewed online.
eBooks are less expensive than printed books and more profitable to sell. They also make it easier to distribute. As an author, you don't need to rely on publishing houses, share royalties, or invest in high printing and advertising costs.
These benefits have led to the creation of a large online marketplace for eBooks where anyone can write and sell a book. While eBooks come with their pros and cons, they are an excellent way for you to make money online, especially if your first book is not yet published.
2. Online Courses
You can make and sell online courses to make your knowledge more monetizable. Is there an area in which you are an expert? Do you have special skills that other people could benefit from? 
If you have any skills or expertise that others could benefit from, you can put those skills and knowledge into a digital product. Invest time to master how to drive traffic to your online course.
These are some suggestions for niches of online courses that have a high sales rate:
Dating and relationships courses 

Fitness courses

Business and entrepreneurship courses

Cooking courses

Music courses

Language learning courses

Art courses
Once you have a clear idea of what you want your course to be about, you can decide the format in which you will deliver it. It could either be in video, text, or audio. 
You can then create a course outline and begin creating educational content. Once your content is ready, you must select an online hosting platform. Take a few minutes to see how other people host their own online courses before doing yours.
3. Graphic Design Work
If you're a designer, you already have the tools necessary to create digital products that work. Some designers work under strict deadlines and look for elements that can make their work stand out.
There are many digital products that you can create while you work with clients. It can be an opportunity to express your passion for design outside the client's project. All you need to get started is to keep an eye on the things people look out for before hiring a freelance designer.
4. Software and Games
It's not hard to see that 2022 will have a big digital games and software market. Although both digital products require some coding knowledge, they can be very lucrative for those with a background in development.
If you're interested in getting into the game or software industry but don't possess the technical skills necessary to build a product by yourself, consider hiring someone who does. You can as well purchase existing software with private label rights from CodeCanyon. An outsourced remote development team can help you edit codes to add more features and customize them to your taste.
The software can refer to any solution or software powered by code. This includes web apps, mobile apps, WordPress plugins and desktop software.
When deciding what type of software to sell, it is worth considering the difference in effort between a simple mobile app and complex accounting software. A niche product offering may make it easier to make money. In one of our previous articles, we discussed the top 10 software ideas for the year among American startups.
Indie gaming has seen a boom over the past few years. Platforms like Steam allow developers to sell to gamers without studio interference directly. 
Both Hollow Knight and Among Us have indie roots. They have enjoyed a considerable rise in popularity. Although creating a digital game can take a lot of time, the rewards can be huge.
5. Curated Audio Clips For Unique Environments
Many people love to listen to music to relax, focus, and get their energy back, whether working remotely or in meditation.
There is an inexhaustible supply of free (YouTube) and cheap (Spotify) online music. Free music is seldom curated for particular environments. YouTube has some, but they are often cut up by advertisements, making it challenging to find the right clip.
Curation is crucial here, as is a niche setting, such as:
Yoga

Meditation

Writing

Studying

Sleeping

Running

Powerlifting

Biking

Dancing

Cooking

Anxiety and more
6. You Can Sell Web Elements
In today's economy, there is a lot of demand for web components. Selling WordPress templates can make you six to seven figures.
Premium web templates can create passive income as you only need to create them once. Although you might need to update it occasionally due to changes to the CMS, that is much less work than creating an entirely new product.
Furthermore, you can make as many web templates as you wish. The more you offer, the more customers you can convert. WordPress templates are among the most profitable digital products to sell with ease because of the high demand.
You might also find other web elements popular on the market. Thematic elements are items you might sell for web designs, including navigational buttons, header pictures, font combination suggestions, or social media sharing buttons. The possibilities of what you can create are endless if your creative side is on display. Again, you can buy a highly responsive WordPress template with private label rights from Code Canyon at a ridiculously cheap price.
7. Podcasts
Podcasts are usually free. Entrepreneurs and creatives often use them to promote their products or services. This sort of niche blogging can help you create a viral brand.
You can also make a podcast subscription that provides more features and in-depth guidance. You can do this in many ways.
You could also create a subscription-based podcast that people can pay you directly. It would operate just like a standard membership site, except it's audio only.
You can also opt for the freemium option. Listeners can enjoy the service for free, but they will need to pay for additional audio and bonus features. In addition to that, you can as well accept adverts from brands that would like to promote their products.
8. NFTs
NFTs stand for non-fungible tokens. NFTs are a part of the Ethereum cryptocurrency chain and a relatively new part of the cryptocurrency. NFTs store more information than an Ethereum token, making them somewhat different. 
If you're already making digital art, NFTs might be a good choice. Although NFTs can be any digital medium, their most popular use is for selling digital art. 
You can sell and buy NFTs on a variety of marketplaces. OpenSea is one example of a marketplace that makes it easy to create your own NFTs. Learn more about cryptocurrency.
9. Coaching Sessions
You could also sell your expertise through coaching sessions. Coaching could be a good option if you're knowledgeable and want to help others. With very little investment and minimal cost, you can offer one-on-one or group coaching sessions online.
Your job as an online coach is to assist clients in reaching their goals through your expertise and consulting. Coaching is different from an online course. You address the individual needs of each client and provide highly personalized service.
You can either focus on coaching only or offer coaching sessions as an additional service to your business. Despite earning directly from my blog, I also make extra income by offering coaching sessions on blogging. You too can do the same in your field.
10. Patterns and Printable
Etsy and other sites have millions of crafty buyers looking for patterns or printables to aid their DIY projects. You can sell patterns such as knitting and sewing patterns as well as printables such as workbooks and coloring pages.
Most people who are earning a decent income from this model often use Pinterest to promote it.
Why Sell Digital Products?
There are many reasons to sell digital products online. Some of the top reasons include:
Low upfront costs: Digital products are easy to make and cost little more than your time and energy. You don't even have to store any inventory and pay shipping fees.
High-profit margins: You can make money by selling a low-cost product. You can decide your profit margin because the product's price doesn't include any hard costs. Digital products are among the most profitable e-commerce models to sell.
Limitless capabilities: Digital commodities are infinite, so you don't have to replenish your stock. Scaling your digital business is easy because you don't need to have logistics in place to increase production.
Automation potential: Orders can be placed immediately, allowing you to focus on other areas of your business.
ALSO READ:
How to Sell Digital Products Online in a Profitable Way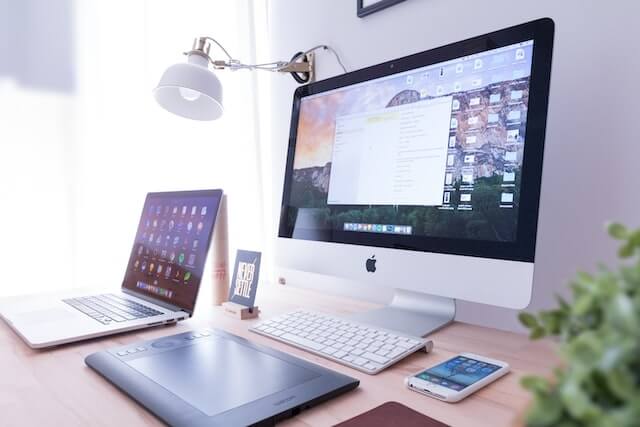 It is possible to sell a digital product through your website. You can even use an eCommerce site. It doesn't matter how you are selling your idea. Use these tips to scale your digital products business:
Create a lead magnet: This marketing tool is used to build an email database. Are you selling software? Use case studies to get people to sign up. Also, discounts and samples are very popular. You can try out any of these email marketing strategies to boost your lead generation effort.
Drive traffic to your website with SEO: Keywords are crucial here. Use these to improve product descriptions. You can also write blogs to boost your ranking. Learn SEO to drive more organic to your digital products.
Create an affiliate program: These programs allow you to pay another small business for traffic. They will usually link back to your website.
Offer coupons and discounts: These can boost your sales online. Use discount codes or a reduced value. A percentage discount is best if, for instance, your course or product costs less than $150.
Conclusion
You've already taken the first step by researching digital products. You already know what you are good at, so you should have a few ideas for digital products to sell. It's time to sell digital products online and stay profitable!