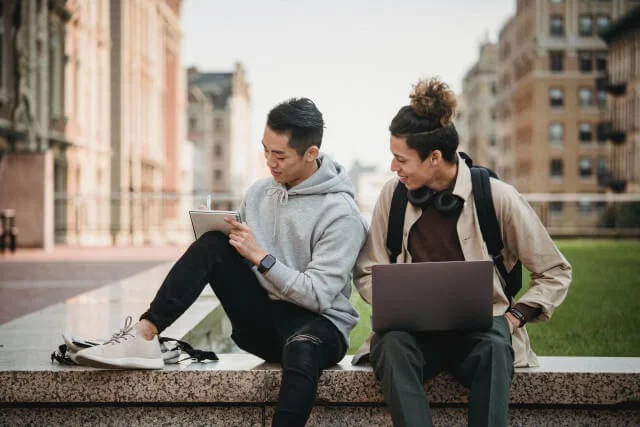 What is the step-by-step guide for starting a business as a college student entrepreneur? Should you drop out of school to build your startup? What role do university professors play in helping student entrepreneurs grow a business in school?
Being a student in college is already a high task. The school activities could be so overwhelming at times to the extent of neglecting other social activities. If your aim is high grades, you will want to take with seriousness all-important academic work like attending all the classes without omission, taking the tests and completing the necessary assignments and partaking in extracurricular activities.
Similarly, spending time in the school library and exploring important materials can't be left out when considering to be at the top of your class, and a good portion of your time needs to be spent on this for a reasonable achievement.
A survey done in 2013 by Pew Internet and American Life Project says, 54% of Americans used a combined academic library, public library and school library, and this has been on the increase with more than 2billion materials made available.
The point is, that governments in the western environment such as UK, U.S.A, and Canada invest more in students and encourage them to build academic excellence. With this in mind, students have to use their time judiciously on the campus and make sure that their performances are up-to-date before venturing into any social or entrepreneurial activities.
However, starting a business in college is one of the best ideas for students if they have a good plan in place. Mark Zuckerberg started Facebook in college. While this sounds good to hear, getting it started without proper guidance can cause a problem that may in turn affect your education severely.
Everything begins with proper planning. Having a well-organized plan book for your academic works while creating a space for your business idea under your plan will give you a good head start.
Why You Should Not Drop Out of College Before Starting a Business as a Student
It is not a must you drop out of school before building a successful business. Dropping out of school is never a criterion for becoming successful in a business. School is not a distraction for entrepreneurship success, it is even a perfect environment for initiatives for developing solid plans for your business idea.
In the college, you could be given free access to IT and printing materials, quick team building from other students, free funds for your business depending on the structure of your project or the institutions, and free tips and encouragement from your professor and advisor. The lists of free materials and advantages you could be given access to in the college are inexhaustible. 
ALSO READ:
Why Starting Your Business in College as a Student is a Good Decision
College is one of the best environments to test your business idea. If the idea is valid enough, seek intelligent partners within the campus to build a team.  Another amazing reason why starting a business as a college student entrepreneur is that it can easily help you raise your tuition.
How many people do you need to form a team as a college student in business? 3 or 6 is a good number of persons to start with as a result of its power as confirmed by Nicholas Telsa in vortex Mathematics. Don't build alone, this is a golden rule in business. Your innovation has a higher chance of survival if you network with like-minds. 
Getting the support of other students about your business idea may be difficult at the beginning, but your continuity will surely convince some of them to try and look into what you have to offer.
After taking note of the useful points in the above paragraphs, here are some other important steps you can also take before starting a business as a college student:
1. Write a business plan
This contains your business name, Title page, Executive Summary, Business Description, Market Strategy Financing, e.t.c.
Writing your business plan is as important as monetary capital. This is a road map that shows how to manage and grow your business and also documents your expectation of monthly and yearly revenue. Better still, seek assistance from other students on the campus that are currently studying business courses or entrepreneurship to help you write a business plan.
2. Prepare your vision and mission statement
This might sound so simple, but very critical to your success in the long run. You need to have a deep thought concerning the kind of vision you are projecting for your business. This fuels your passion and keeps you in line as well as guides you from derailing from your mission. 
Oftentimes, the reason you are not making money from your talent is that you don't have a vision and mission statement to guide you.
3. How do you develop your product and services?
The purpose of every business is to either sell a tangible product or render a service. After identifying the type of product you want to render, bringing that into physical eyes is probably the next thing.
4. Seek knowledge about the business you intend starting as a college student
Behind every successful venture is knowledge. In fact, you may have to go the extra mile to gather information on how to produce or render your service very well.
Lastly, establishing a thriving business requires time, energy, capital and knowledge. All these factors may not be easy to put together, most especially, as a student. But, you may still look for ways to establish a small scale size of the business. Additionally, you could as well think of taking a side hustle or going for e-commerce in order to protect yourself from getting distracted by the complex operations of a large business.
ALSO READ:
The Top U.S. Colleges for Aspiring Entrepreneurs
If you are looking for the best college you can enroll in to become a successful business owner, check them out below:
Stanford University. Palo Alto, CA.
University of California, Berkeley. Berkeley, CA.
Massachusetts Institute of Technology. Cambridge, MA.
University of California, Los Angeles. Los Angeles, CA.
University of Southern California
Harvard University
New York University
University of Michigan
Note: Is your tertiary institution known for grooming successful student entrepreneurs? Email us to include it – [email protected]
Who are some of the highly successful business owners who started their businesses while in college? Larry Page and Sergey Brin, founders of Google started their business while undertaking their Ph.D. program at Stanford University in 1996. In 2004, Mark Zuckerberg founded Facebook right in his dorm room at Harvard University.
In 2011, Evan Spiegel, Reggie Brown and Bobby Murphy, students at Stanford University started Snapchat while in college. WordPress which was started in 2003 by Matt Mullenweg and Mike Little at the University of Houston, USA has grown to become the most popular content management system, powering over 60% of all the blogs in the world.