Are you concerned about the risks associated with outsourcing?
Following the Great Recession, which pushed numerous nations to outsource teams to reduce costs and maintain company continuity, outsourcing and remote working became popular.
Even though outsourcing was first implemented as a business continuity solution, it is still in use today.
And now, as a result of the COVID epidemic, enterprises are forced to operate from remote locations, bringing outsourcing back into the spotlight.
However, are there any risks associated with outsourcing?
In this post, we'll discuss what outsourcing is and the top ten risks associated with entrusting your company's operations to third-party service providers. We'll also give you some pointers on how to deal with each risk.
What is Outsourcing?
A third-party service provider (foreign or local), an agency, or a consultant is hired to manage a component of your organisation that your in-house staff would typically handle. Services like social media management, healthcare, and software development are among the most often outsourced responsibilities. We've also seen e-commerce outsourcing used by top dropshipping companies.
However, the contracted service provider retains control of their staff and technology to offer services on-site or off-site.
Outsourcing software development allows you to assign and delegate portions or all of your software development activities to a remote or offshore team.
Outsourcing software development services may be highly advantageous to your company since it allows you to:
When it comes to software development, there are several distinct types of outsourcing development methods. They are as follows:
(a). Offshore Outsourcing Model
Offshore outsourcing is the process of moving your software development to a new nation or location to reap the benefits of cheaper labour costs while retaining professional knowledge.
Employing software development partners or third-party teams for software development needs is a strategic practice that firms use to decrease their expenses. Top companies are now outsourcing to remote dedicated development teams while strategically handling all the risks involved.
The following are some of the advantages of offshore outsourcing:
Labour prices are becoming more affordable.
Availability of highly qualified business professionals
Allows you to devote your time and energy to your essential company tasks.
(b). Nearshore Outsourcing Model
Nearshore outsourcing refers to the practice of outsourcing software development from a place that is close by or next to your current location. In addition to providing cultural proximity and an accessible site, it also gives the benefits of outsourcing. Businesses get into agreements with software development teams that are outsourced or with third-party software development partners.
The following are the advantages of nearshore outsourcing:
Geographical closeness is becoming more prevalent.
Labour costs are being reduced.
Increased availability of talent within your neighbouring culture.
ALSO READ:
(c). Hybrid Outsourcing Model
Hybrid outsourcing refers to the process of outsourcing software development that uses a combination of on-site and offshore developers. This outsourcing approach gives you the ability to be flexible while maintaining control over your organisation. A hybrid strategy is a highly optimised model that combines the advantages of many outsourcing models into a single package.
The following are the advantages of hybrid outsourcing:
Labour costs are low
Effectiveness will be improved
The capacity to scale up on-demand labour
How to Avoid the Most Dangerous Risks of Outsourcing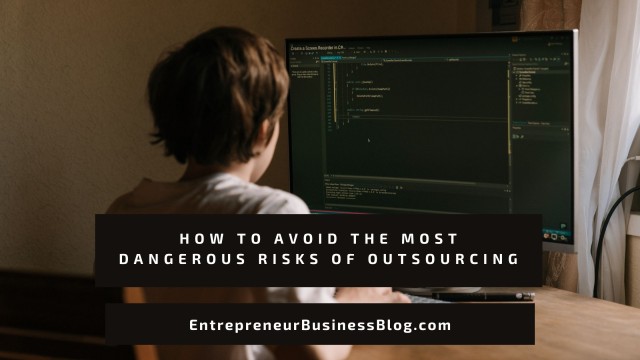 When it comes to outsourcing a whole software development function of your company to a third party, you should be aware of several significant risks involved with doing so. We want to help you navigate all the pitfalls when it comes to hiring a third party for your tasks. This list contains information on what you should be on the watch and how to prevent software outsourcing risks.
1. Reliability, Uncertainty And Trust
The majority of the organisations boast about their extensive experience and provide assurances regarding the quality of their project deliverables. Everyone does an excellent job with their pitch, but credibility is what you need.
Is it true that they are as competent at their jobs as they claim to be? Are they a responsible group of people to work with? The ability to build trust is quite crucial. Your entire business is dependent on it, and you cannot trust just anyone with such a critical job.
Listed below are some suggestions for overcoming this problem:
Outsourcing Company's Website
Find out about the outsourcing company's history.
Learn more about their products and services
Activity on Social Media Platforms
Keep an eye out for their social media presence.
Learn more about the image they have developed on various social media channels by speaking with them.
Projects and Case Studies
Take a look at some of the projects that the firm has completed.
Take a look at all of the client success stories and case studies that they have given.
Third Party Reviews
Investigate the company's presence on review sites such as Clutch, Goodfirms, Trustpilot, and so on.
Check out the organic reviews that have been written about the firm and its initiatives on various review platforms. You will need to learn how to spot organic and fake reviews.
Client Testimonials
Watch the client testimonial films or read the client testimonial materials the firm has given for your reference.
Consult with the many clients with whom they have worked and solicit their feedback directly from them.
2. Difficulty in Finding the Perfect Vendor
Choosing the most appropriate vendor or service provider might be difficult. They must possess the necessary knowledge, abilities, and skills for the position. However, you must also take into consideration several additional factors, such as:
Is the seller in possession of the most up-to-date technology?
Are they familiar with the process of resolving complicated problems?
Is the team enthusiastic about your project?
Is it possible that they are in a different time zone? Do you, on the other hand, have standard working hours?
A lengthy list of prerequisites — which can differ from organisation to organisation — can be found here.  Furthermore, your vendor should be able to respond quickly to any critical concerns that arise. Suppose your outsourcing partner is located in a different time zone than you. In that case, this becomes an even worse setback because you are losing money each second that your problems remain unaddressed.
ALSO READ:
What is the best way to manage this outsourcing risk?
You'll have to put forth some effort to do your due diligence. Check the background of your vendors to make sure they are legitimate.
You'll need to figure out what you're going to do:
How long the vendor has been in business and whose clientele they have dealt with are important considerations.
The average size of a project handled by a particular provider.
The ranking and reviews of the firm on various review systems.
Examining these considerations can assist you in making this outsourcing option.
3. Loss Of Control Over The Project
The loss of control over a software development project is one of the most significant concerns and risks associated with outsourcing. Creative control over your project is required, and your objectives must be met following your expectations using the tools and technology that your company prefers to utilise.
In addition, many outsourcing organisations offer to supply you with the most experienced and highly competent developers. Still, after the project is entrusted to them, they delegate the assignment to novice developers to complete the project. You are also not permitted to communicate with the creators in any capacity.
The loss of control over your project might hurt the quality and conclusion of your project. If the outsourcing business does not adequately manage the project on a budget, financial, time, and effort might result in losses.
Here's what you can do to help lessen the outsourcing risks created by the loss of control over your software development project:
Plan, strategise, then put your plan into action – Create a clear strategy for management, including roles and duties, as well as requirements. Provide an in-depth inventory of all of your needs, as well as the technologies, tools, languages, and frameworks that you like to work with.
Communication Channels – Ensure that you have a clear line of communication with the outsourcing business, through which you will be able to communicate with all of the developers working on your project. Determine the point of contact for the project and get frequent reports and updates on the project's progress.
Keep track of key performance indicators (KPIs) – Small goals and deadlines should be established throughout the project. Keep track of metrics and key performance indicators (KPIs) at the end of the project and at various intervals and stages during the project.
4. If At All Feasible, Avoid Fixed-price Contracts
Unquestionably, having a defined budget is appealing. Because your outsourcing provider assumes all financial risks, you have a greater sense of control and security, and you don't have to worry about overpaying. What you're saying is correct, with the exception that you'll have to be concerned about a variety of other factors, including quality.
First and foremost, your fixed-price initiatives always end up costing more. All project risks will be covered in your fixed quote since your vendor will look for solutions to mitigate the uncertainties that will inevitably arise throughout any construction project. Some companies will increase the price of high-risk projects by as much as 50%.
Second, modifications to the project's scope are unavoidable since it is nearly impossible to predict every single element of the project in advance of the start of work. Every adjustment to the area will be subject to time-consuming negotiations to determine whether or not the change will be included in the fixed price, which might take several months. If it isn't, you must go through the 'change request' method, which will result in another cost overrun for the project.
As a third consequence, you will find yourself sacrificing quality, innovation, and improvement since the value of the job becomes less significant than the price. The position rate may decrease as your vendor is forced to concentrate on meeting the agreed-upon price at all costs rather than putting forth the effort to improve it.
5. Geographical Location
Distance appears to be less of a concern as communication becomes more accessible as technology continues to advance. Nonetheless, if you reduce the scope, your outsourcing service's effectiveness depends on the sort of service you are utilising.
Consider that if you outsource IT services, you don't have to consider distance. Still, if you're purchasing an actual physical commodity, the service provider's location is essential to consider.
How? Transportation expenses increase as a result of distance travelled. The longer the distance between two points, the more significant the cost of transportation.
In addition, you'll have to drive a long distance for inspections, and it won't be possible to check in regularly at all. Furthermore, if you are unprepared for a quality or supply chain problem, it may take longer to resolve the issue.
What Should You Do to Manage the Outsourcing Risks?
To make the best vendor decision possible, ask them the following three questions:
What is the most efficient way of transportation?
Is it possible to have continual physical check-ins?
Will you have to deal with any additional supply chain issues?
You can then proceed to the onboard processing after the vendor's geolocation answers all of your queries to your satisfaction.
ALSO READ:
Conclusion
Outsourcing software development has many significant advantages and disadvantages. Where there is profit potential, there will always be risks. However, when contrasted against the risks associated with outsourcing, the benefits of outsourcing much outweigh the disadvantages.
Outsourcing software development is one of the most effective methods of lowering software development expenses while also gaining access to a large pool of competent professionals. By outsourcing your software development, you may expand your company's reach. When it comes to outsourcing software development, there are several strategies for reducing, navigating, and managing the risks associated with the process.
This article was written by Nishanth – A startup Specialist working at NeoITO