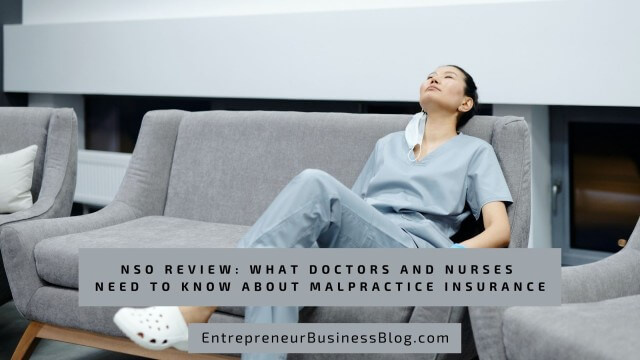 The very essence of malpractice insurance is to help cover healthcare professionals. In this article, you will learn about where to purchase this type of professional liability insurance and why you need it as a doctor or nurse.
Is NSO legit? What is the Nurses Service Organization (NSO)? Since 1976, the Nurses Service Organization (NSO) has been in operation. In the United States, it is one of the main suppliers of malpractice insurance and professional liability coverage for nurses.
NSO has an advisory council that assists in the development of new services and insurance plans for nurses around the country.
They specialize in providing liability insurance to nurses, but they also provide other types of insurance, such as:
CNA Financial Corporation, which includes the Continental Casualty Company, an insurance provider that has been in business since 1897, underwrites NSO products. CNA has an A rating from A.M. Best, an A2 rating from Moody's, and an A+ rating from Standard & Poor's when it comes to financial strength.
More than 500,000 nurses in the United States, including student nurses, registered nurses (RNs) and nurse practitioners, are covered by NSO's nursing malpractice insurance as of 2021.
ALSO READ:
Malpractice Insurance for Nurses: Why Do Nurses Need It?
Nurses are an important part of any healthcare team. They give critical care to patients in the same way as physicians do. They also provide emotional support to patients who are dealing with an illness, preparing for medical treatment, or recovering from one.
Nurses are human, just like everyone else in a medical team, which means they can make mistakes. A malpractice claim can arise from an accidental error in something as simple as providing medication.
Malpractice Insurance Helps to Pay for Damages
In some situations, a court will award monetary damages to a patient who has filed a malpractice suit. These damages must be paid to the patient, and they could come from the hospital, a certain physician, or a specific nurse.
If you don't have malpractice insurance, you'll have to pay the damages out of pocket if you're determined to be at fault.
To Pay for the Trial Defense Attorney's Fees
If you've ever been sued or had to defend yourself in court, you know that attorney fees are costly and can rapidly pile up. This can help to reduce the impact of the legal action that might be taken against you.
If you're named as a defendant in a malpractice complaint, you'll need a lawyer to prepare your case before trial and represent you in court. Legal defense expenditures are covered by malpractice insurance, so you don't have to go broke attempting to prove your innocence in the face of a patient lawsuit.
To Safeguard Personal Assets
Every sort of insurance coverage has one thing in common: they're all designed to safeguard your finances and help you keep more money in your pocket over time. It's the same with malpractice insurance.
Nurses who work for hospitals or large medical groups are frequently covered by their employers' medical malpractice insurance policies. However, in some cases, employer-provided coverage is insufficient. Individual liability insurance will give you more benefits.
Why?
If you are found guilty as a result of your employer's negligence, they may sue you to recover the costs of your defense.
ALSO READ:
To Protect Your Nursing License
When you're sued for malpractice, you'll have to defend yourself against more than just the patient. You may also be the subject of a nursing board inquiry in your state. Your license could be revoked if your nursing board deems you guilty of negligence. Malpractice insurance will also cover the cost of your legal defense in the event that your licensing board takes action against you.
You'll have to defend yourself whether or not you're guilty of any allegations. Malpractice insurance allows you to protect your license without having to pay thousands of dollars out of cash. It gives you a sort of guarantee that your career business is legal.