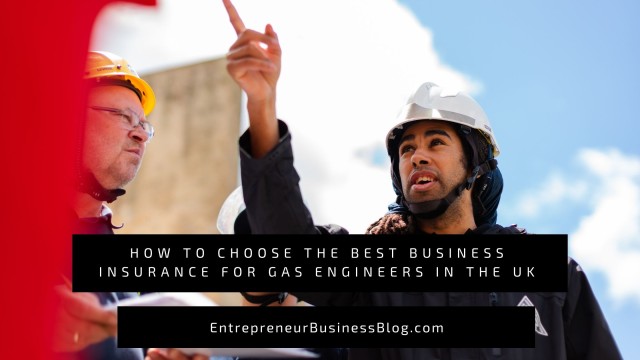 Gas and heating engineers in the UK need adequate business insurance to protect them in trying moments.
Inasmuch as you try to build great business reputation and relationships with your clients, challenges can occur. These challenges can expose both you and your client to all degrees of risks.
The level of business risk you will face as a small business owner is not the same that a gas or heating engineer will encounter. This has nothing to do with how much experience you have below your belt. Just like it is in the plumbing business, the industry has some risk factors.
If important tools are missing or there's damage to one of your client's properties, out-of-pocket expenses and legal claims can be very disturbing.
The way out in the event of public liability claim is to get a comprehensive business insurance policy as a gas or heating engineer. That way, your business will continue its operation when things don't go as planned.
ALSO READ:
Why Do Gas Engineers Charge So High?
It's simply because they can work even during unsociable hours. In the event that there's an emergency, the services of a gas engineer will be required and he has to show up or else, something will go wrong.
In the same manner, the hourly rate of a gas engineer is high, and so also it is their insurance cost. What are the coverage limits of gas fitters insurance? You can get up to £1 million, £2 million and £5 million covered against liability claims in the UK for your tailored gas filter insurance.
Why Do Heating Engineers Need Insurance?
Gas and heating engineers need public liability insurance coverage to help protect them from liability claims. When there's an accident or fire outbreak caused by your professional negligence, this can lead to business interruption and some out-of-pocket expenses.
Public liability cover will help you pay for any of the resulting expenses. Financial loss, legal expenses and more will be taken care of by your insurer within your coverage limit. The impact of these claims will be taken off your shoulders with the appropriate insurance package.
One gas insurance can cover you for the following trades: plumbing, (see plumbers insurance for homeowners) electricians, kitchen filters, gas filters and heating engineers.
The importance of business insurance in the United Kingdom can't be overemphasized if your goal is to grow a successful business.
ALSO READ:
How Do You Select a Company for Your Gas and Heating Engineer Insurance Policy in the UK?
1. Get your heating engineer insurance quotes and documents online
If you reach out to a reliable insurer in the UK, you can get the best business insurance quote for your gas company online in about five minutes. Your gas and heating engineering business will receive the policy documents through email.
2. Only subscribe to the policy your business needs
When choosing an insurance company to purchase your business insurance as a gas engineer, look out for companies that can allow you to pay for what you need. You can also tailor a gas engineer insurance policy to your specific business requirements.
3. Affordable gas filters insurance quotes
Some of the best companies offering small business insurance quotes in the UK start from £10 per month. Ask friends for recommendations, check organic online review websites and compare insurance quotes before making your decision.
What Does Heating Engineer Insurance Cover?
The primary role of heating engineer public liability insurance policies is to cover your legal liability in the event of you accidentally injuring a member of the public or causing damage to their property in the process of carrying out your work.
Beyond covering your legal liability, heating engineer insurance policy can also help you cover the tools and all valuable equipment.