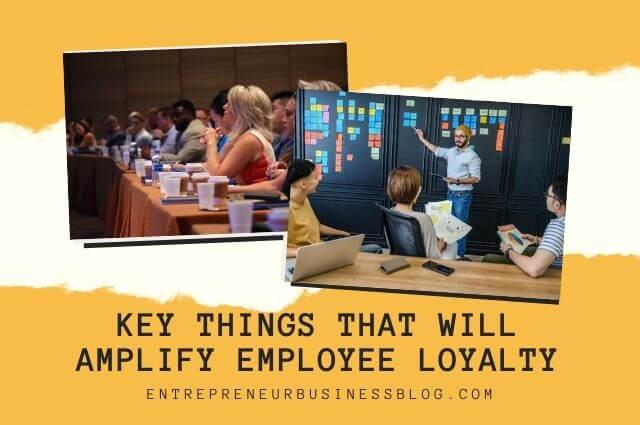 A super-easy way to grow your business is to first and foremost amplify employee loyalty in 2022.
When employees are happy with how their employers treat them, they deliver their best result and go the extra mile to ensure that the company meets and surpasses its monthly target.
It was billionaire Richard Branson, founder of Virgin Group that controls over 400 companies, who said that how you treat your employees will determine how they will treat your best customers.
What does that tell you?
You have a key role to play when it comes to boosting the loyalty of your employee.
According to employee engagement and loyalty statistics, highly engaged teams show 21% greater profitability because they show up every day with passion, purpose, presence, and energy.
That said, let's look at the definition of employee loyalty.
What is Employee Loyalty?
Employee loyalty is a set of emotional attachments that employees have for their current employer that makes them unwilling to jump ship and move to a competing brand even when they stand a chance of earning a higher salary.
Employers who understand that their employees are their most valuable assets don't think twice about doing anything it will take to amplify employee loyalty.
Why is increasing employee loyalty and engagement very important? Fostering employee loyalty is necessary for the long-term success of any company. Beyond decreasing the turnover costs, it can also boost your business productivity, increase efficiency, and provide a much more stable work environment for everyone.
ALSO READ:
To help your business stand out in this post-pandemic era, here are five things you can do to increase employee loyalty.
1. Increase in Employee Engagement Can Amplify Loyalty
Almost 70% of all employees in the United States feel disengaged according to a poll conducted by Gallup. That goes to show that the more team members connect with one another, especially with the management board, the higher their chances of staying longer with the organization.
A report by Addison Group further proved how important boosting employee engagement can help to foster loyalty when 39% of employees are of the opinion that one of the reasons why they value their work and are loyal to their employer is because of their immediate supervisor
2. Create an Employee Recognition Program
When you recognize and reward a job well done by a staff member, it triggers a healthy competition amongst your employees to perform at their best in a way that leads to the growth of the business.
By creating an employee recognition program, you have proven to your team that you value their presence, commitment and their attitude shown towards the expansion of the organization.
What does an active employee recognition program address? It rewards employees for achievement, new behaviors, anniversaries and milestones. Though pathetic to say, according to the Gallup Poll, 68% of employees haven't received any form of recognition for good work in the last year.
To help you gain an insight as to how to craft the best employee recognition program that can boost your business growth, let's look at some brilliant employee recognition program types and ideas.
A good staff recognition program can be either monetary or non-monetary, verbal or written. But what matters most is that the team should feel rewarded for a job well done if the goal is to amplify employee loyalty.
ALSO READ:
Some of the most common examples of monetary employee recognitions and rewards include:
Some of the most common non-monetary employee recognition programs include:
3. Invest in Leadership and Personal Development Training of Your Employees
A certain percentage of your company's profit must be set aside for the leadership and personal development of your staff.
Beyond the fact that you are making your employees more refined, talented and equipped than they were before they came into your organization, you will also reap from their superior thoughts, expertise and experience gathered through the training.
When you train and equip your team with modern skills, you create a happy workforce, amplify employee loyalty and the retention rate will radically increase.
Since 33% of Americans say employer-provided training doesn't meet their expectations, according to Docebo, you can request that they submit a proposal of an industry-related training they would like to attend and fund it if the outcome is most likely going to meet your organizational goals.
ALSO READ:
4. Encourage Transparency and Gender Equality in the Workplace, and Avoid Office Politics
Although office politics might look harmless at the surface level, when allowed to become a norm, it can ruin a business empire entirely and destroy every effort you can ever make to amplify employee loyalty.
What is office politics? Office politics is the use of power and social networking within a workplace to achieve changes that benefit an individual or a group within the company.
Many people have asked, is office politics good or bad? In our opinion, something that can shift the employees' attention from their job performance and make managers waste precious time trying to manage an erupted office politics isn't a good one at all – it is bad and must not be encouraged at all.
If employers are transparent in their dealings with members of the staff, everybody will get equal treatment, both men and women, no matter their skin color. Knowing that your company is fair in all its decisions can amplify employee loyalty.
Discourage every form of gender or age discrimination in the workplace if you want everyone to give their best to the growth of your company.
Managers and supervisors should take it easy on the people they are leading.
It was Brigette Tasha Hyacinth, The Future of Leadership: Rise of Automation, Robotics and Artificial Intelligence who said, "A bad manager can take a good staff and destroy it, causing the best employees to flee and the remainder to lose all motivation."
According to the Gallup Poll, out of the over one million U.S. workers who responded to the survey, 75% of them said they left their job because of a bad boss.
5. Amplify Employee Loyalty Through Constructive Criticism
While giving feedback is a smart way to help your team members grow, how you say it is as important as what you are saying. This is where constructive criticism or feedback comes into play.
What is constructive criticism and how can you create one? Constructive criticism is a form of supportive feedback given to an individual to help find solutions to their area of weakness. Instead of attacking the employee, the manager helps them find a solution to their problem.
You can improve employee morale, boost their confidence and increase their sales performance through constructive feedback.
Instead of telling that underperforming employee that he is the worst recruiting mistake the company ever made, why not appreciate them for the areas he's good at, then ask if there's any way you can help him improve his performance in the areas he's lagging behind.
ALSO READ:
Now You Can Amplify Employee Loyalty
Highly skilled U.S. workers are in great demand across the globe, especially in this post-pandemic era. Employers who failed to create a favorable work-life balance for the employees are constantly losing money in hiring and training new staff. Some American companies have resorted to hiring temp employees to save costs from the Philippines and Eastern Europe.
You don't have to wait until you have lost all the great values your company labored to build before you can start doing all that's required of you to increase employee loyalty.