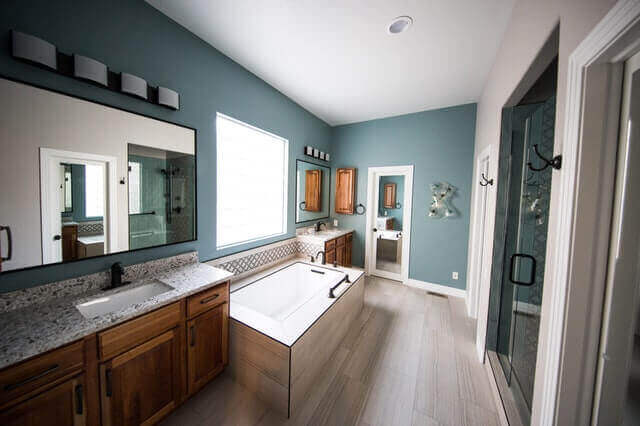 Whether you're making small repairs to your home, going for a full renovation project, a bathroom renovation is a great way to change the feel of your home.
The key areas of the house that most homeowners would like to improve are the bathrooms and kitchens.
Both projects have an inclination for being costly. It is not essential to spend a lot of money to give your bathroom a sense of luxury, glamour or space, particularly if you are willing to do some DIY.
Take a look at our 5 ideas to learn how to save money on the next bathroom remodel.
1. Hire the Right Tradies for Your Bathroom Renovation
It's important that you hire the right people for the job. A complete bathroom redesign is not a DIY project because you risk destroying the space. It's critical to pick the best tradie for the role, depending on the task at hand.
If you want to add a bath to your kitchen, you'll need to hire both a plumber and a bathroom builder. Regardless of how big or small the job is, you can still hire an expert. It's also a good idea to double-check if they're licensed and insured in case something goes wrong. 
A reputable tradie will always provide you with a detailed bathroom renovation quote. Keep in mind to ask them to include all the bathroom renovation costs according to your plan and when you hire them to do the work, will provide you with a written contract. 
General liability insurance can help to secure and protect your business when something goes wrong.
A handshake agreement isn't sufficient. You have less/no protection if a conflict occurs without a signed contract.
ALSO READ:
2. Keep the Original Structure When Doing Your Bathroom Renovation
Upsizing or modifying a bathroom often involves the installation of plumbing pipes, which can be expensive. It is especially costly to move toilets and drainage pipes.
Just resize or change the bathroom if it is certainly necessary to fulfill your needs. Moving things that aren't easily movable is the most expensive aspect of a bathroom remodel. You may adjust the size or style of your bathroom during a remodel. You must, however, weigh the benefits of the transfer against the financial implications.
Painting a wall or adjusting a few light fixtures do not require the assistance of a professional. You will save some money by doing it yourself.
Choose the paint colours wisely rather than using costly supplies to give your bathroom a designer look. The right colour will make a huge statement even in a small bathroom.
To brighten up the space, hang a stylish mirror. Consider looking for a lovely old chest of drawers to spruce up and reuse in place of your rusty bathroom vanity at antique shops, thrift shops, and retailers.
There are plenty of DIY things you can do such as replacing some basic fixtures such as towel holders, adding different colour light bulbs, etc.
3. Refinish Instead of Replacing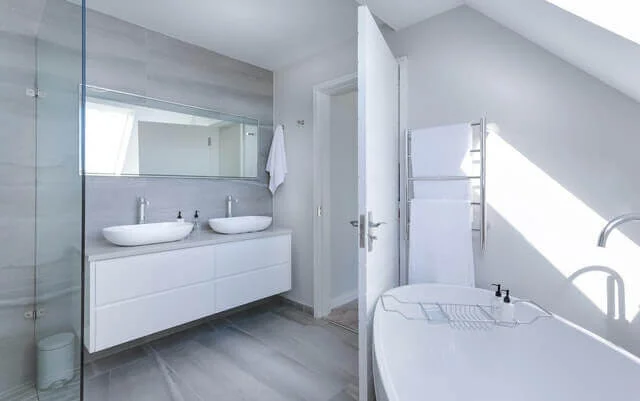 Removing and repairing old fixtures raises the expense of installing plumbing fixtures, tubs, shower frames, and surrounds. Demolition and renovation modifications, as well as a new installation, can be included.
You may be able to dress them up or renew them rather than replacing them if they're unappealing but still working. Instead of replacing your bathtub, refinish it with a nice, water-resistant finish.
You should paint your bathroom cabinet instead of tossing it out and buying a new one. It is not only cost-effective but also environmentally safe to refinish bathroom materials.
ALSO READ:
4. Functionality Over Fancy
You may have some fancy ideas on how the bathroom might look, but make sure they are practical. When planning a bathroom, think about who will use it and how they will use it, the bathroom's value in relation to the rest of the home, and how it will affect resale value. Not all can afford to use high-end fixtures and appliances.
Too many plans will take from space's functionality. As a result, before deciding on a collection of fixtures and tapware, shop around to get a sense of the look as well as the best price. When visiting showrooms, don't be afraid to gather your fixtures and finishes and see if they appear in real life in your bathroom.
Although renovating an entire bathroom is neither a simple nor affordable task, there are a few other options for making your bathroom look modern without tearing it apart. Plumbing, tiling, frameless shower doors, sinks, toilets, vanities, seating, and waterproofing are all big expenses of a bathroom renovation.
However, unless you are a trained professional, you should not attempt to complete challenging jobs on your own. Of course, it won't be a bad business decision to carry out a pre-listing home inspection if you are considering selling the property entirely.