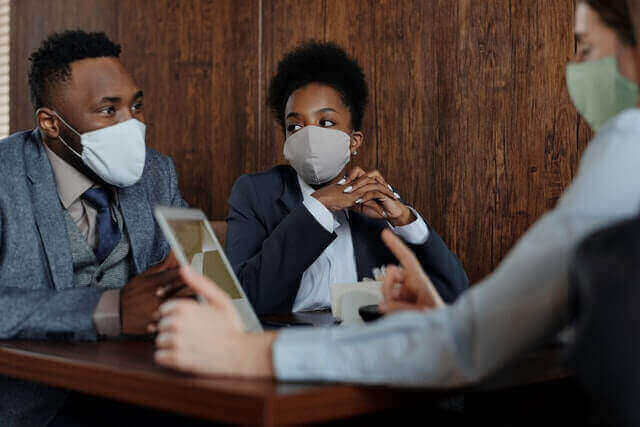 By now, we have all adapted to a world with COVID-19 where companies can operate their daily activities with every team member working indoors, and face coverings in public places have become a common sight around the world. Research from the US, the UK, and Germany have suggested that face coverings are a simple yet highly effective solution for preventing the spread of COVID-19 between individuals. By the end of April last year, Germany had made the wearing of face coverings mandatory in public areas, and the USA and UK were quick to follow.
How Do Face Coverings Work?
In many US states, it is now mandatory to wear face-covering in public areas such as stores, public transport, and some workplaces. But, how do they protect you and others from the coronavirus while the COVID-19 vaccine is safely developed? Face coverings work by blocking respiratory droplets that come from your mouth, throat and nose when you are speaking, laughing, coughing or sneezing. Because of this, they offer more protection to the people around the wearer rather than the wearer themselves, which is why they are at their most effective when everybody wears one.
What is the Best Type of Face Covering?
You do not need to get a medical-grade face-covering in order for it to be effective in protecting others around you from COVID-19. In fact, many countries have discouraged the use of these masks by the general public and have asked non-healthcare workers to wear regular disposable face masks or cloth face coverings instead. Any face covering that fits snugly over your mouth and nose will be appropriate and effective. Disposable face masks should be thrown away after each use and cloth face masks should be washed thoroughly after every use. Masks should never be shared with anyone else.
Are There Any Face Covering Alternatives?
Face coverings are mandatory for all those who are able to wear them, with the exemption of people who cannot wear a mask for medical reasons and very young children. If you cannot wear a mask for medical reasons, there are some alternatives that you may want to consider. Although these alternatives are not as effective as masks, they are more effective compared to not using any kind of PPE. Plexiglass face guards are a popular option. They are normally worn over the top of your face with a mask underneath but can be worn in place of a mask. If you work in a customer-facing environment such as a checkout point, plexiglass sneeze guards are PPE equipment that provides a protective barrier between yourself and the customers and may eliminate the need for you to wear a mask.
Where Must I Wear a Mask?
Face covering rules will vary from state to state, so it's important to check with your local governing body if you are not sure where you will need to wear one. In most states where face coverings are mandatory in public places, this includes anywhere that people gather indoors such as stores, banks, public transport, restaurants and cafes, and some workplaces. Remember that social distancing by staying six feet apart from others is just as important when you are wearing a mask.
Looking at the impact of the coronavirus pandemic that has led to the crippling of most country's economy and the shutdown of over 400,000 small businesses in the United States alone, it is important that you know why you should wear a mask when you are in the public. Face coverings have become a common sight over the past few months, with research showing that they provide an effective barrier against the spread of COVID-19 in public.
ALSO READ: