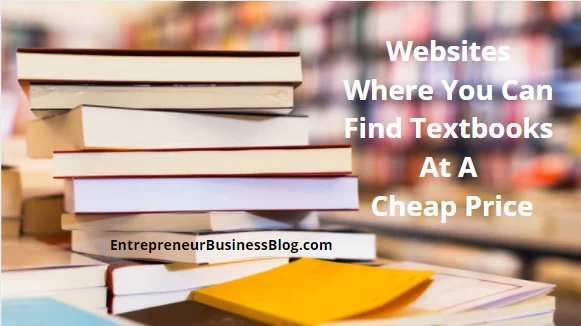 Looking for the textbooks that you didn't think you'd ever need? Textbook shopping is here again and yes we know that it's not usually cheap. Also, while shopping everyone wants to purchase all things in one place. Hence, we have curated a list of budget-friendly sites where you can purchase or rent textbooks. 
Top 6 Websites to Find Textbooks at a Cheap Price 
Hop on to the great opportunities to save massive on your textbook shopping bill. Here is the list of websites that are best known for buying, selling, and renting textbooks for students.
1. Chegg 
If you are looking for a place from where you can rent textbooks then checkout at Chegg. It is considered as a professed hub of textbooks and student resources. Chegg provides both textbooks for purchase and textbooks for rent and that too with a satisfaction guarantee of 21 days. So if you are not happy with the textbook or you decide to change your stream or drop the class then you can conveniently ship it back. Furthermore, you will get a full refund deducting the shipping amount. Also, if you want to purchase textbooks, you can use our exclusive Chegg coupons that will cost you even less. Other than this, you have the option to sell your old textbooks on Chegg and make some extra penny out of it. Now get your books instantly!
ALSO READ:
2. Amazon Books 
Amazon is one of the most trusted online stores to shop from. Hence, it is an amazing place to buy, sell, or rent both new and old textbooks. Search for your books with their title name or author's name and place your order. Other than physical books, some books are also available in electronic format and called e-books or kindle or audiobooks. Amazon kindles are highly in demand among students. Also, if you are an Amazon Prime member then you can save money on the shipping and get your book earlier than usual shoppers. 
3. Book Finder 
As the name suggests, you can find an amazing collection of textbooks here. Here you can search for those helpful websites that search for other budget-friendly sites that provide textbooks. Just enter the book's title or its author's name. Sort the books from the list of online stores such as Amazon, eBay, Chegg, etc. According to the selling site, you can purchase both used or new textbooks from here. Hence, all you have to do is just click on the price for the online store and you will automatically be taken to the place where you can purchase the textbooks. Consequently, all of these features make BookFinder an amazing online place to find affordable textbooks.
ALSO READ:
4. AllBooksStore
Is it difficult to decide where to purchase or rent textbooks? Then AllBooksStore might be the best bet to start from. It is a giant hub of textbooks where you can find dozens of the same and that too from various online bookstores such as Amazon, Chegg, Barnes & Noble, eBay, and many more. Also, it has an option where you can compare prices between two or more websites. Just click to find all the price options for a particular textbook. Hence, this feature makes it an extra special online store to shop from. Wave a magic wand of AllBooksStore over your wallet and get your books instantly.
5. Alibris 
Isn't it amazing to buy some regular books along with the textbooks? If yes then Alibris is the one-stop-shop where you can buy textbooks, regular books, movies, and music. So if you are looking for something more than just a school textbook then definitely go for Alibris. Find a huge variety of textbooks both new and used and that too from numerous sources. All you have to do is search for the book you want and in the search results, Alibris will provide you with the accurate details of the book. Browse through the website and know the shipping options and prices as well. Once you finalize what textbook you want and from which site then just add it to the cart. However, the textbook will be delivered to you from the website you've selected. Instead of landing at the other site you can make purchases on Alibris only.
ALSO READ:
6. Ecampus 
The best place to order your semester textbooks from. They provide you with discount facilities on textbook rentals, used or new textbooks, or eTextbooks. You can also enjoy the benefits of free shipping from this site. If you place your order above $35 then you wouldn't have to pay the shipping amount. Along with buying textbooks and renting them, you will also get an opportunity to sell your old textbooks as well. Consequently, by doing this, you can surely make some extra cash.
Conclusion
Why not save time and money when you conveniently can? So forget hopping from one bookstore to another. Just stay at your home and order textbooks online. Each site mentioned-above can help you with buying and renting textbooks. No matter where you choose to buy your textbooks just don't be afraid to mix and match when it comes to buying and renting.