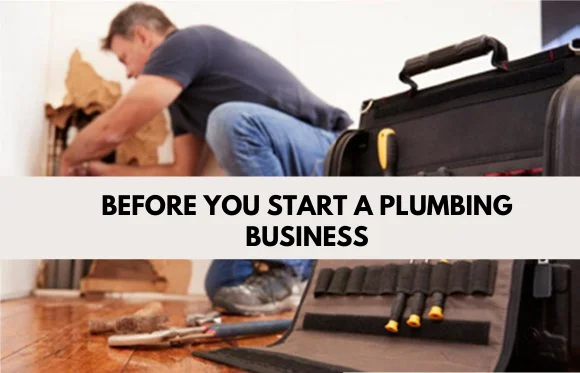 What are the top things you need to know and do before starting your plumbing business? Why is getting an education about plumbing as an apprentice necessary in running a highly successful plumbing business?
Plumbing service is an integral part of any community. You need things to work, including your sink, bathroom, faucets, etc. However, starting a plumbing business is not easy. You need to get it right and ensure you complete the essential things. Here are the most important things to consider when starting a plumbing business.
1. Getting an Education
Before you start a plumbing business, it will make a lot of sense if you got an education. With your education, you'll know everything you need to know about the kind of plumbing service you should be providing.
There are several ways to learn how to run a plumbing business. Even if you're an expert plumber with years of experience in the field, you still need to learn the trade part of it. So, go online and educate yourself or attach yourself as an apprentice to an expert in the field of running a plumbing business before you start.
How much money do I need to start a plumbing business? This is one question you must not fail to ask the person training you on the trade part of the profession.
Assuming you have a vehicle for transporting your equipment and your plumbing license already, you should have access to at least $10,000 in capital to start your plumbing business. It's possible to start your plumbing business for less money
ALSO READ:
2. Choose a Plumbing Niche
Another important thing you will need to consider is selecting the right plumbing niche. You have to pick a niche to help you focus and make it easier for you to service clients with good quality and professionalism. You can choose to serve only commercial buildings or residential apartments. Some plumbers focus on specialty jobs, while others are more interested in contracts.
The most important thing is to check your location first before deciding to consider a plumbing niche. People living around your business area can to a large extent determine the niche you will serve. So, ensure that you get the job right.
3. Licensing and Insurance
Getting licensing and insurance for your business is essential even though it might not be straightforward to achieve. Having a license shows that you're certified and severe about the business you're doing. When people know you're licensed, they have confidence in you since they understand that the licensing bodies don't issue it just for anybody.
You also need to insure your plumbing business; without insurance, no one will take you seriously. Prospective clients will need to verify your insurance before hiring you.
The best insurance for plumbers is the one that will be able to cover both their business profession, business premises and clients. Most plumbing business insurance quotes can be gotten online.
ALSO READ:
4. Start Branding Your Plumbing Business
Once you're licensed, certified, and insured to operate a plumbing business, then you'll need to come up with your branding. You need to design a logo, build a website, and get flyers. All of your branding items have to be consistent and reflect the kind of business you do. A perfect example is bollanoplumbers.co.uk.
Start Advertising Your Plumbing Business
After concluding your branding, the next thing is to start advertising your business. One of the best ways to do this is by printing and sharing fliers in the vicinity of where your business is located. Fliers must be well-designed with the relevant information, including the kind of plumbing business you offer, what makes you unique, and contact information.
ALSO READ:
You also need to design a website for people to reach you online. Your website must be easy to navigate, must load fast, and must offer answers to questions about professional plumbing. You may need to hire a digital marketing expert to help you get the entire foundation of the online presence of your plumbing business set.
Social media advertising is also significant in ensuring that your business comes at the top. Run social media ads with videos and images to convey your message to the world loud and clear. Target businesses and individuals that might need the services of a plumber near you. Be committed to letting as many people as possible know that you just launched a customer-centric plumbing business in their neighbourhood.
How Much Can You Make Owning a Plumbing Business
It's already an established fact that running a plumbing company of your own is a profitable business. But the question most new plumbers desiring to venture into the business is, how much money can they make running their own plumbing company?
To help you answer the question of how much a plumber can make in the United States or the UK, let's assume he's a one-man business that earns $50 per hour and works 8 hours a day. That is almost $150,000 in a year. Let's assume the cost of running the plumbing business took $50,000, he will still be left with $100,000 in pure profit.
What Are the Best Paying States for Plumbers in the United States?
The states and districts that reward Plumbers handsomely with the highest salary for the dirty services are Illinois ($86,120), Alaska ($79,610), Minnesota ($74,700), New Jersey ($74,360), and Massachusetts ($73,970).
The essence of knowing a plumber's salary in the United States is to help you find the best city or state to locate your plumbing business.
What Are the Basic Plumbing Tools You Need to Start Your Plumbing Company?
You will need the following sets of plumbing tools in no particular order to successfully manage a plumbing business: copper tube cutter, water pump pliers, air testing U gauge kit, solder capillary lead-free wire, solder capillary lead wire, PVC pipe cement, PTFE tape, pipe sealing cord, super fire 2 torch, plastic pipe cutter, flux brush, silicone lubricant grease, drain test plug, LS-X leak sealer, drill snake, drain rod tools, plumber's mait, high-pressure propane regulator, etc.