One common dilemma that most Finance aspirants face is which course to pursue after Bachelors. The field of Finance offers a plethora of opportunities, hence the confusion. MBA Finance and CFA are two very popular courses. We will share a comparative study of both these courses and leave it up to you to choose between them. MBA Finance is a 2 years course which aims to study the various aspects of Finance and their applications in a business setting. Aspirants wanting to pursue this course must take entrance exams like CAT, MAT, XAT, NMAT, and others. To pursue Executive MBA only, the experience is required otherwise, freshers can study MBA.
Related: The Most Perfect College Essay About Starting a Business
Chartered Financial Analyst or CFA is a globally recognized certification in the field of Financial and Investment Management. This course spans over 1.5 – 4 years, and one must have a Bachelor's degree and 4 years of experience to be eligible.  
Financial Analyst, Finance Manager, Accounts Manager are some of the common job roles after MBA Finance. 

On the other hand, after

Chartered Financial Analyst

, aspirants can pursue jobs as Investment Manager, Chartered Financial Analyst, and etc. 
Scrolling down, you will find further details about these 2 courses.
MBA in Finance vs CFA: A Comparative Study
Here is the basic information about MBA Finance and CFA represented as a comparative analysis below:
| | | |
| --- | --- | --- |
| Categories | MBA in Finance | CFA |
| Full-Form | Master of Business Administration in Finance | Chartered Financial Analyst |
| Years required for completion | 2 years | 1.5 – 4 years |
| Focus | The MBA Finance aims to study the financial aspects and their applications in Business Organizations | This course aims to train aspirants on Financial and Investment Management skills. |
| Colleges | All MBA Colleges in India | CFA Institute, the USA |
| Exam Discipline | 4 Semester Exams | 3 Exams: CFA Level I, II and II |
| Eligibility | 50 – 60 % in Graduation, Experience is mandatory for Executive MBA | Graduation and 4 years of work experience in the Finance domain must |
| Average Total Course Fee | Rs. 1 – 10 lakhs | Rs. 2 – 2.2 lakhs |
| Average Starting Salary | Rs. 3 – 12 LPA | Rs. 5 – 12 LPA |
What is MBA Finance and Chartered Financial Analyst?
MBA Finance is a 2-year postgraduate programme in the field of management. The course focuses on the in-depth study of Financial aspects in a Business environment and makes students aware of various Finance and Accounting terms and terminologies. The subjects that are taught are Financial Accounting, Economic Environment of Business, Managerial Economics, Financial Reporting, Financial Markets, etc. 
Related: 5 Reasons Why You Should Invest in ELSS Mutual Funds
Chartered Financial Analyst is an internationally-recognized postgraduate certification focussing on Financial and Investment Management. The duration of this course is between 1.5 to 4 years. The important subjects of the program are – Quantitative Analysis, Analyse Financial Reporting, Financial Ethics, Investment of Equity, and others.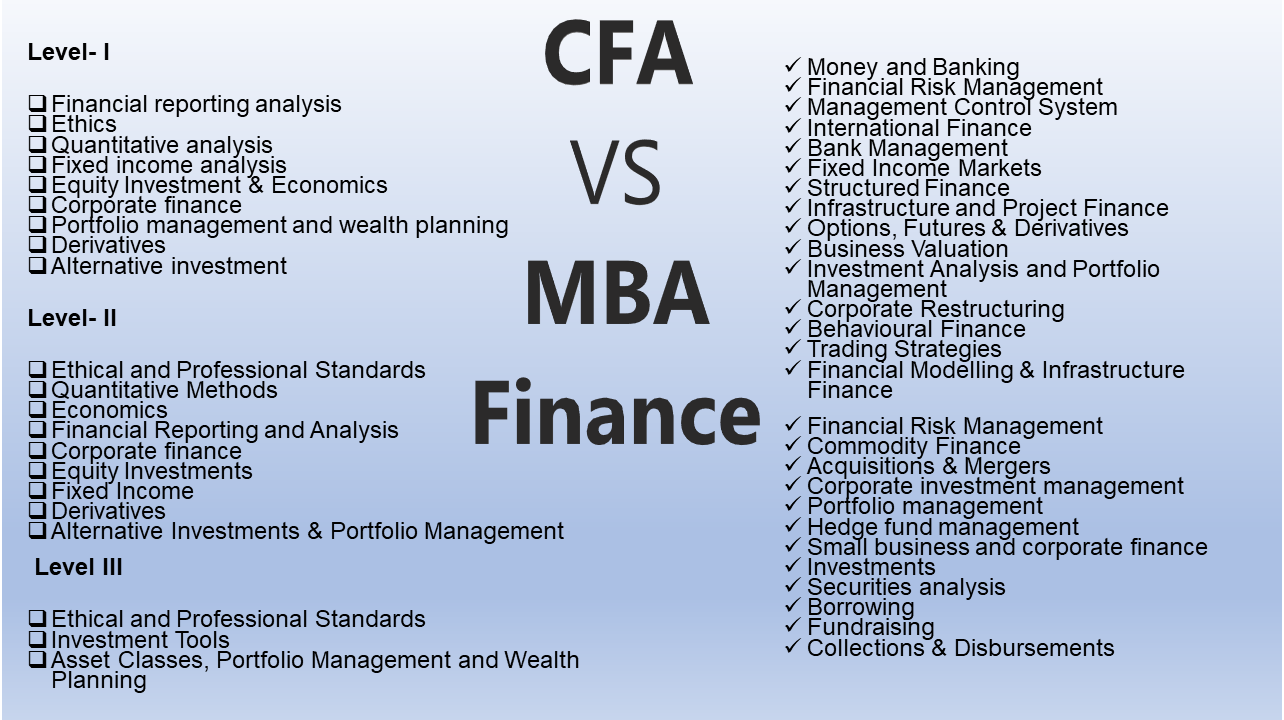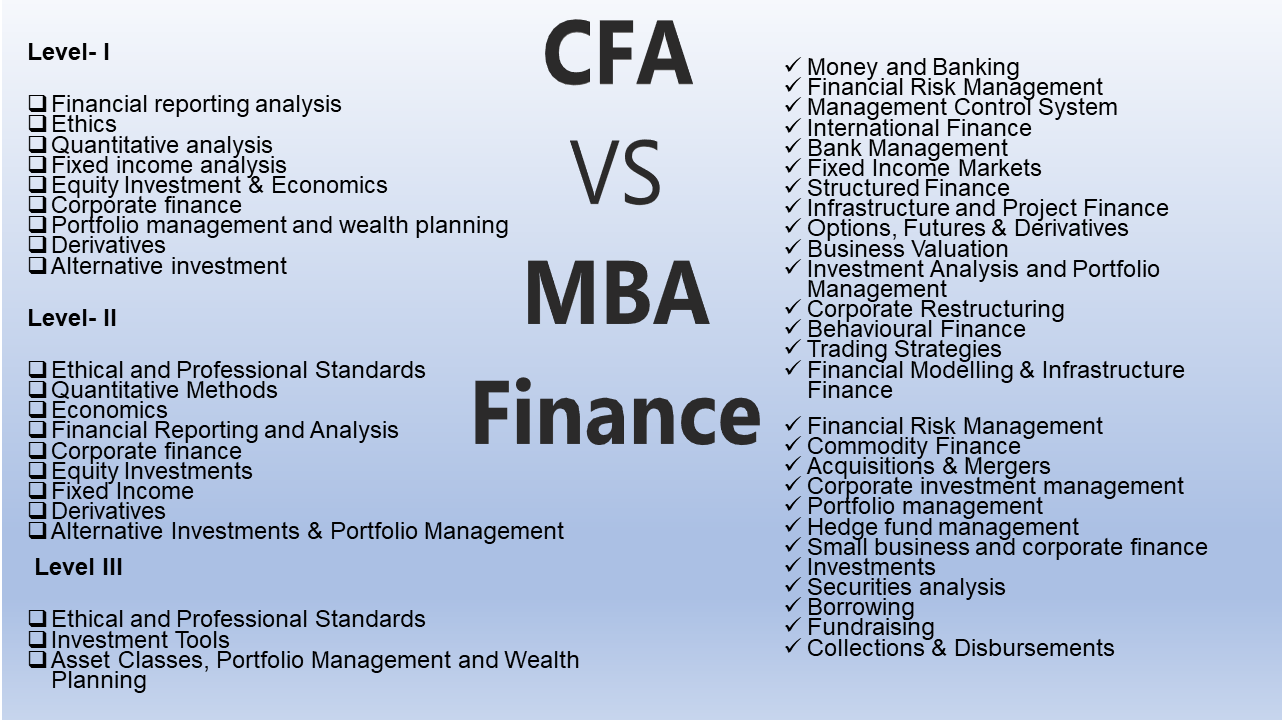 MBA Finance vs CFA: Level of Difficulty
Both MBA Finance and CFA offer challenges for students in some way or the other. The exams that are required to gain admission to top colleges are, in fact, quite tough. CAT, XAT, IIFT are some of the toughest national level MBA entrance exams in India. One can take direct admission to MBA Finance without taking any test, but the career outcomes after passing may not be great. So, it is advisable to take admission through some entrance tests. 
After successfully cracking them, the gruelling 2 years management course in Finance possesses various challenges for the students. MBA Finance includes various important and tough subjects in which students must gain control to learn and score well. How much the students were able to learn, the Financial Terms and theories will reflect in their placements and professional lives. 
Related: What Are the Factors that Affect Personal Loan EMI and the Best Practices?
While CFA, on the other hand, is the certification that includes 3 Levels. And after qualifying all the levels, aspirants will receive the certification. But it is not a cakewalk either. Each Level offers different challenges for students. It is one of the most difficult postgraduate courses in the field of Finance. Here is the passing rate of the exam in 2019-
The passing rate of

Level I is

41%.

The passing rate of

Level II is

42%

The passing rate of

Level III is

56%
These figures show the difficulty level of CFA exams. The overall completion rate of the program is around 13%. Hence, it takes time to complete the course as well. Often it takes beyond 2 years to complete all the 3 Levels of exam and get certified.
MBA in Finance vs Chartered Financial Analyst: Scope with Respect to Investment
The course fee of an MBA Finance degree depends upon the college. The course fee is quite low in government colleges, but it can be up to Rs. 20 lakhs in private colleges. Students who are interested in an MBA in Finance can go ahead with such high investment because it can be compensated by good ROI ( Return of Investment).
Related: How SL Account Management Helps Post-Secondary Graduates
The average course fee of a CFA degree is around Rs. 2 to 2.2 lakhs. It is much cheaper than an MBA in Finance degree. The infrastructure of the course is based on self-study so the candidate doesn't need any particular college. Because of the difficulty level of the exam, many candidates join coaching institutes which consume extra costs. Some common Job Roles and salaries offered after MBA Finance and Chartered Financial Analyst are: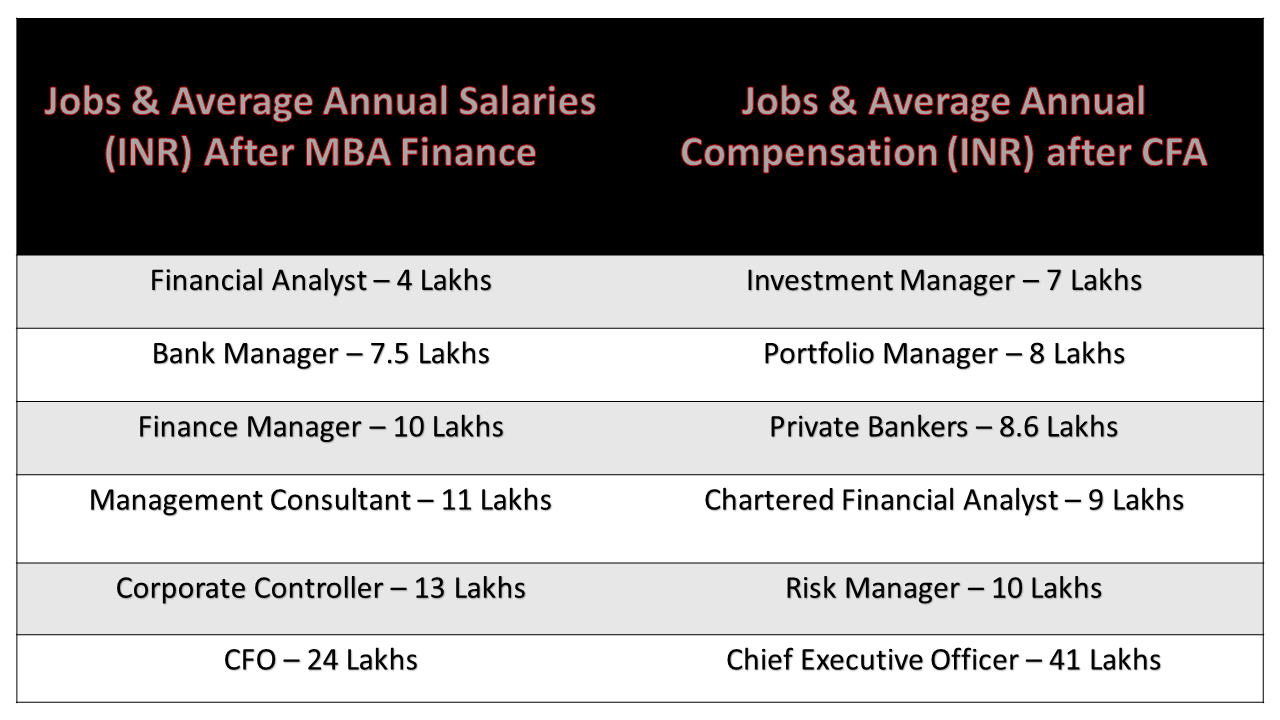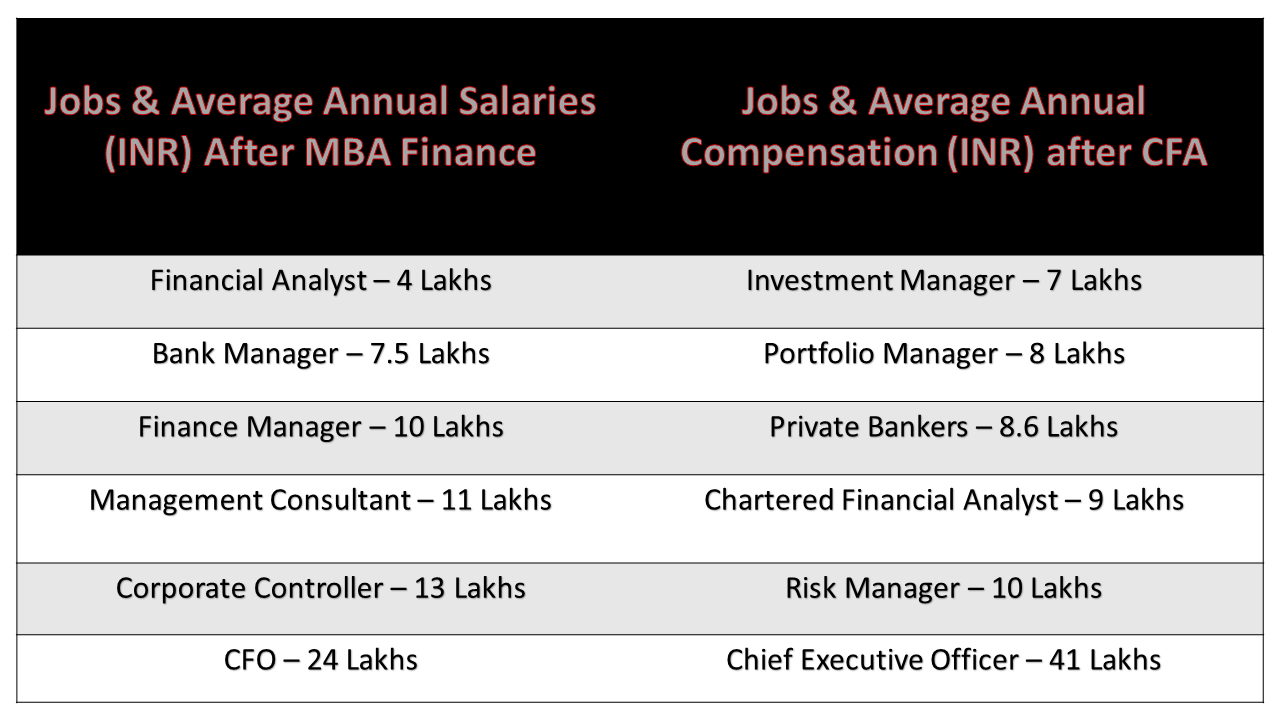 MBA Finance program is related to the management stream, so it offers a wider scope in the domestic as well as international market. There are many jobs in the private sector and the government sector. Chartered Financial Analyst or CFA is an internationally recognized course that provides opportunities in India as well as abroad. If the students are expecting to pursue an international career, they can consider this course. The following are the Top Recruiters for MBA Finance and CFA:
Top Recruiters Of MBA Finance –

Amazon, Apple, Bain & Company, BCG, Citigroup, Deloitte, ICICI, State Bank of India, etc.

Top Recruiters Of CFA –

JP Morgan Chase, Wells Fargo, Bank of America, The Goldman Sachs Group, Inc., PricewaterhouseCoopers, Morgan Stanley, etc.
Related: Accounting Vs Auditing
Both courses offer good job opportunities in the respective sectors. MBA Finance can be a shade costlier than a Chartered Financial Analyst. But having said that, the latter course is far tougher. It takes nearly 4 years to complete the course some times and also the rate of passing is low compared to an MBA degree. Management courses in Finance also offer a wider spectrum of study; it covers all Finance related operations in the business. Whereas, CFA is related to Finance & Investment analysis. So, it all boils down to what an aspirant wants to achieve through the course. I hope this article will be beneficial to those who are confused between MBA Finance and CFA.